heston blumenthal's macaroni cheese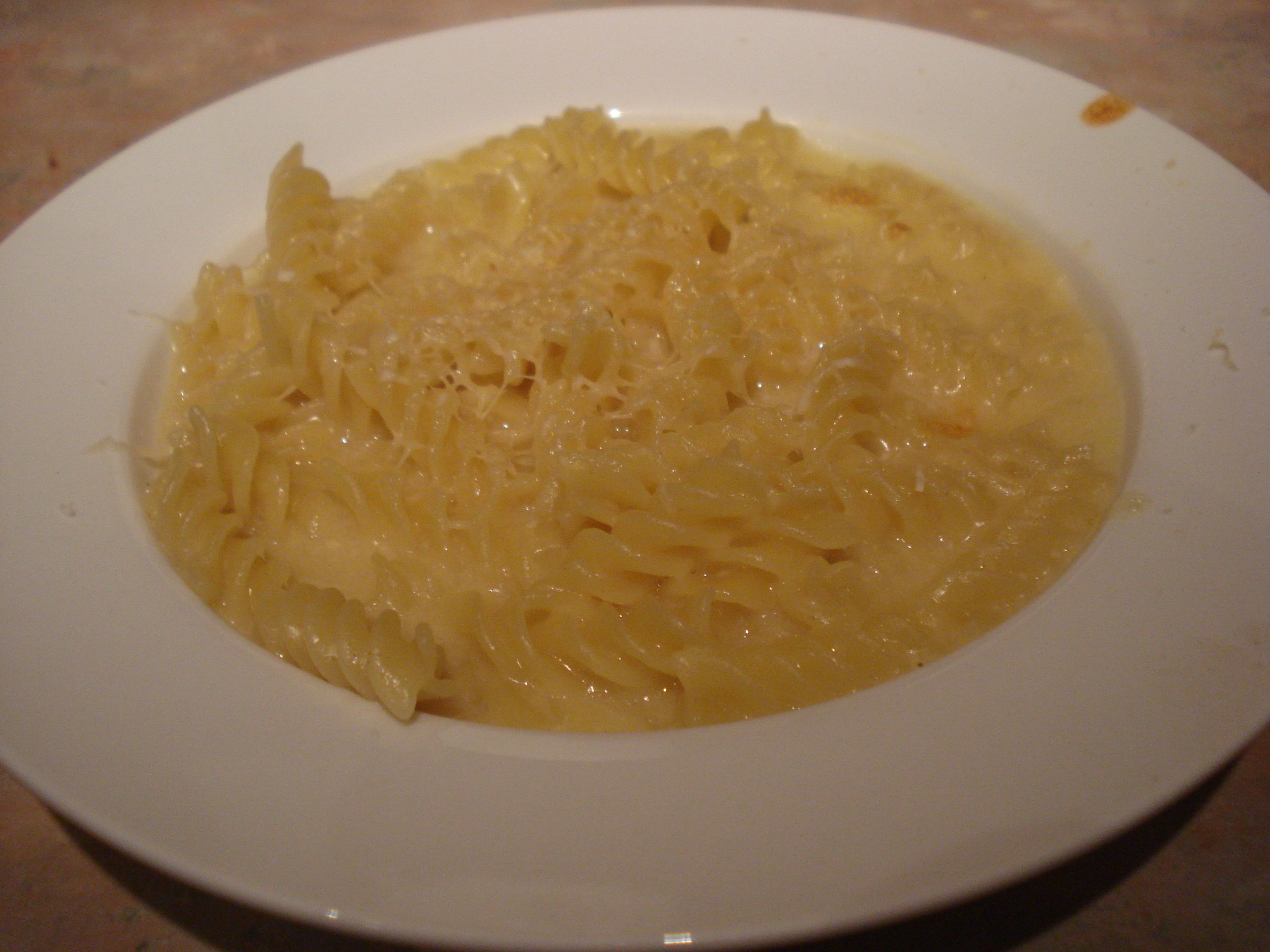 Yes eagle-eyes, you're right: that's not macaroni in the picture. But this recipe is full of substitutions. What it tells me is this recipe has a great base from which to build on.
This is Heston's recipe for macaroni cheese from How To Cook Like Heston, and is predictably very, very tasty. Like most people I usually kick cheese sauces off with a roux, but this approach melts cheese into reduced wine and stock. I'm amazed it works. I think I let the cheese cook a tiny bit too long and it started to split on me, but just about caught it in time. I also veered off from the recipe as I didn't have a posh cheddar, nor cream cheese in the house but instead let it down with pasta water. That's another bonkers bit – in the original recipe the pasta is cooked in a very shallow amount of water but I didn't quite have the attention to monitor that one today. I boiled it in the usual way and it worked just fine.
I'll definitely be making cheese sauces from this base in future – no more floury rouxs for me.
The original recipe is here, and you can find it in Heston Blumenthal At Home
 (as "truffle macaroni") as well.
Heston Blumenthal's macaroni cheese (serves 4):
300g fusilli
300ml white wine
300ml chicken stock
140g cheddar, grated
1 heaped teaspoon cornflour
A few drops of truffle oil
A little grated parmesan
Get the pasta on to boil in a large saucepan of salted water and cook according to the packet instructions.
In a separate pan reduce the wine down to "30ml" (I have no idea how you can easily tell what level you're down to without a lot of faff so eyeball it and trust your gut). Add the stock to this wine reduction.
Preheat the grill. Toss the cheese with the cornflour and add to the winey stock. Turn the heat right down low, add some black pepper and stir until thoroughly combined. As soon as it's smooth turn the heat off.
Drain the pasta and reserve some of the water. Trickle over a tiny amount of truffle oil, toss and add to the sauce, then transfer to a baking dish. Top with the parmesan and pop under the grill until bubbling.