february round-up
February's a short month but there's still lots of bits and bobs to catch up on. It was a disastrous month in the life of a food blogger, as both my Internet and my oven broke. Challenging times! Here's a few light bites that saw me through:
New York Bake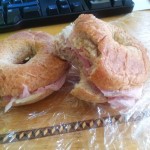 ry Co. Mini bagels: oh man, I couldn't get enough of these Duo 50 wholemeal / 50 white flour recipe. Super-savoury, very moreish and great with ham and cream cheese. I also had some lightly toasted with Marmite and it was a lovely breakfast.
These little cute bagels are perfect for keeping in the freezer. I'll be looking out for the plain and cinnamon varieties too.
Roasted beef roasties: these little beef-glazed nuggets of gold are a must-make the next time you're roasting beef. Drool-inducing stuff.
Sainsbury's Basics Burgers
This slideshow requires JavaScript.
To promote their Basics burgers, Sainsbury's asked me to showcase a few different burger recipes (and one with no burger!). It encouraged me to try a few different things too which I'll be cranking out. The Salsa Dancer has a pepper and tomato chilli salsa (messy but tasty), the Skinny Mini has no bun (surprisingly satisfying), the Almost Veggie is Portobello mushroom and Halloumi (I'd forgotten all about Halloumi, so yummy), Carb Central was loaded (ordinary but good) while the Pizza burger had a tomato sauce with mushrooms and mozzarella (indulgent fun).
Sous-Vide Supreme: I took delivery of a sous-vide machine. I've been experimenting a lot with this in preparation for the Sous Vide Gourmet Cook-Off. Keep watching for plenty of sous-vide recipes.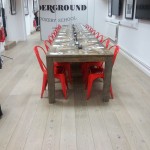 Underground Cookery school: the Underground Cookery School invited a bunch of us food bloggery types to a special one-off evening to show themselves off. It was a mixed bag of evening really; but my expectations were slightly off. The tone was set when proprietor Matt Kemp explained that they usually hold team building evenings, hen and stag parties. Some of us expected a higher level so I guess that set the tone for the skill they expected. Compared to courses at Waitrose Cookery School or Food@52 then Underground's are far more elementary. But if you're catering to an amateur office-jolly crowd then the bar can be comfortably low.
It was great to catch up with some old chums, and then we were split into two teams. We portioned a chicken (poulet au Bresse no less), chopped onions (yes, really), de-bearded mussels and made mini tartes tatins. We then all ate a three course meal together on a communal table: moules marinere, ballotine of chicken with mash, and a bitter tarte tatin. The food was all excellent and the quality of ingredients, as above, exceptional. But I have a couple of niggles that held it back for me.
So we chopped onions. I was given a blunt knife to use (dangerous if nothing else) and when I pointed it out I was greeted with a skeptical glance-over-the-glasses by the 20-year old tutor, then mocked for not chopping them fine enough. You really can't have it both ways, and this isn't some whinging rube blaming his tools, I've chopped enough onions to know that a razor-sharp knife is essential for fine dicing. One further blip is you sit down, and receive a portion of (very tasty) food. Did you cook it? No idea. There isn't the same sense of achievement in enjoying the food if you can't guarantee you made it.
It's a great space, with great facilities and excellent sourcing. As long you're expecting a fun night out then the Underground Cookery School will suit you down to the ground. The more advanced cook will find it a little unferwhelming.
Gyoza selection: by fluke I tried Sainsbury's gyoza selection. I couldn't resist sharing them with a colleague who'd spent time living in Japan. He thought they were really tasty, and the bright colours are a big hit. If you see them and you want something different for canapes, give them a try.
Like your Big Spud updates in shorter bites? Follow me on Instagram, which is pretty much just "what I had for dinner today".