grilled lamb with cumin flatbread

I love lamb. A quick count says I have 37 recipes on here alone tagged with lamb. When a very good friend was coming over around their birthday I asked them what they'd like for dinner: they said lamb. Another friend of mine won a burger competition with a cracking lamb patty. When Easter rolls around, as a nation we like nothing better than making sure there's a leg of lamb on the table. At the other end of the spectrum, a boozy night out often ends with a pile of shredded lamb doner.
But perhaps surprisingly, this isn't the case for our American cousins. Lamb is a mystery meat for them, eyed suspiciously as a greasy, grey mess. In 2014 the American ambassador couldn't take it any more lamb. This isn't personal to Mr. Barzun however, the American consumption of lamb is a puny 0.4kg per capita (in other words, each US citizen eats just 400g of lamb per year). In Europe it's 1.9kg but in the UK we eat 4.7kg per person per year – a pretty staggering amount. We pale next to the mighty Greeks though, who chow down three times that amount!
Source: OECD (2016), Meat consumption (indicator). doi: 10.1787/fa290fd0-en (Accessed on 20 May 2016)
So it shouldn't come as any surprise that this lamb recipe has it's roots firmly in Greek culture. If there's any nation that knows what to do with a sheep, it's Greece.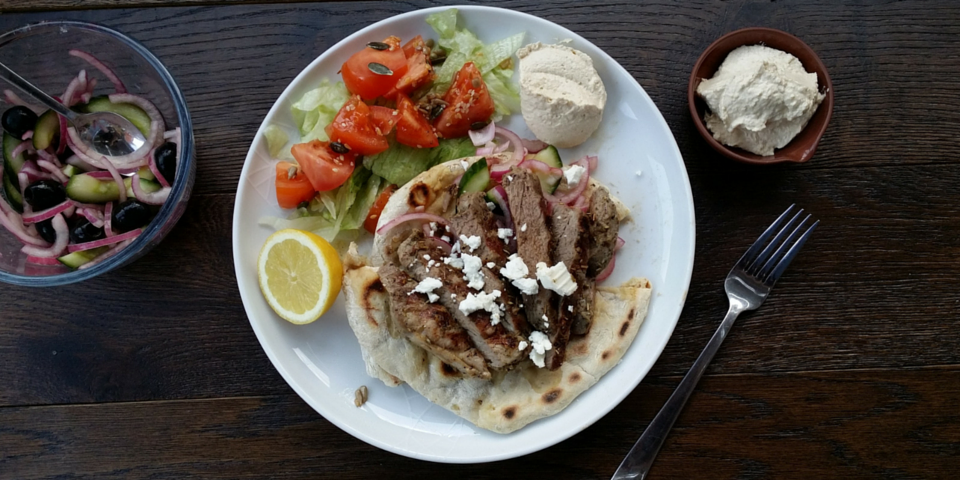 This is very simple. Marinate some lamb in herbs and spices, then char on the outside. You can do it on a griddle pan or the BBQ. I've also tossed in some super-quick flatbreads here: a tip of the hat to my old chum James for the idea of adding cumin seeds which are just genius. If you've never made your own flatbreads then give them a try – they require so little skill and can also be cooked on a BBQ if you feel like it. Served with Greek style accompaniments this is a dead easy midweek dinner. Maybe we can show the Americans what they're missing?
This recipe is part of the lamb recipe challenge. I was reimbursed for the ingredients.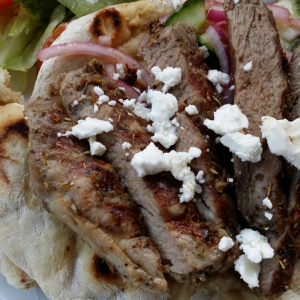 grilled lamb with cumin flatbread
Ingredients
2

lamb leg steaks

Pinch

dried chill flakes

2

cloves

garlic

finely chopped

1

teaspoon

dried rosemary

1

teaspoon

dried oregano
For the flatbreads:
150

g

plain flour

1

teaspoon

baking powder

1

heaped teaspoon

cumin seeds

1/2

teaspoon

salt
For the salad:
1/2

cucumber

1

red onion

sliced

1/2

teaspoon

sugar

1/2

teaspoon

salt

1

tablespoon

red wine vinegar

10 - 12

black olives
To serve:
crumbled feta

houmous

salad
Instructions
Make the marinade for the lamb: mix the garlic, rosemary, oregano, chilli flakes with enough olive oil to make a paste. Season with salt and pepper and rub all over the lamb. Cover and refrigerate until needed.

For the flatbreads mix all the ingredients together with enough cold water to make a soft, springy dough. Cover to rest while you get on with everything else.

Preheat a grill or griddle pan to a medium heat and cook the lamb steaks on each side a total of 10 - 12 minutes until cooked to your liking. They will also need to rest for 5 minutes on a plate before serving.

Meanwhile, slice the cucumber and scoop out the seeds with a spoon. Combine all the salad ingredients into a bowl and allow to marinate until serving.

For the flatbreads divide into two pieces and dry fry in a very hot pan until bubbling on one side, and then flip (this will take 2 - 3 minutes). Cook until browned.

Serve the lamb sliced with the flatbreads, strain the excess vinegar off the salad and serve on the side. Crumble some feta over the lamb. It's also pretty good with lettuce, tomatoes and houmous.