heston blumenthal's perfect spaghetti bolognese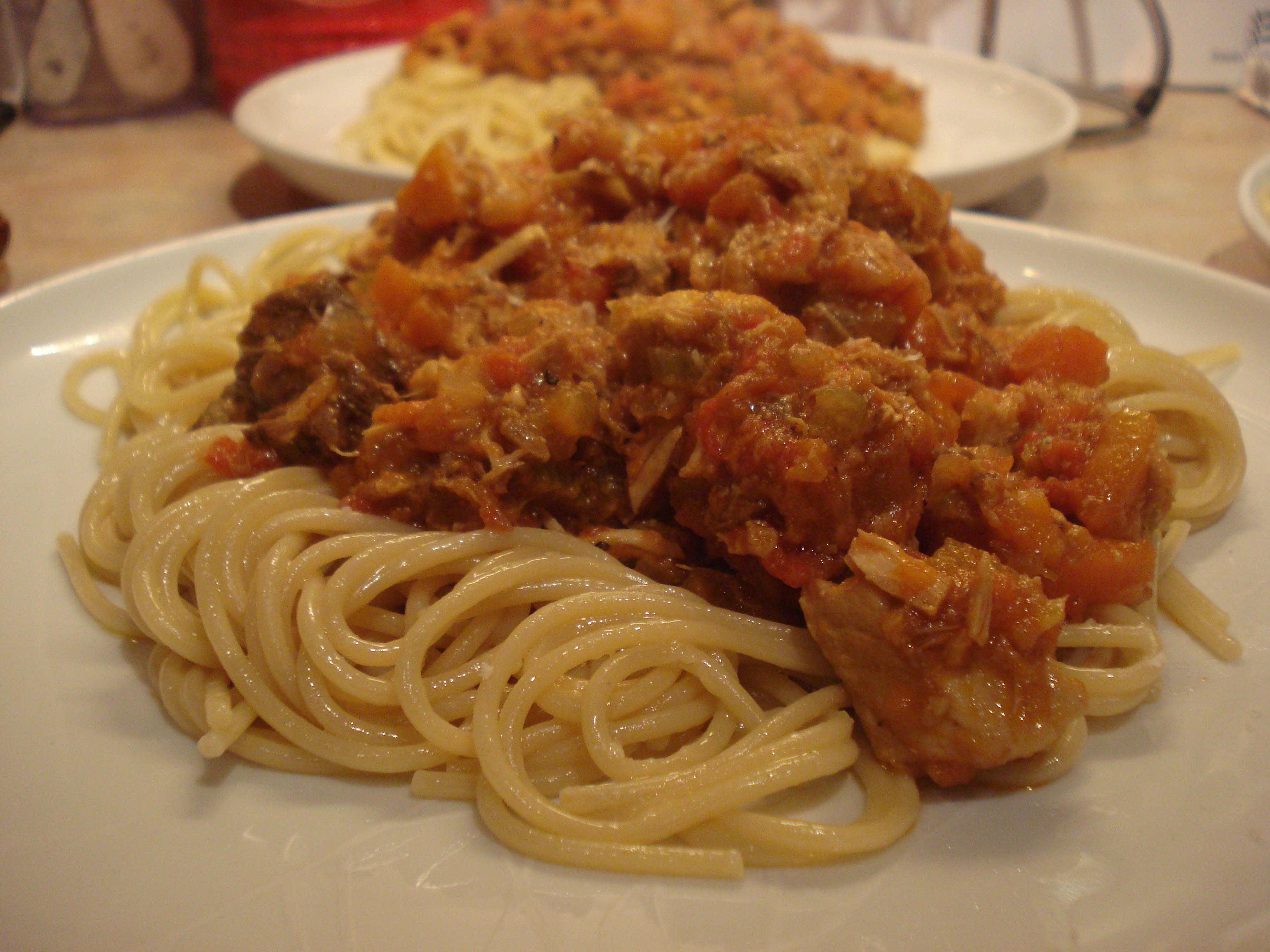 I happened to read FrontLineChef's Ultimate Spag Bol recipe one morning on Twitter and almost fell over: it sounds utterly superb. I remembered I hadn't yet tried Heston Blumenthal's perfect spaghetti bolognese
.
Bolognese has a strange and maligned history in this country. It's one of those quirky dishes that are echoes of the home country, like chicken tikka masala, or pizza. I've had many a spag bol in my time and plenty of them have made this blog. I particularly recommend Antonio Carluccio's version which is a cracker.
As his recipes go it's not one of his most complex; braised meat + soffritto + tomato compote slow-cooked together. I still cut a little of it out when it comes to the tomatoes – I can't believe the 'fresh' tomatoes in December can be much cop so I went for a tinned variety and took it from there. That said it's very close to the original. To save time I recommend having two decent casserole pans on the go, this will cut down time right at the beginning.
Is it perfect? Not for me. It's far too sweet for my taste, I would prefer it far more savoury. Although it's still very tasty and quite complex, different layers of flavours coming through as you enjoy each mouthful. In a nod to old-school spag bol the spaghetti is served under the ragu, yet the buttering it receives is fab and definitely worth a try.
Big love to the superb Bunting's of Maldon for their excellent meat.
Spaghetti bolognese (serves 6):
For caramelised onion:
1 onion, sliced
1 star anise
For the soffritto:
3 sticks celery, diced
3 carrots, diced
2 onions, diced
8 garlic cloves, minced
For the ragu:
300g pork loin steak, diced
200g beef braising steak, diced
½ bottle white wine
300ml whole milk
For the tomato compote:
2 tins tomatoes
30ml sherry vinegar
5 drops tabasco
5 drops fish suace
For the pasta:
100g spaghetti per person
50g butter
Heat some oil in a large casserole pan and fry the onion and star anise together for 20 mins until caramelised.
Whilst the onion is caramelising, in another large casserole pan fry the soffritto veg in some olive oil for about 10 minutes until softened.
Return to your onions. When they're done put them to one side (discarding the star anise), add a little olive oil and use this pan to brown off the meats. Take your time with this and make sure there's enough room for all the pieces of meat to brown, so do these in batches as necessary.
Deglaze this pan with the white wine and turn the heat up. Scrape the bottom of the pan and keep this going until it's reduced by half.
When your soffritto is tender, add the caramelised onion, diced meat and reduced wine to it. Add the milk and top up with water until all the ingredients are submerged. Leave uncovered on the lowest heat for 6 hours, stirring occasionally. Add water if necessary to keep the liquids topped up. (The milk can make it appear a little granular, this won't affect the final product.)
For the compote, add all the ingredients to a little olive oil over a high heat. Cook rapidly until thick, then stir this into the rest of the bolognese. Cook for a further hour. Turn the heat off and let it rest for 5 minutes while you cook the pasta. You should check the seasoning at the point – a little extra sherry vinegar can help cut the richness.
For the spaghetti, cook according to packet instructions and drain. Rinse briefly to ensure it doesn't stick then return to the pan to warm. Toss in the butter to coat well.
Serve the spaghetti by twirling around a carving fork. Add a generous serving of bolognese and top with plenty of freshly grated parmesan.