italian roast lamb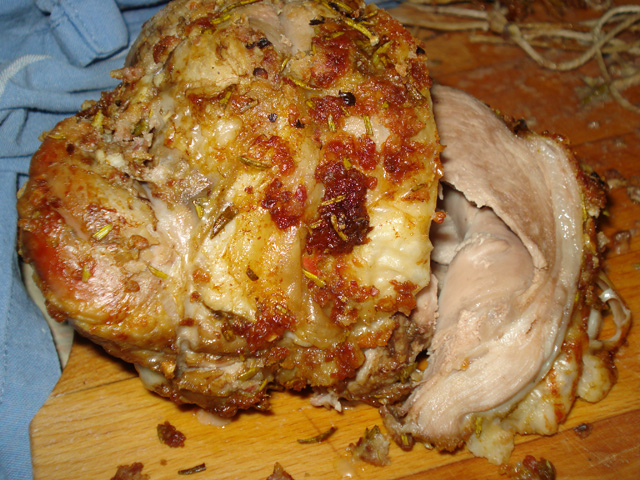 I was really in the mood for artichokes alla romana again, and had the thought of lamb but more so. Even though it's mid-Summer, I was craving some roast lamb. So to go with the artichokes I put an Italian spin on the meat. I whizzed up rosemary, garlic, lemon zest and prosciutto with some oil and then smeared all over my pierced joint. A while in the oven and a pungent, flavourful piece of meat was enjoyed. Iwas very pleased with the cut too – I planned a leg but my butcher only had absolute whoppers. What he did have though was a boned & rolled shoulder, which although I didn't expect both speeded up the cooking time and gave me a nice crevice into which to cram the tasty stuffing.
Italian roast lamb:
Leg or shoulder of lamb
3 slices of prosciutto or Parma ham
Leaves of 2 rosemary stalks
Zest of 1 lemon
2 fat garlic cloves
Preheat the oven to 230C.
Whizz the prosciutto, lemon, garlic and lemon zest in a processor. Add olive oil to slacken to a mushy paste.
Pack the stuffing / baste around the meat, poking into any nooks or crannies. Stab the meat with a knife if necessary.
Put the meat in the oven and turn down to 170C.
Cook until done to your likeness – 1hr 30mins for this one.