lasagne al forno with a twist of marmalade

Do you have a quirky recipe in your repertoire? Some sneaky spice or magic combo that just makes it? Maybe you like a dusting of chilli in your hot chocolate, a squirt of Marmite on your eggs, or a grating of nutmeg on your vanilla ice cream?
This is the concept behind Sainsbury's Little Twists campaign. They floated the idea of roast lamb with ginger beer, eggs benedict with avocado, or a hot cross bacon butty. They asked me to come up with an dish with similar inspiration.
So here's a classic lasagne al forno… with marmalade.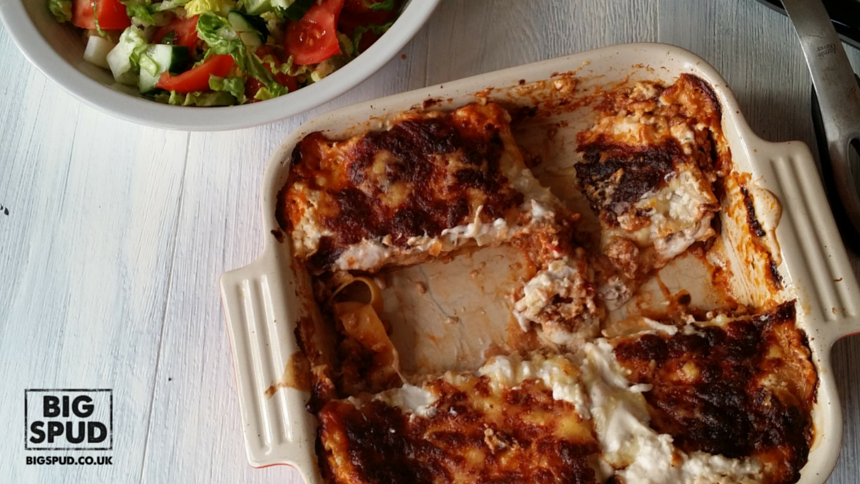 Before you turn your nose up at this combo, marmalade in a lasagne really works. The bitter, rich flavours give a wonderful acidity against beefy, tomatoey, creamy lasagne al forno. You can customise your usual lasagne recipe to accommodate this too, and adapt the vegetables as you like. I haven't listed a recipe here for bechamel or white sauce, you can find one easily online or buy if you prefer.
You may usually associate orange marmalade with tea and toast, but this shows how it's flavours can work well in savoury dishes too. Give it a try!

lasagne al forno with a twist of marmalade
Ingredients
1

onion

diced

1

pepper

diced

250

g

pork mince

250

g

beef mince

1

tin

tomatoes

1

teaspoon

mixed herbs

400

ml

beef stock

1

tablespoon

tomato puree

10 - 15

sheets

lasagne

600

ml

bechamel sauce

2

tablespoons

orange marmalade

200

g

grated cheese

(I like a blend of mozzarella and cheddar, but whatever you like)
Instructions
Preheat the oven to 190C. Heat a splash of oil in a large saucepan and gently fry the onion and pepper for 5 minutes until softened. Put to one side.

In the same pan, fry the minces in batches until browned. Add the meats, onion and pepper into the pan along with the tomato puree and herbs and fry for a minute. Add the tomatoes and stock and bring to the boil. Simmer for 20 minutes and season to taste.

Get a large rectangular baking dish ready. Start with a layer of pasta, a layer of meat sauce and then a layer of white sauce. Add a layer of pasta and then spread your marmalade on this. Carry on with your layering until you reach the top, and then cover with cheese. Bake for 30 minutes or until a knife goes through easily. Allow to sit for five minutes before serving. Serve with a green salad and bread.