minestrone soup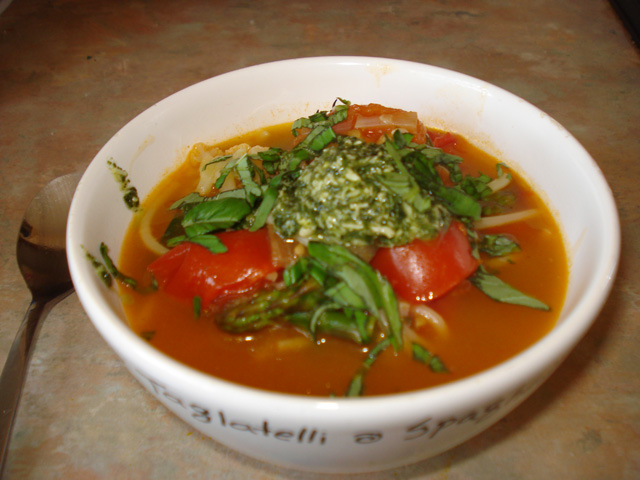 I saw Oliver's Twist the other day, a TV programme of Jamie Oliver's created for syndication all over the world. It's little seen in the UK until recently, when the Good Food Channel started running them. In this one, he was making food for his then-14 month old daughter Poppy. The minestrone soup he made really caught my eye, and my tongue!
I found his recipe for minestrone on his site. 'Minestrone' loosely means "the big soup" and has no set recipe; it's an Italian staple designed to use whatever vegetables are in season and stretch them out for soup. I had some cauliflower and courgette leftover from yesterday's curry so they were definitely going in, along with some tomatoes and asparagus tips I had.
I started by sweating down a diced onion and some crushed garlic, along with some finely chopped basil stalks. I find the stalks of basil plants infuse your soffritto with such perfume, it's really delicious backnote. I wasn't impressed with the quality of my tomatoes so I added a squirt of tomato puree here too. I then added the diced veg as above, spaghetti snapped into 2 inch pieces and vegetable stock. I let it simmer until the pasta was al dente, then scooped into deep bowls topped with shredded basil. The final genius touch by Jamie was a generous dollop of pesto; it sounds a bit odd but the powerful ingredients seep gently into the broth and infuse it with sunny flavours. Very tasty, and one that will stay with me all year depending on what's in the cupboard!