m&m's cheesecake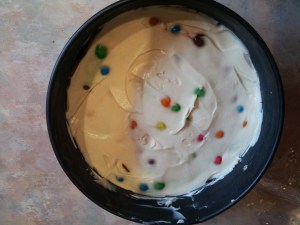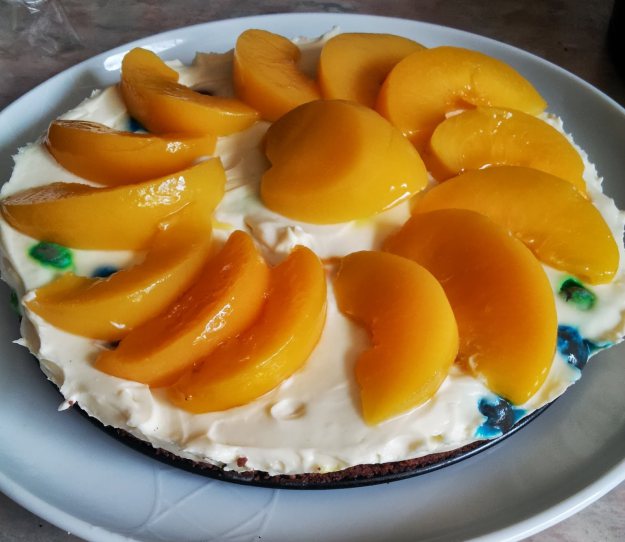 The in-laws recently returned from the States laden with 'candy'. I had to resist the urge to cram it all down my throat in one go, and decided to turn some of it into a cheesecake.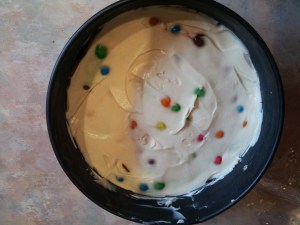 There was all sorts in there. Pop Tarts (are they still around over here? The most absurd excuse for breakfast ever), Baby Ruths, random chocolates and quirky flavour M&Ms: peanut butter; and pretzel. Both were interesting and the peanut butter ones have that moreish salt/sweet character.
I thought I'd whack some of the Cookies 'n' Cream Pop Tarts *COUGHoreoCOUGH* in the base and was surprised how well they worked. With the aforementioned peanut butter M&Ms providing a little burst every so often, the peaches were helping offset some of the guilt and help cleanse the mouth.
Not an everyday treat, but very enjoyable.
M&M cheesecake (serves 6 – 8):
For the base:
2 Cookies & Cream Pop Tarts
50g Bourbon biscuits
15g butter, melted
For the filling:
150ml double cream
150g cream cheese
1 tablespoon caster sugar
2 bags Peanut Butter M&M's
To finish:
1 tin of peaches, drained
Whizz the Pop Tarts and biscuits together to dust and stir in the butter. Pack into an 18cm springform tin and place in the freezer.
Whisk the cream, cream cheese and sugar together until completely smooth, then stir in the M&M's. Pour this on top of the biscuit base, cover and leave in the fridge for at least two hours.
Before serving, arrange the peaches on top.