moorish pork chops with marinated mozzarella & tomato salad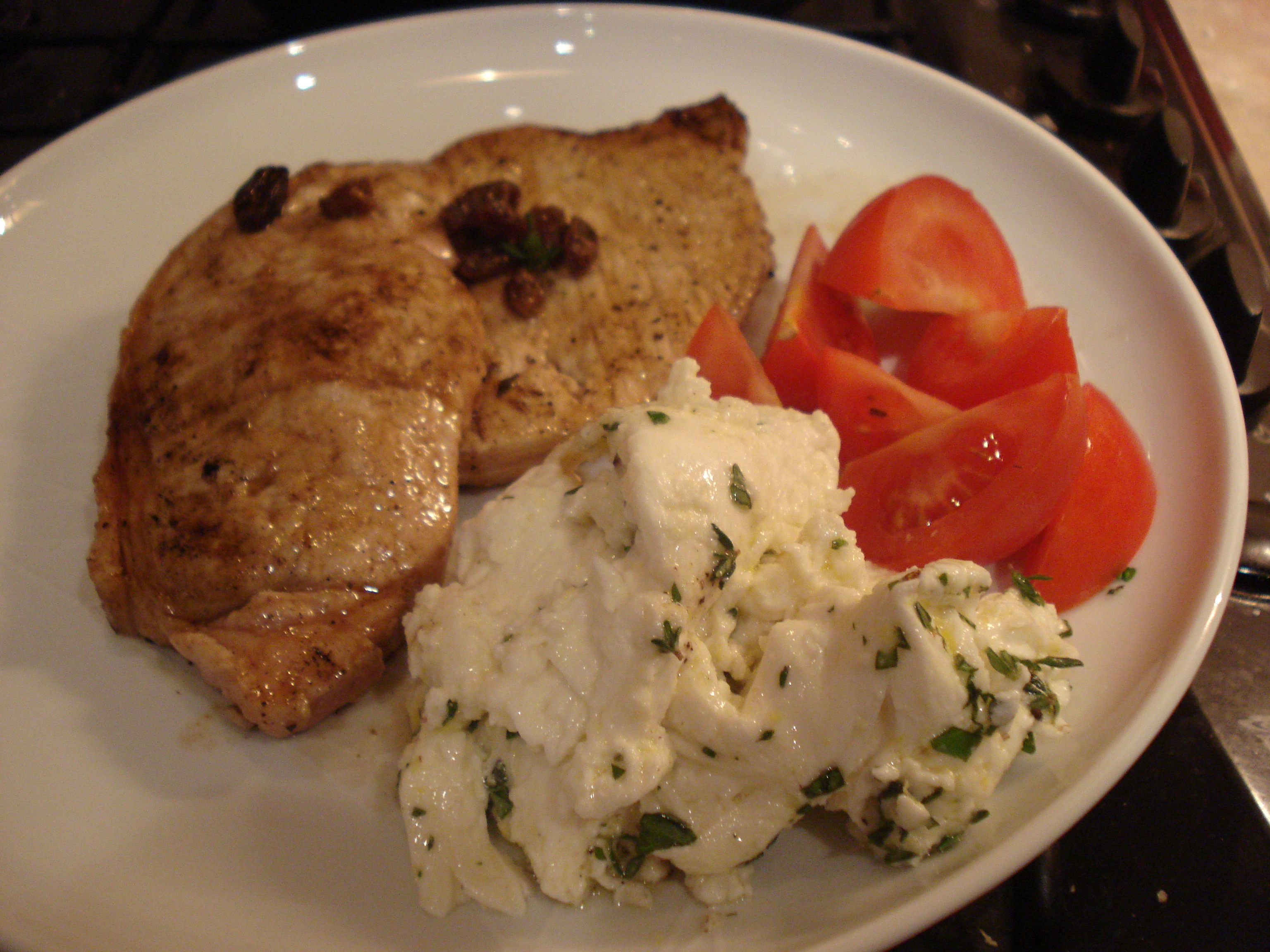 A tale of two halves here: cheeky Essex boy meets Eastern-influenced vegophile.
Jamie Oliver's current series Jamie Does…
visits different cities and squeezes the food out of them. I've scribbled quite a few of them down, but his recent Andalucian pork chop recipe really connected with me. He cut a slit in a pork chop, then stuffed it with a juicy raisin stuffing. Mine is simplified to my store-cupboard. I couldn't quite manage the meat pocket, my chops were more steaks and I couldn't get enough knife in to stuff without going through. I instead plonked the marinade on top after cooking on one side on the barbecue. The flavours were there but I imagine it would be sensational properly stuffed. Next time I'll get proper fat chops.
The other part of the dish was courtesy of Ottolenghi's new book Plenty
. I was fortunate enough to get one of these courtesy of their Twitter competition and couldn't decide where to start, it's stuffed with great ideas and brilliant (yet simple) invention. I started simple: mozzarella rendered to fluffy, yummy gooeyness. Fennel seeds popped in the mouth among the creamy cheese. Simply delicious.
Jamie Oliver's original recipe for the pork chops can be found here.
Moorish pork chops with marinated mozzarella and tomato salad:
For the pork:
4 pork steaks
A handful of raisins
A good splash of sherry vinegar
A dash of extra virgin olive oil
A couple of teaspoons of thyme leaves
For the mozzarella salad:
A couple of tomatoes, cut into chunks
400g mozzarella
1 teaspoon fennel seeds
A couple of teaspoons of thyme leaves
A dash of extra virgin olive oil
1 garlic clove, crushed
Zest of 1 lemon
Fry the fennel seeds in a dry pan until they pop. Put them into a pestle and mortar and crush lightly. Add the thyme, garlic, oil and lemon zest and toss with the mozzarella. Leave this alone while you get on with everything else.
Combine the raisins, vinegar, oil and thyme and leave for a few minutes so the raisins absorb the juice.
Cut a slit horizontally in the side of the pork. Push some of the stuffing into the gap.
Barbecue the pork on each side until nicely browned. Serve with the mozzarella and tomatoes, garnished with a drizzle of oil.