mustard chicken with potato dauphinoise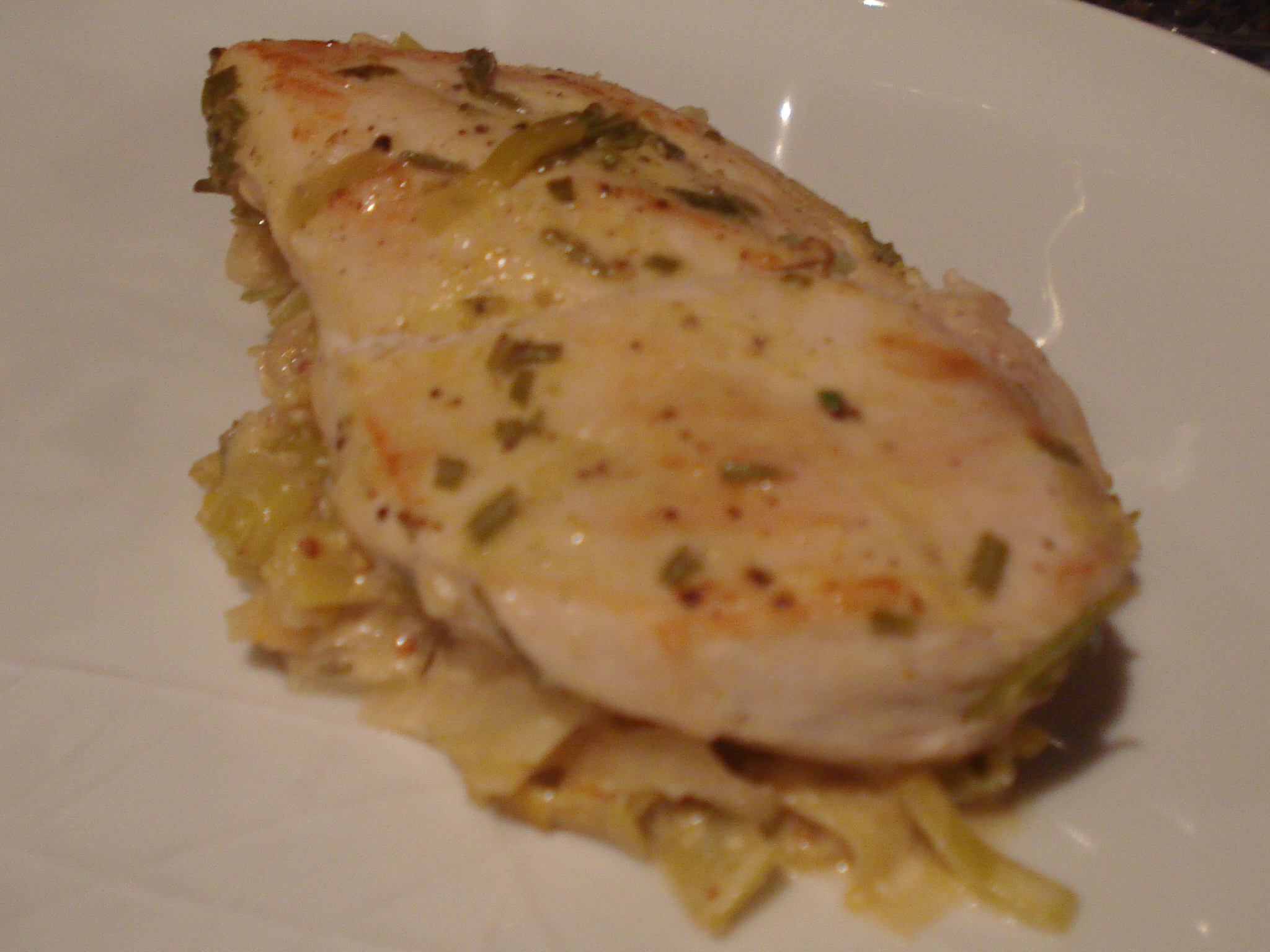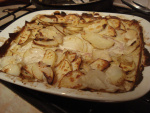 This recipe is taken from Jamie's 30-Minute Meals
. It's a tale of two halves really; the chicken is brilliant, punchy mustard yet restrained creamy leeks. And the dauphinoise is… OK. And far too anchovy-y. Even as a fan I think these are too stinky. And the potatoes didn't cook in time, so I'd much rather give it longer and do it right.
Mustard chicken with potato dauphinoise (serves 2):
For the dauphinoise:
1 red onion
500g Maris Piper potatoes
¼ nutmeg
2 cloves garlic
150ml tub single cream
2 anchovies
Parmesan
1 bay leaf
Fresh thyme
For the chicken:
A few sprigs of rosemary
2 chicken breasts
1 teaspoon English mustard
1 leek
2 cloves garlic
White wine
Splash of cream from the dauphinoise
1 teaspoon wholegrain mustard
Preheat the oven to 220°C. Peel and halve the red onion. Leaving the skins on, slice the potatoes in the food processor along with the red onion. Tip into a sturdy roasting dish and grate over the nutmeg, crush in the garlic and pour in most of the cream. Add the anchovies and grate over a layer of parmesan. Add the bay and thyme and pour over 200ml boiling water. Give it a quick mix and cover with tin foil, then put on a medium hob.
Put a frying pan on a medium heat. Spread the mustard on the chicken and pat over the rosemary Season, drizzle over olive oil and put in one side of the pan.
Remove the tin foil from the potatoes and transfer it to the oven until it is golden brown and bubbling (about 15 minutes).
Trim the leeks and finely slice. Add to the other side of the chicken's pan. After a couple of minutes frying crush the garlic into the leeks and stir about. The chicken probably needs flipping at this point, so after that add a few splashes of white wine. When the chicken is cooked through remove to a board to rest for a minute. Add the remaining cream to the leeks and stir in the mustard. Season to taste and serve with the chicken.