pan-roasted Fjord Trout with lentils, crispy bacon and chervil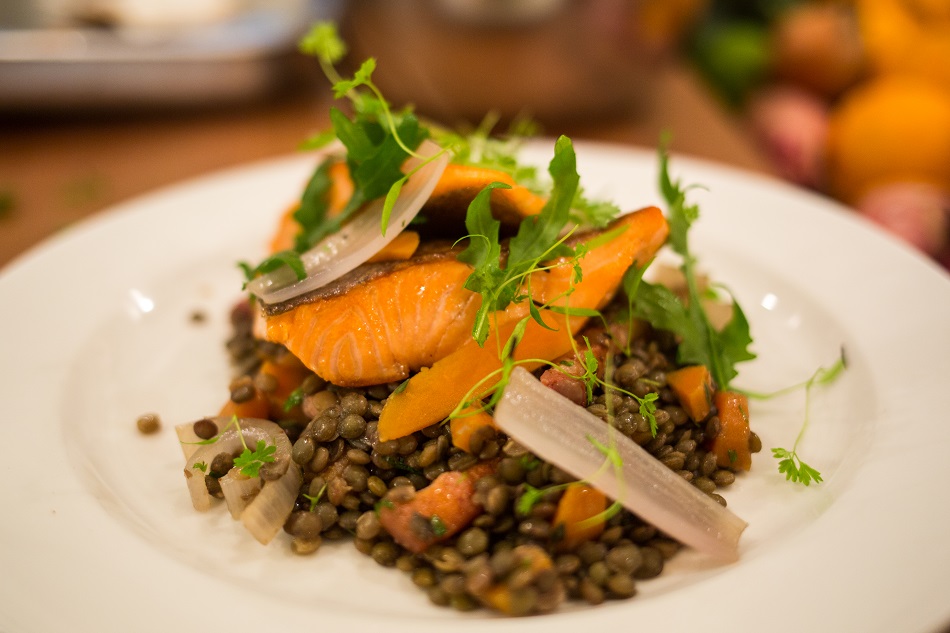 Something a little different here today: I'm lucky enough to get invites to all sorts of great events. But now, stuff is getting passed down the family. Spud Jr. is now a catering student in London and in some respects, can value these experiences more than me. Young Essex boy Danny asked if I was free for a Fjord Trout masterclass from Michelin-starred chef Daniel Galmiche. As Jr. had been working with fish in his classes all that week, it seemed like a no-brainer to get him in there. I packed him off to this event hosted by Great British Chefs in partnership with the Norwegian Seafood Council. So over to him:
"Earlier in the week I'd tried trout for the first time in my life. And now I was going to taste Norwegian Fjord Trout prepared by a Michelin-starred chef!
The event was hosted at Bourne & Hollingsworth, Adam Gray's new venue. The kitchens were gorgeous! Everything you could want in a kitchen. Absolutely top notch, although the modern induction hobs took a little getting used to.
Adam Gray started with his dish of poached trout. He poached a trout in rapeseed oil, and made pommes purees with horseradish cream running through it, served with spinach. The dish was there to show off the confident flavour of the trout. His thoughts were not that everyone should make every step themselves, but take the ideas and add shortcuts from good shop-bought ingredients.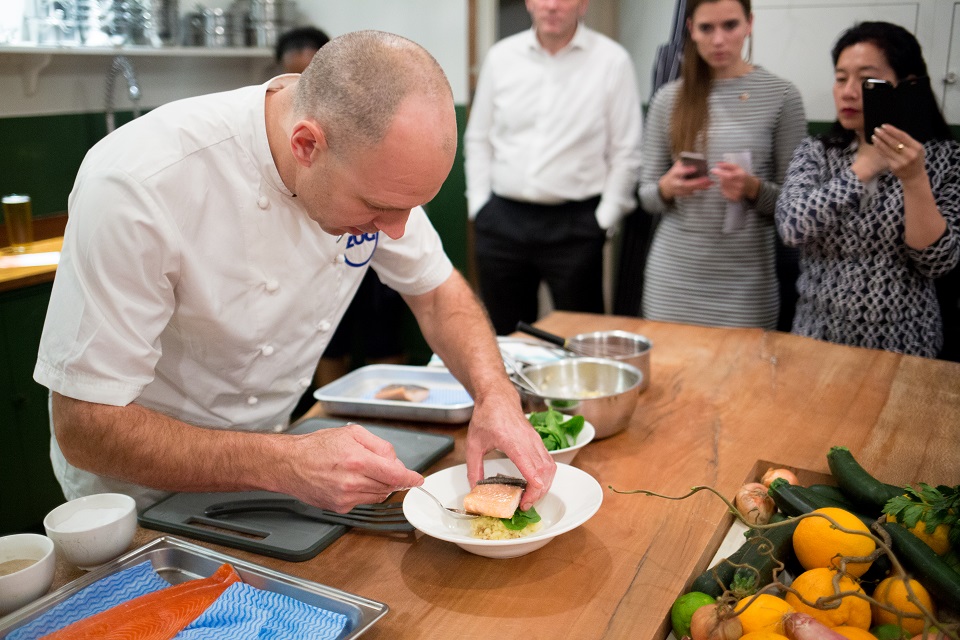 Next Daniel showed us his dish of trout with lentils. He started by describing what makes Norwegian trout so delicious. Regular English trout isn't very fatty because they have to swim so far. By comparison Norwegian trout is lazy and hence carries a lot of extra fat! This gives it lots of flavour, and especially good for sashimi. When you see Norwegian trout it's quickly obvious as it is so vibrant and colourful.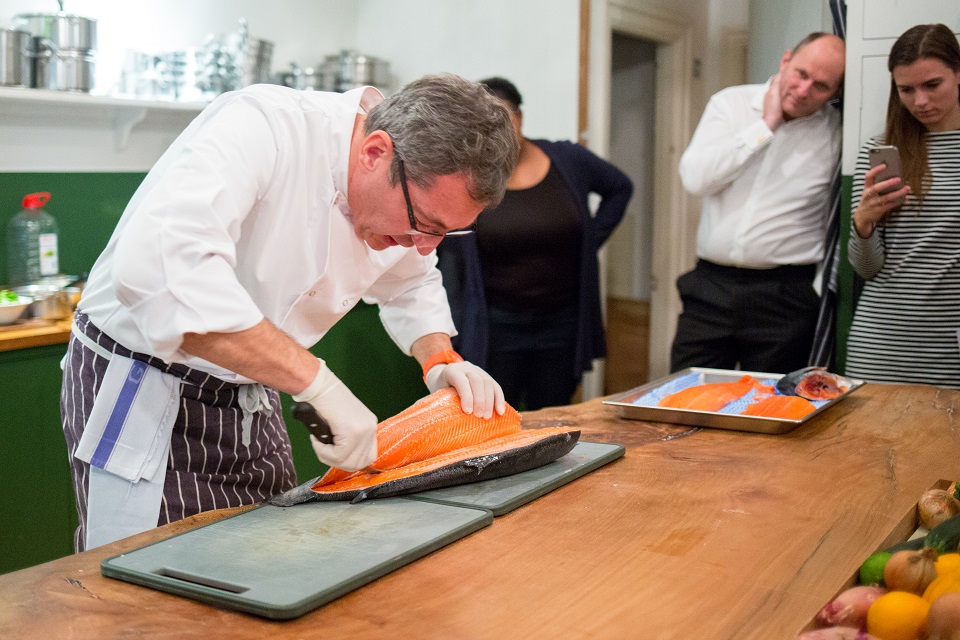 Then in pairs we had a go at cooking the trout and lentils dish ourselves. It was simple to prepare and very satisfying.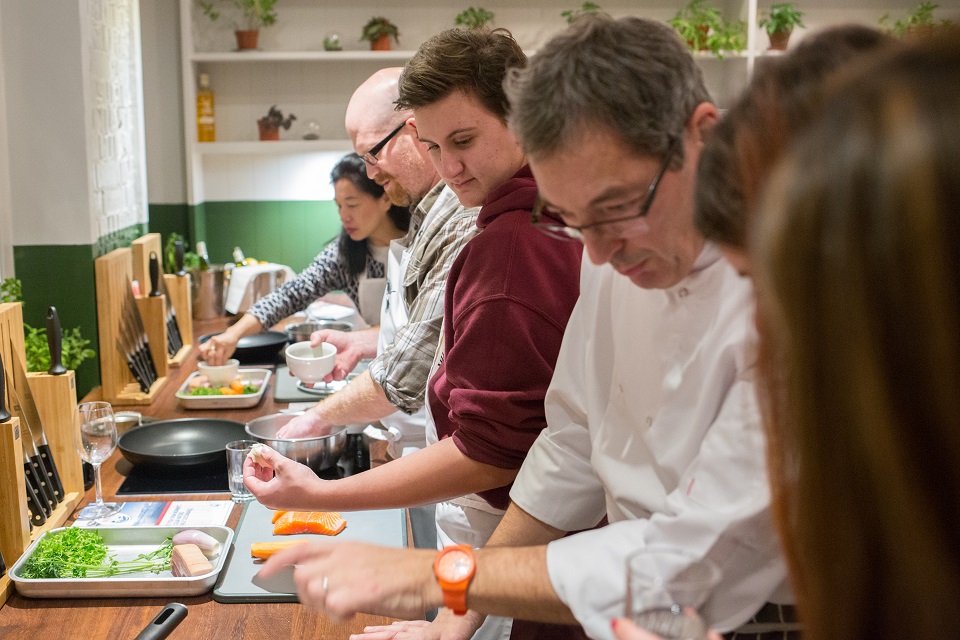 When it came to the lentils Daniel stressed that the other ingredients like the carrot and onion are vital because they add to the flavour and texture to the dish. Puy lentils should be just al dente and offer bite. No mush – this isn't daal! – but the end result should be quite firm, with each bite giving a pop of flavour. We were also told when frying trout how little cooking it needs. It should be cooked until it has only just changed in colour. It made a brilliant plate of food.
It was a really fun night and an interesting experience."
There you have it, a fabulous ingredient prepared simply and beautifully. Give it a try yourself.
You can also check out write-ups from Eat Cook Explore:
Pan Roasted Norwegian Fjord Trout with lentils, crispy bacon and chervil
And Food Urchin.
With thanks to Great British Chefs and the Norwegian Seafood Council for hosting. Thanks to Danny for inviting Spud Jr.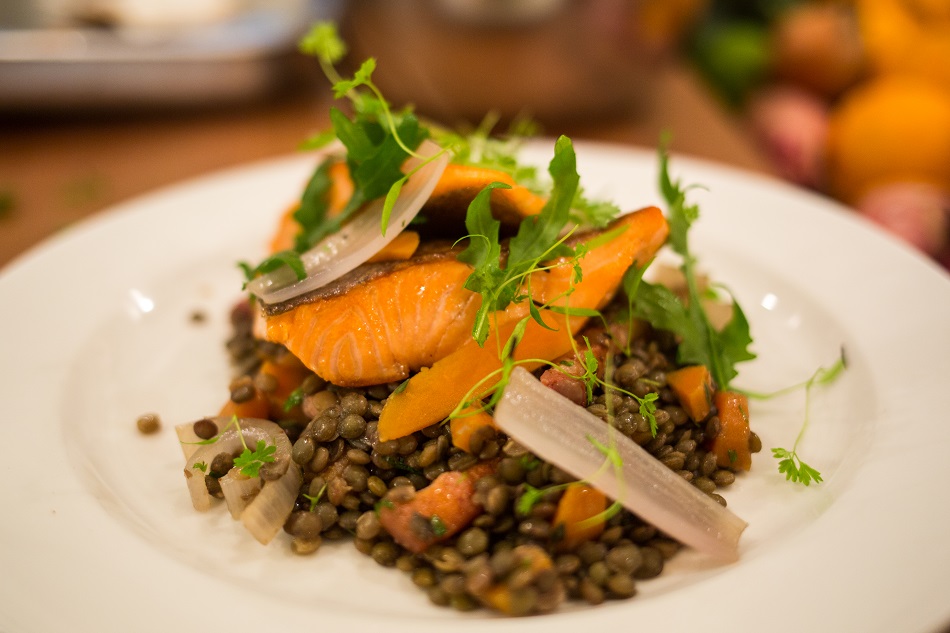 pan-roasted Fjord Trout with lentils, crispy bacon and chervil
This is a recipe by Daniel Galmiche, reproduced by permission of Great British Chefs
Ingredients
Fjord Trout
4

trout fillets

each weighing 150g

Vegetable oil

1

Knob of butter

sea salt
Lentils
200

g

of puy lentils

picked over and rinsed

1

shallot

peeled

1

carrot

small, peeled

1

bouquet garni

made with 1 thyme sprig, 1 parsley sprig

1

garlic clove

unpeeled

1

leaves

handful of chervil

only, chopped

75

g

smoked bacon
French vinaigrette for the lentils
2

tsp

Dijon mustard

2

tbsp

of red wine vinegar

white wine vinegar or balsamic

125

ml

of olive oil

or rapeseed oil

sea salt

freshly ground black pepper
To serve
micro cress

chervil

rocket
Instructions
To begin, place the lentils in a small saucepan and cover with cold water. Bring to the boil and skim away any foam that rises to the surface

Add the shallot, carrot, bouquet garni and garlic, reduce the heat to low and simmer for 10 minutes, or until al dente

Strain, reserving 2 tbsp of the cooking liquid and remove and reserve the shallot and carrot. Discard the garlic and bouquet garni

To make the vinaigrette, whisk together mustard, a dash of the lentil cooking liquid and the vinegar until combined. Slowly drizzle in the oil, whisking continuously until emulsified. Season to taste with salt and pepper – this will need to be mixed again before use

While the lentils are cooking, cut the bacon into lardons or small pieces and place in a pan over a medium heat

Cook the bacon, stirring frequently until the fat renders down and the bacon starts to brown and crisp up. When ready, remove from the pan and onto absorbent paper towel. Leave in a warm place until required

To cook the trout, heat a large non-stick pan over a medium-high heat with a small dash of vegetable oil

Season the skin lightly and place skin-side down in the pan, cooking for 3–4 minutes. Turn each fillet carefully, reduce the heat to the lowest setting and add a knob of butter

Once the butter is melted and foaming, remove the pan from the stove and allow the residual heat to cook the fish for 1 additional minute. It should still be pink in the middle and feel very tender to the touch

During the last few minutes of cooking the trout, return the lentils to the heat, cut the shallot into long rustic strips and the carrot into a combination of fine dice and julienne. Add a dash more of the reserved lentil cooking liquid. Once hot, remove from the heat and finish with the vinaigrette and chopped chervil

To plate, add the hot lentils to each bowl, followed by the seared trout. Finish with the shallot, carrot, crispy bacon, rocket and cress