peanut butter cheesecake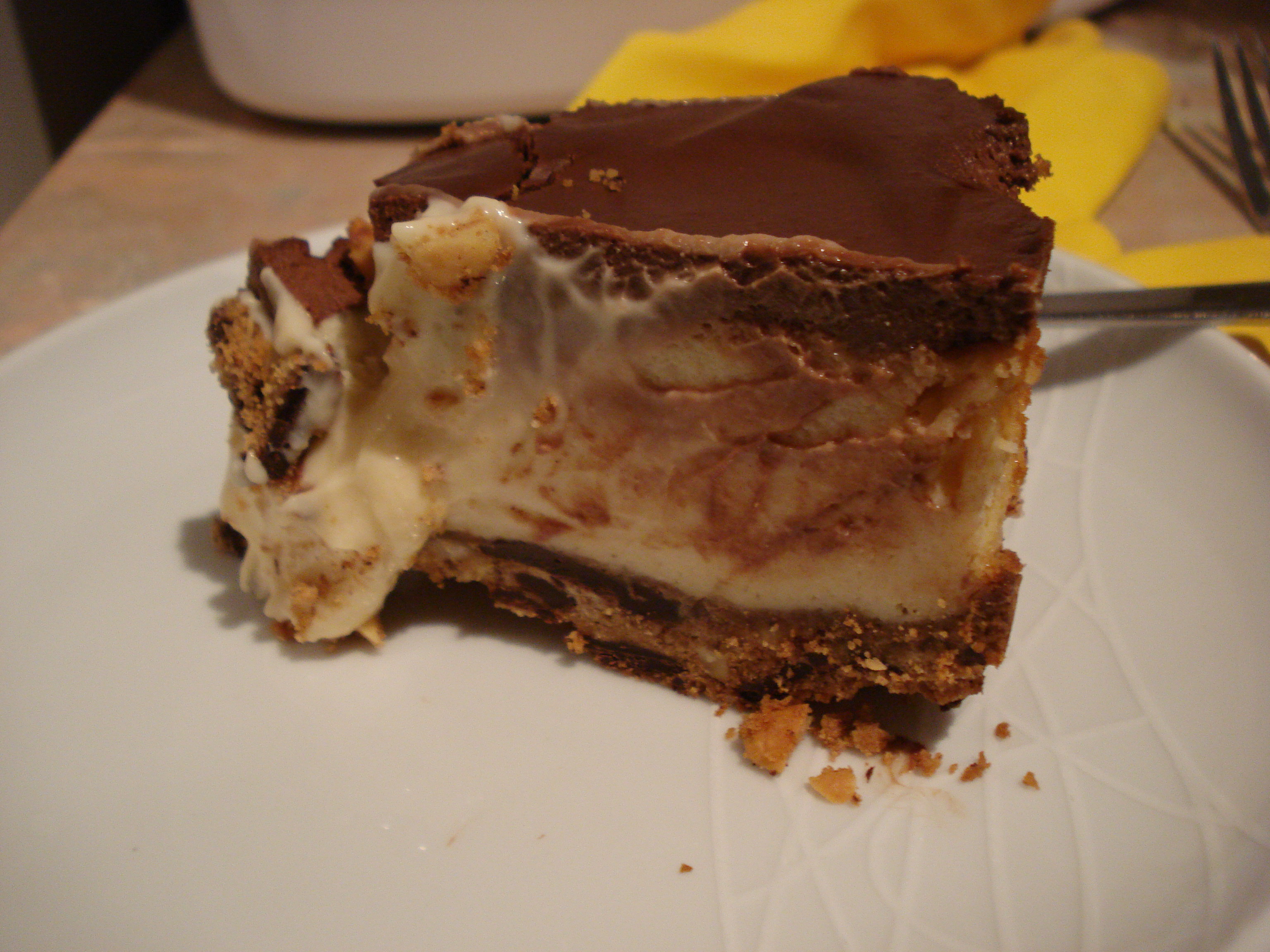 Nigella is back
, with as camp a parade of gluttony and swank as you would expect. As usual her recipes swell with "of course you should put x and y together, it's so obvious" and impressive shortcuts.
An absolute pig of a dessert was served up in the series opener, peanut butter cheesecake. She seemed to offer about a dozen warnings along the lines of "well, this is only a treat" and "all things in moderation" leading me to believe that Compliance had a fit when she presented a recipe that featured 6 eggs, sour cream, cream cheese, peanut butter and chocolate. Peanut butter seems to be one of her things, and why wouldn't it be? That combo of sweet and salty is irresistible.
Surprisingly, it's nowhere near as rich as you think it's going to be. Indulgent yes, but this just means a pleasingly sweet and creamy texture with that one-more-piece-ness of salted peanuts. It's great fun, and dead easy to make, so it comes highly recommended. It's made a million times easier with a food processor, so use one of those if you have access to one.
PS. Nigella Lawson's recipe is written out in her own words here.
Nigella's peanut butter cheesecake:
For the base:
200g digestive biscuits
150g dark chocolate
50g butter
50g salted peanuts
For the filling:
500g cream cheese (at room temperature)
3 whole eggs
3 egg yolks
2 tablespoons sour cream
200g caster sugar
4 tablespoons smooth peanut butter
For the topping:
250ml sour cream
100g milk chocolate
30g brown sugar
Pre-heat the oven to 170°C.
Whizz up the base ingredients to dust. Press and pack down into a spring-form tin and leave in the fridge to firm up while you get on with the filling.
Whizz together the filling ingredients until super-smooth and creamy. Pour over the base and pop in the oven for 50 minutes or so, until it has just set on top. (As Nigella put it, "so there is still a hint of inner thigh wobble"). Leave it to stand and cool slightly before adding the topping. It may crack at this point but it doesn't matter.
Melt the topping ingredients together in a saucepan and pour over the cake. Pop back in the oven for 10 minutes to let the topping set. Take it out and pop in the fridge for a couple of hours or until needed.