polenta sliders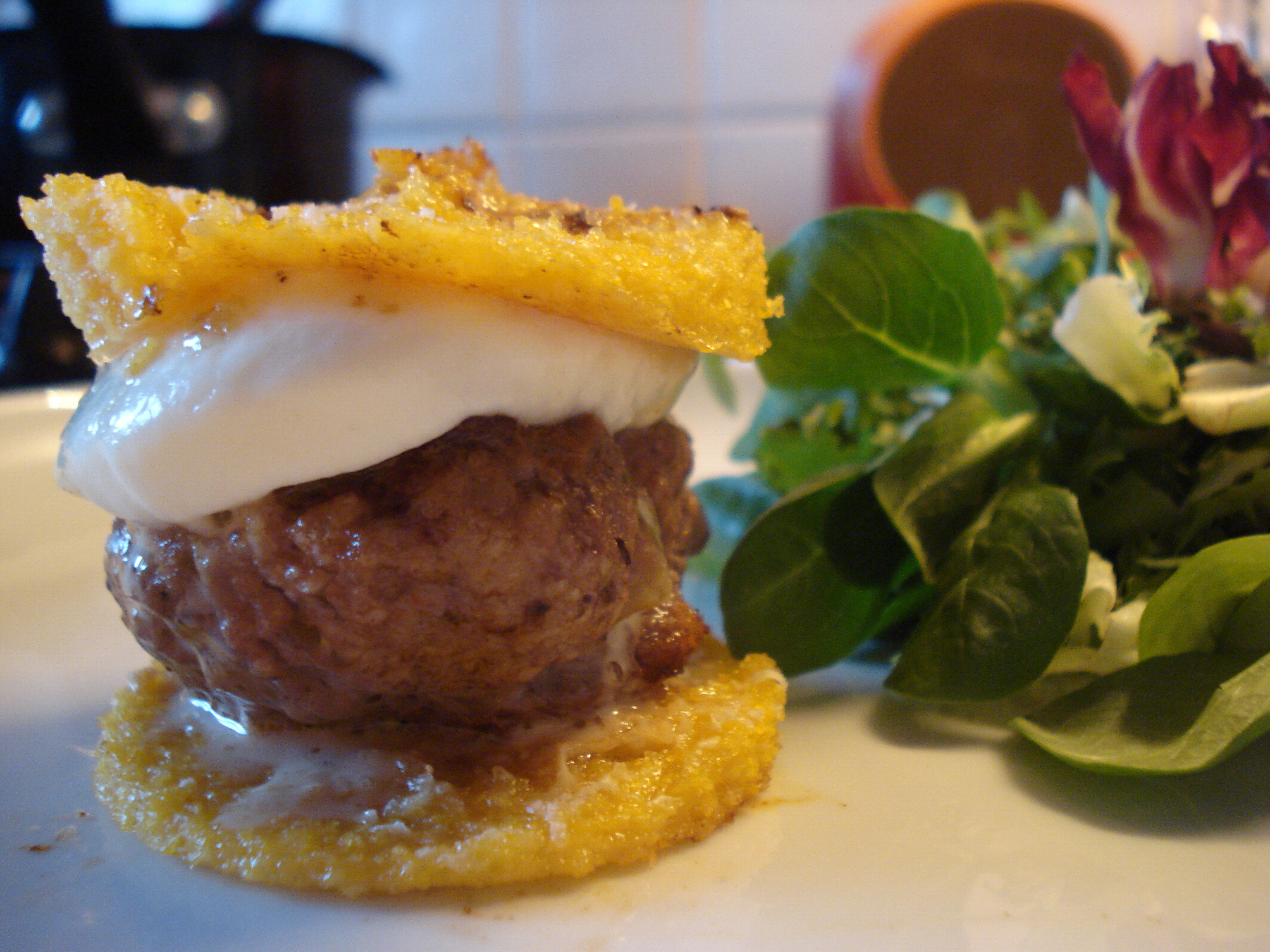 Merchant Gourmet have recently been kind enough to send me some of their instant polenta. It's got a rapid cooking time so you don't have to spend 45 minutes beating a volcanic pot of yellow. The freebie came with a caveat however; come up with an interesting recipe for them.
I originally thought of crumbing halloumi cubes and frying them, but it didn't seem inventive enough. I then went through a lasagne-style tower with polenta substituting for the pasta, but struggled to think of a timely way to retain the shape while melting the mozzarella. I then hit on keeping the mince but forming it into patties and making über-cute sliders instead; mini-burgers that are currently all the rage.
To make a nice neat slider the size of it all comes down to your mozzarella. Whatever width slices you can carve out of your cheese, make your mince and polenta rounds roughly the same size.
The great thing about this recipe is you can adapt the mince part to your taste and whatever you have in the cupboard. I've gone for an Italian-style flavouring to reinforce the heritage of polenta. A slice of tomato works well in there too, providing sweet juiciness. Give them a try!
Polenta sliders (makes 8 sliders):
50g quick-cook polenta
200ml beef stock plus a couple of extra tablespoons
2 tablespoons grated parmesan
400g beef mince
1 tablespoon tomato puree
1 teaspoon dried oregano
1 tablespoon breadcrumbs
1 garlic clove, grated
1 tablespoon olive oil
150g ball mozzarella, cut into 8 thick slices
Green salad, to serve
Preheat the grill to high.
To make the polenta, bring 200ml beef stock to the boil and slowly pour in the polenta, whisking all the time. Turn the heat down low and continue to stir for another 2 minutes. Spread on to a baking sheet to a thickness of about 5mm. Sprinkle with parmesan and pop under the grill. Keep an eye on it while you make the burgers – you are looking for it to form a crisp crust.
Combine the beef, puree, oregano, breadcrumbs and garlic in a bowl and season well. Form into golf-ball sized chunks and flatten to form patties (you may find it easy to do this with damp hands, it prevents the meat from sticking).
Heat the oil in a large pan over a medium heat and fry the burgers for 3 minutes on each side (this will cook them medium-rare, cook slightly longer if you prefer). As they finish spoon over a little leftover beef stock to keep them moist.
Your polenta should be out of the grill now; put this to one side. Top the burgers with a slice of mozzarella and pop them under the grill so the mozzarella just starts to melt (this should only take a minute).
Cut out rounds of polenta to roughly the same size as your meat (I used a circular pastry cutter). Put a slice of polenta on the plate, meat & cheese on that, and top with a final slice of polenta. Serve with a green salad.