pork escalope with mushroom sauce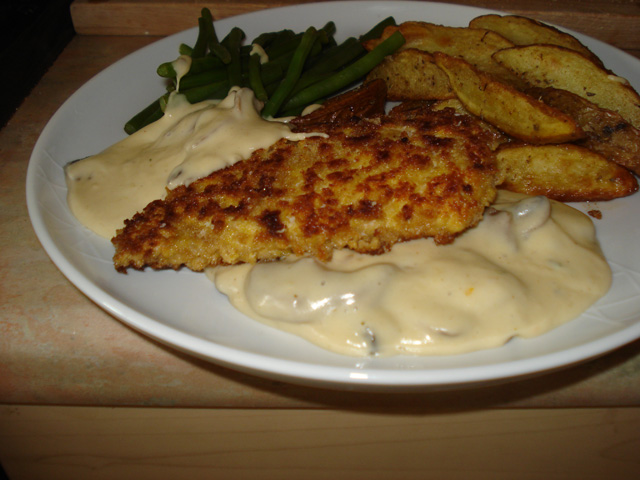 I grew up on Canvey Island, which is famous for many things though sadly not it's food. There is one shining star on the isle, the fabulous Labworth restaurant with sensational sea views and supremely fresh seafood. On a recent trip Liam had pork escalope in a creamy mushroom sauce and was interested how it was made. I had a taste and said we'd give it a go at home.
So the escalope was easy enough; hammered and breadcrumbed pork fillets. The pork has to be quite lean as it's not cooking for long. But the mushroom sauce was a touch more intricate, a roux-based sauce made with chicken stock and cream and thyme. I should've added more liquid to this one though, it was a touch too thick which can only be rescued before the cream is added. A pretty darn good approximation though.
Pork escalope with creamy mushroom sauce:
4 pork fillets, hammered thin between two pieces of cling film
2 tablespoons flour, seasoned
2 eggs, beaten
100g breadcrumbs
For the sauce:
200g mushrooms, sliced
75g butter
3 tablespoons butter
1 pint chicken stock
1 teaspoon thyme leaves
Fry the mushrooms in a little butter and oil until coloured. Remove to one side.
In the same pan, melt the butter and stir in the flour to make a roux. Allow to cook out for a minute.
Add the chicken stock a little at a time until absorbed and you have a creamy finish. Season to taste and add thyme.
Stir the cream into the sauce then return the mushrooms to the pan. Keep warm while you prepare the pork.
To make the escalopes, dust in flour, dip into the egg then roll in breadcrumbs.
Heat oil in a pan and fry the escalopes on each side until golden brown. Leave on kitchen paper to drain for a minute before serving with the sauce drizzled over.