recent review round-up

There's been a whole bunch of things to try on my kitchen table lately. Here's a round-up of what's new!
Coffee Gator
Welsh brand Coffee Gator has one mission: to bring barista-style coffee to the home. Here's founder Phil Williams to explain more:
I've tried out the Pour Over Coffee Maker. It has a very quirky laboratory-style finish: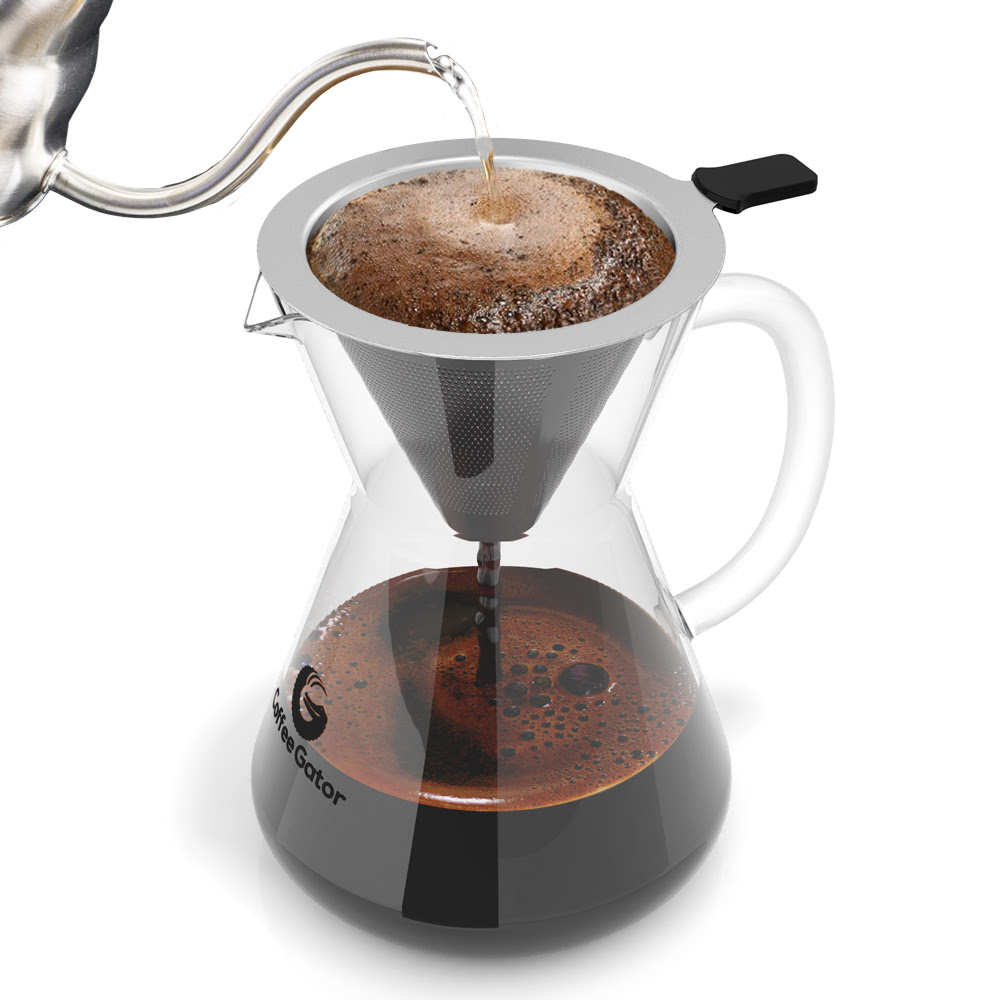 Pop coffee on top, let hot water drip through. Take about 30 seconds. The flavour it gave my regular coffee was clean and smooth, surprisingly different. It's now replaced the cafetiere as my day-to-day coffee maker!
The Coffee Gator Pour Over Coffee Maker is available from Amazon.
I ❤️ My Bread Machine by Anne Sheasby
I already love my bread machine. It's great for an emergency loaf, as when I remember late in the evening that we need a bread I can chuck the stuff in and get bread out a few hours later.
But that's it. I don't do anything else with it. This book has a bunch of ideas to go beyond the ordinary loaf. From rolls to flatbreads, tea loaves to croissants it's packed with inspiration. Author Anne Sheasby is a long-standing member of the prestigious Guild of Food Writers in the UK and has created dozens of cookbooks.
I tried plenty out, and all are clearly laid out and were a success. One loaf I made, a garlic bubble ring – a cheesy pull-apart bread – was a big hit and disappeared very quickly! Do make sure you have your machine instructions nearby to remember what the knead-only or mix-only cycles are. This book is becoming a great resource in my house.
This book is available from Amazon.
Cheeky Boy sauces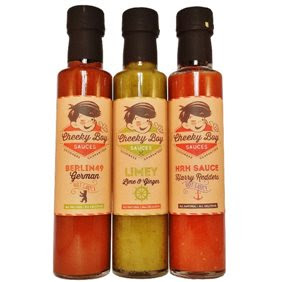 Cheeky Boy have a new range of quirky sauces. They're a range of delicious, healthy, all-natural sauces with a kick, created to liven up any food and any meal. Each distinctive sauce is packed with personality and is made using a unique recipe using only fresh and authentic ingredients. The flavours are inspired from founder Kaye Foong's far-ranging travel adventures around Europe, Central Asia and the Far and Middle East.
I tried two flavours: the Berlin49, which is a great BBQ-style sauce. Works really good with sausages. But I fell in love with the Limey sauce, which is zingy and fun. It's especially good with chicken and green veg. Highly recommended!
Cheeky Boy sauces are available from their website and farm shops / delis all over the UK.
Chika's stuff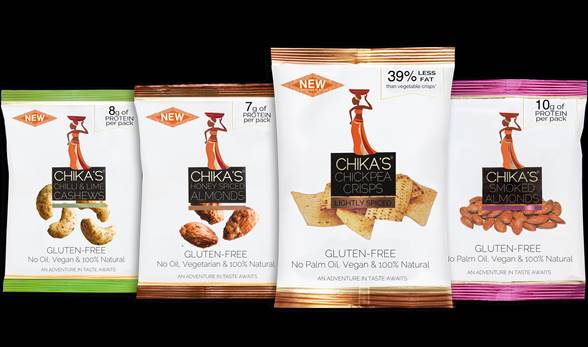 Passionate about living and eating well, Chika Russell followed her desire for food after leaving a career as a qualified accountant and investment banking. Inspired by the food of her childhood in Nigeria, Chika is leading the way in West African food and creating change in communities in which their aspiration was born.
I tried a bunch of these: the chickpea crisps are very enjoyable and perfect for dipping. I wasn't such a fan of chilli & lime cashewsm but the honey-spiced almonds were knockout.
Chika's snacks are available from Amazon.
LinkIt card game
Though I don't mention it very often on this blog, we play a lot of games in our house. Board games, card games, role-playing games, computer games, you name it. We have regular long-form games of Risk Legacy and Pandemic Legacy, love a Cranium game, shoo out the kids for Cards Against Humanity and run amok with a Telltale Game. Being asked whether I wanted to try out LinkIt, a new family card game was a no-brainer.
It's a collection of mini-games on circular cards in a cute little tin. There are two decks and broadly you have to match items on one set of cards with an item on the other. It's very simple and plays well with groups of 3 – 6. It becomes frantic fun!
If you like this game, check out Dobble which has a similar feel but is a snap-style game. We've been playing it for years.
Aldi bakeware
Aldi have some stunning new bakeware on offer. Check it out!
They attracted a lot of attention on social media and will brighten up any kitchen with this retro styling.
The Magic Fridge by Alex Mackay
The Magic Fridge is the latest cookbook from chef-teacher Alex Mackay. I recently attended the launch where he talked about the motivation behind the book and showcased some of the recipes.
Cheered on by his children and old boss Raymond Blanc, Alex enthused with is love of cooking and passion for people having fun in the kitchen.
Essentially the book is about creating some core ingredients you store in the fridge, then pull them out to make whole new recipes. I've tried a few so far, with sweet and sour peppers being a firm favourite in the house so far. I've then used the peppers in a duck and lettuce salad, and then in a chicken and chorizo dish. I'm looking forward to cooking more!
The Magic Fridge is available from Amazon. Look out for a full review here soon!