roast lamb with a nori crust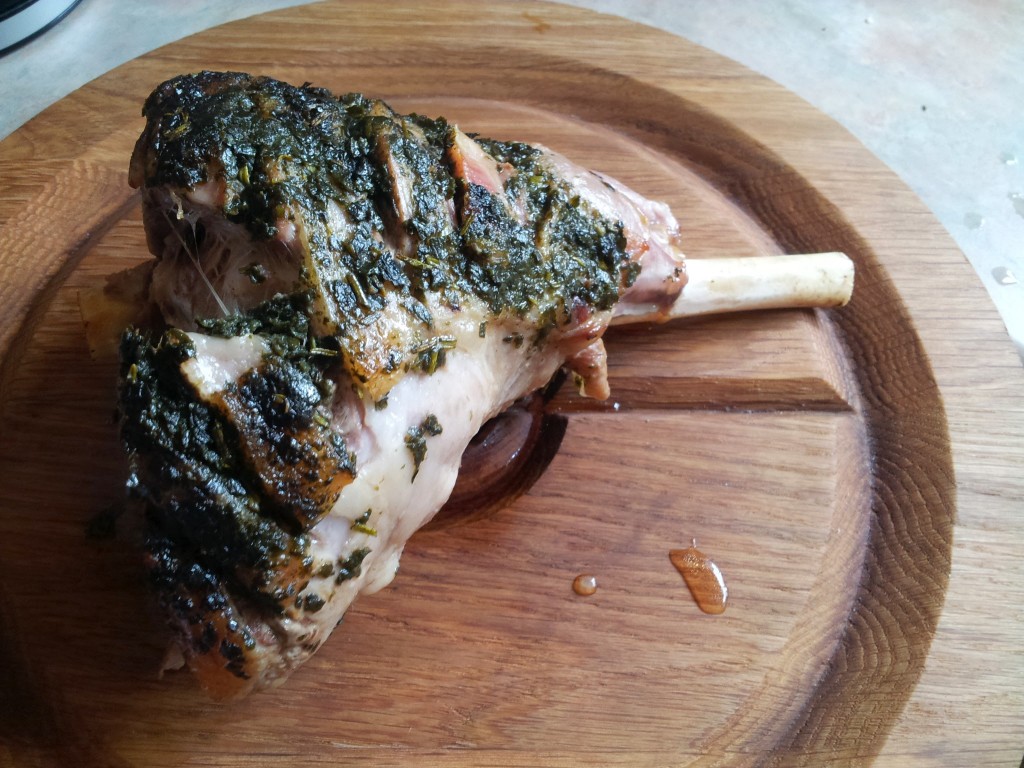 Anchovy is a well-known flavouring for lamb. It melts away into the meat seasoning it inside and out (check out Heston Blumenthal's recipe for roast lamb with anchovy). I'd managed to get myself some excellent English lamb leg from Sainsbury's. British lamb is bang-on season at the moment so should be enjoyed now. But come Sunday I couldn't decide what to season it with.  Then it struck me that I had some nori seaweed sheets in the cupboard. Seaweed is salty and rich and chock-full of umami so sounds a lot like anchovy to me. So what about a roast lamb with a nori crust?
If you haven't come across nori seaweed before, it's usually used as a wrapper for sushi parcels. The classic maki is a roll of rice and other fillings, parcelled in a paper-thin sheet of nori. You buy them in a pack of A4-ish leaves, usually placing them on a bamboo mat before rolling.
I ground up the nori with rosemary and garlic – the classic lamb pairings – in a food processor. Making an oily paste I worked it into deep slashes into the meat. Before cooking I did have a warning from MiMi…
@BigSpud I wonder what will happen to the nori? You might want to keep it moist in case it burns. Or will it just melt into the lamb?

— MiMi Aye (@meemalee) May 11, 2014
Taking this on board, after a brief sear I popped it into a roasting bag which kept the lamb moist, plus it provided some excellent juices with which I could make the potatoes boulangere you can see pictured next to the lamb.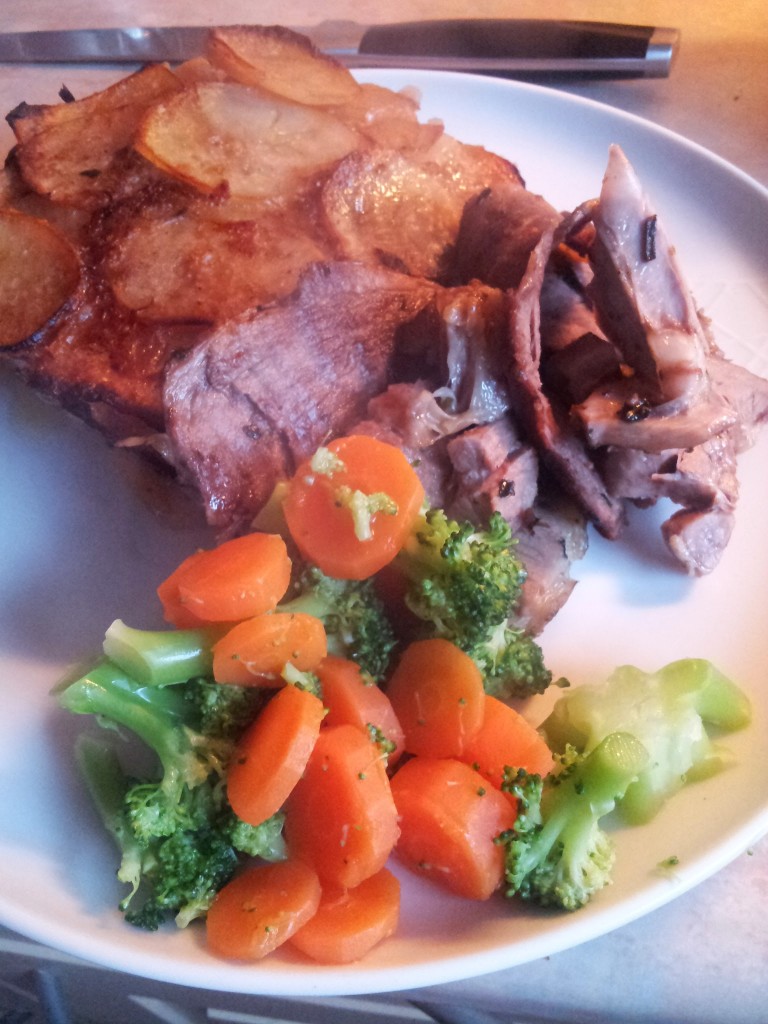 The nori gave it a strong grassy perfume. Really quite herbal – almost mint-like. It was quite unexpected. But the taste was really rich and savoury, just as you would expect.
So if anchovies really turn you off, try some nori – available at most larger supermarkets – and see what an interesting seasoning it makes.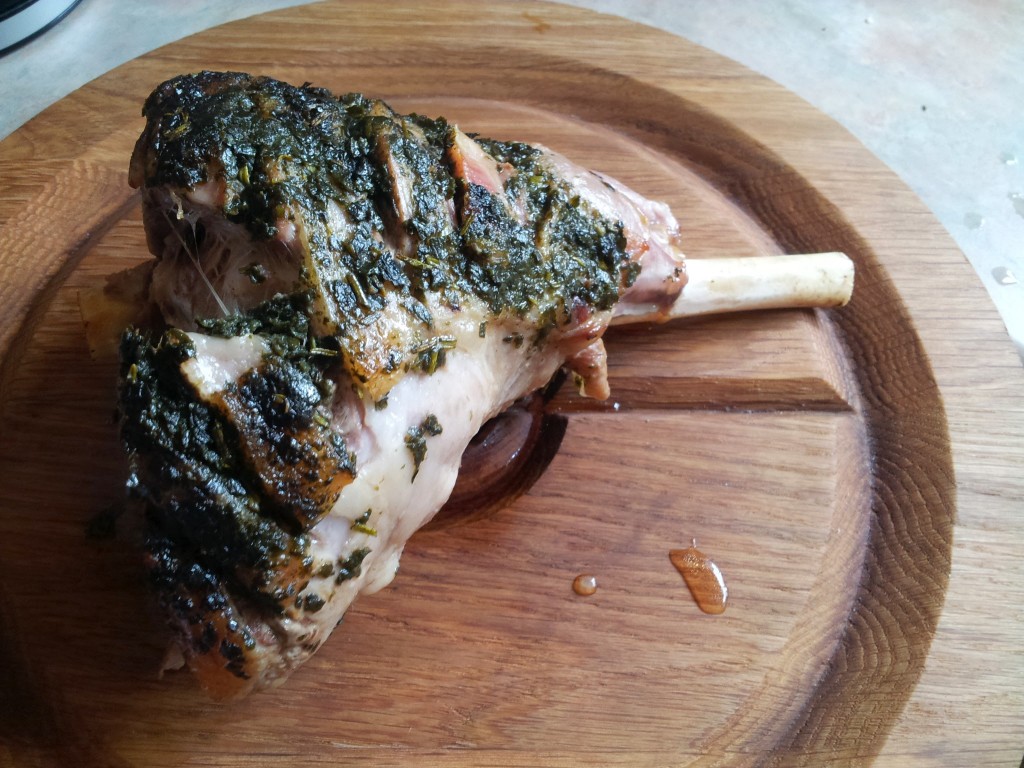 roast lamb nori crust with rosemary
Ingredients
1.5

kg

lamb leg joint

2

sheets

nori

1

sprig

rosemary

2

cloves

garlic
Instructions
Preheat the oven to 150C. Get a heavy roasting tray over a high heat.

Prepare your lamb by making several centimetre-deep slashes across the surface. In a food processor combine the nori, rosemary and garlic along with a pinch of sea salt and plenty of black pepper. Whizz up until it makes a dusty breadcrumb, then add enough olive oil to make a slushy paste. Rub the paste generously all over the meat.

Add the lamb to the pan and brown on all sides. This should only take a couple of minutes. Transfer the leg to a roasting bag and put back into the tray. Roast for 1.5 - 2 hours, or until the thickest part of the lamb has come up to 68C (for medium lamb, how I like it) when tested with a meat thermometer.
This is sponsored post for Sainsbury's to promote best British produce. With a little help from Japan!