rospo nel buco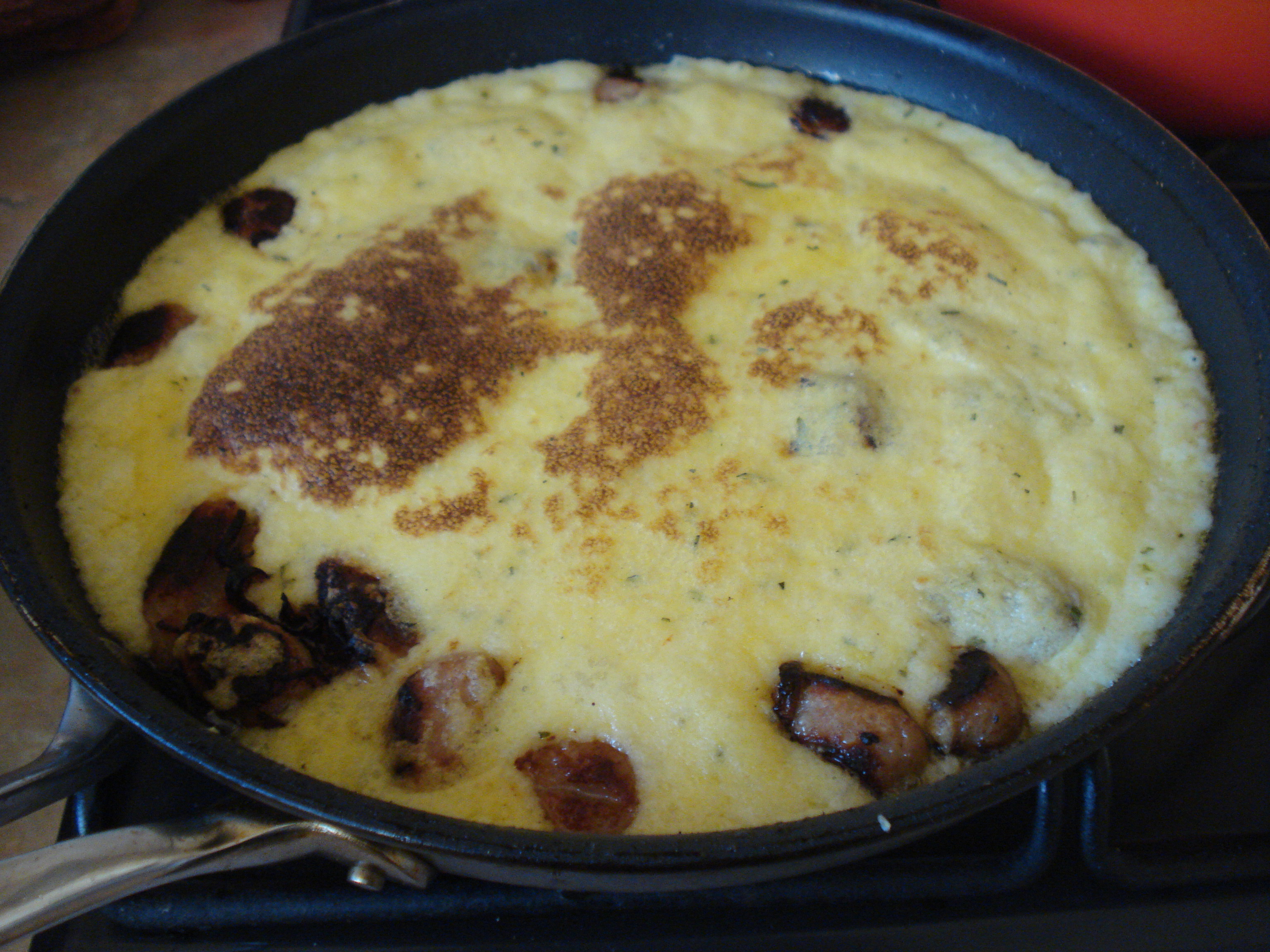 It's probably the worst translation in the world, but Google tells me the title of that dish is the Italian for Toad in the Hole. Which is kinda what this is. I was cleaning out the cupboards / freezer and had enough for stodgy, creamy polenta with pockets of herby sausage. This is really good fun served with a punchy tomato sauce.
Rospo nel buco (serves 4):
8 quality sausages – Lincolnshire would be good here
1 teaspoon fennel seeds
80g polenta
240ml chicken stock
Few sprigs rosemary, leaves picked and finely chopped
4 tablespoons creme fraiche
Some grated parmesan
For the tomato sauce:
1 tin good quality tomatoes
1 clove garlic, crushed
Balsamic vinegar to taste
Halve the sausages and squeeze out the meat into little balls. Fry in a hot pan with a little oil and the fennel seeds until the sausageballs are browned on all sides.
Meanwhile, do the sauce: fry the garlic gently in a dribble of olive oil for a minute and add the tomatoes and half the rosemary. Simmer gently.
Get the grill on hot. When the sausage is nearly done get the stock on to boil. Add the polenta and remaining rosemary, whisking all the time to avoid clumping. When it starts to thicken whisk for another minute and then take off the heat. Add the creme fraiche, parmesan and check for seasoning. You want it to be fairly sloppy so add a little more boiling water or milk to thin it down if needed. Pour the polenta around the sausages and pop under the grill.
Check the seasoning of the tomato sauce and add vinegar for twang. When the polenta is bubbling and brown on top get it out and leave to stand for a minute, then serve with tomato sauce on the side.