sausage and mustard rigatoni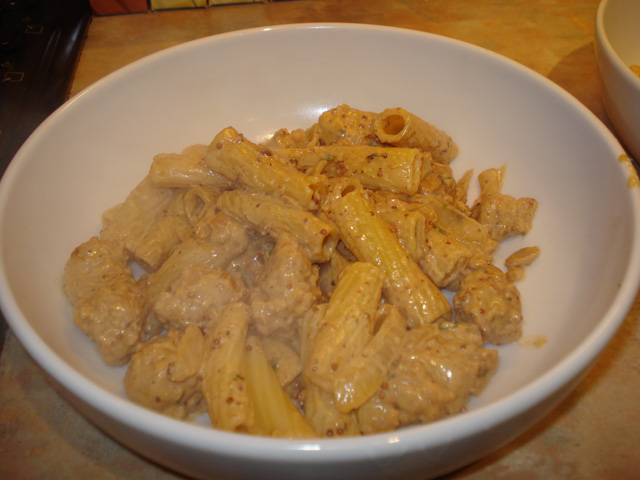 Nigel Slater. What a deity of food writing. No-one can conjure more poignant or vivid portraits of cooking that can transport you to the moment of being mid-mouthful. He has pretty much sewn up the childhood nostalgia food writing market, and we love him for it. I have a couple of his books and they are invaluable. I don't often cook directly from them, but I use them sometimes just for the joy of reading about food, or to jumpstart my cooking brain when I have reached a culinary dead-end.
When I heard Nigel had a new TV show, Nigel Slater's Simple Suppers, I was overjoyed. Essentially it's a combination of home-grown veg with his usual disdain for actual recipes and finding harmony between the two. The show itself was a touch disappointing, not quite sparking that Nigel fire. It's not up to the glorious gratuitous gluttony of Real Food, which is an absolute treat.
There's still some goodness to be had though, such as the following recipe for sausages and mustard. I substituted double cream for creme fraiche as I had some knocking about, and partnered it with some broccoli to round it out. An absurdly simple dish but I love that sort of thing, so that each is singing in harmony. It's meaty, potent and creamy, and oh-so-perfect for evenings with a nip in the air. Next time I fancy this might contain mushrooms to lend and earthiness to the dish. Cheers Nigel!
Sausage and mustard rigatoni:
2 onions, sliced
6 sausages, meat squeezed from the skins into little balls
1 tablespoon Dijon mustard
1 tablespoon wholegrain mustard
3 tablespoons creme fraiche
Couple of handfuls pasta (I used rigatoni)
1 tablespoon chopped parsley
Cook the pasta according to the packet instructions.
Fry the onions in a large pan. Cover them and cook for ten minutes until softened.
Add the sausage and fry until slightly brown.
Add the mustards, cook for a minute then add the creme fraiche. You may need some water from the pasta to slacken it down a touch.
Add the pasta and parsley, then stir together.