sausages wrapped in potato spaghetti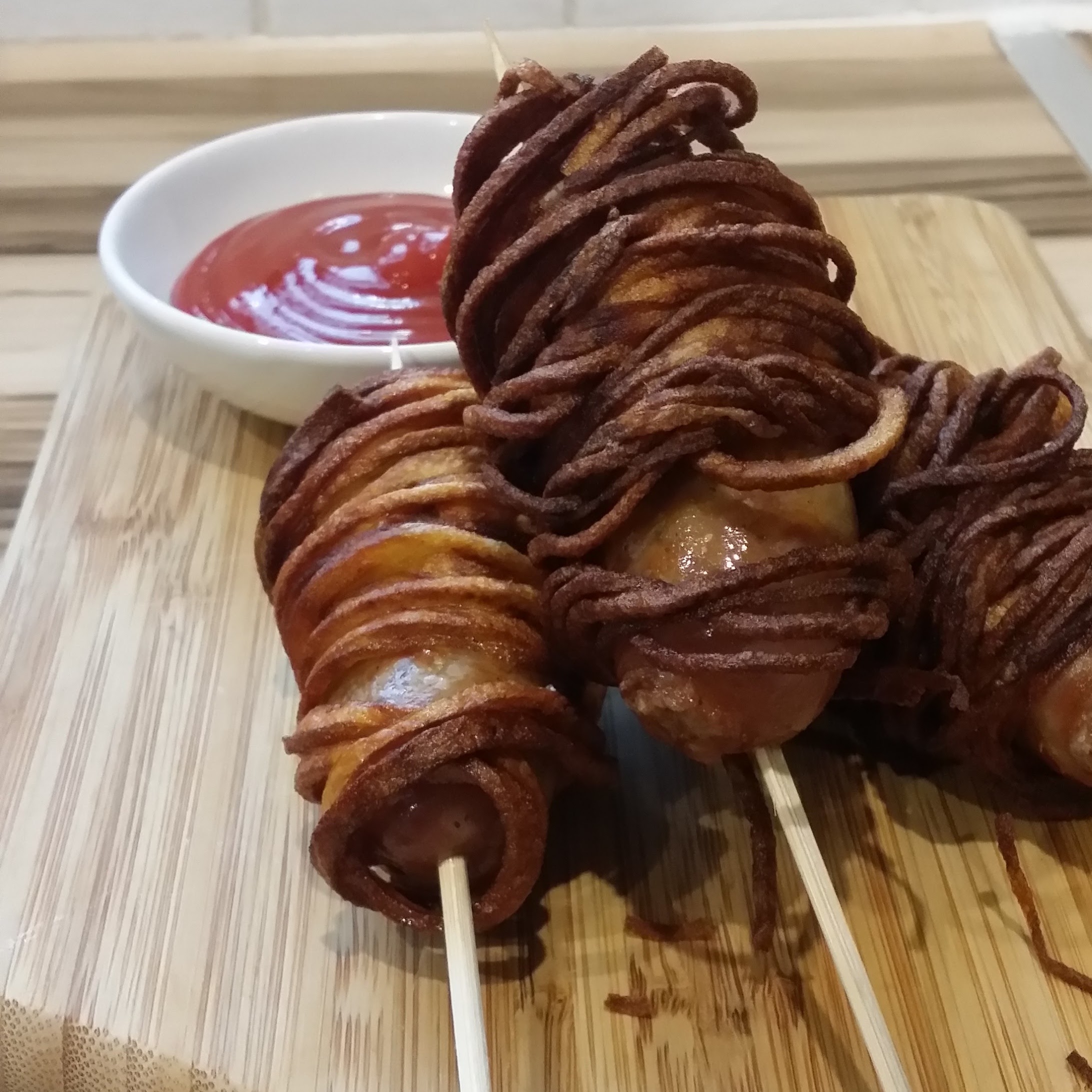 I'm about two years late but I'm a convert to the spiralize bandwagon. I mentioned recently how I've got into spiralizing a courgette or carrot and then microwaving with salmon or chicken for a quick lunch. Also mixing courgetti with sweetcorn and pesto for a superfast dinner.
I've been roadtesting the Savisto spiralizer:
Which is a neat entry in the spiralizing market. It has three blades, for ribbons, thick spirals and thin spirals – pretty much all you'll need. I've tested it on beetroot, carrot, apple and as you can see from this recipe, potato. It does a great job with all of them. It features four suction feet so it sticks firm to your countertop, and has darned sharp prongs to hold that veg in place. Due to those features it has no problem waffling through even really tough veg. You can watch the spirals cascade down to the counter, which puts me in mind of those old Play-Doh sets.
The whole thing pleasingly gets slung in the dishwasher for cleaning. If it has a downside, it's storage. The blades slide nicely into the under compartment, but the whole thing has sticky-out bits that make it a bit of a pain to store. I can't help thinking of Lakeland's tremendous model which has storage designed up front. Other than that it's a good, sturdy model that does the job.
So of course when I get on board the trendy, healthy craze what do I do? Deep fry it. Take a raw sausage, wrap it in potato and get frying! Serve with a spicy ketchup and it'd make a fun item at a buffet. I've listed the recipe for 4 sausages which takes about 1 potato, so it scales up really nicely.
What are your spiralizing favourites?

sausages wrapped in potato spaghetti
Ingredients
4

sausages

1

baking potato

e.g. Maris Piper, King Edward. Something starchy
Instructions
Preheat your fryer to 170C.

Spiralize the potato. You need to do this just before frying as the potato will start to oxidize and blacken in the air. Wrap the sausages as tightly with potato as you can.

Deep fry for six minutes to ensure the sausages are cooked through. Drain on kitchen roll and serve on skewers.