smoked cheddar and ham risotto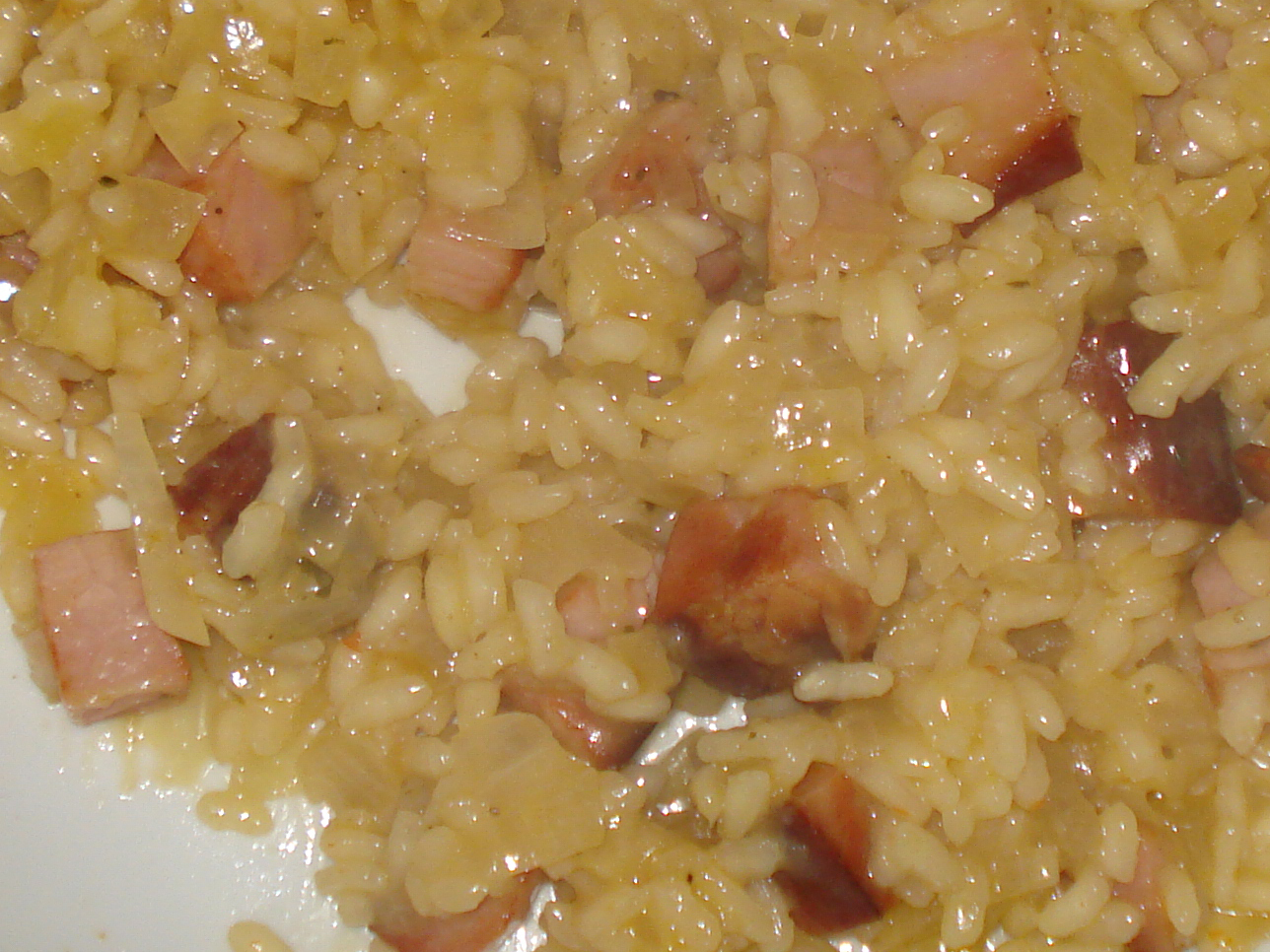 I've just got back from a trip to Suffolk. I managed to sample some great food in the area; the Queen's Head in Woodbridge, the Old Mill House in Saxtead Green, and I fell in love with the mini Brighton-esque seaside town of Aldeburgh. A particular highlight was Lawson's Delicatessen, a gorgeous shop stacked with olives, coffee ground to order, home-made pies and cakes, olive oil literally on tap, more cheeses than I can name and more besides. Brilliant, especially when caped off with local-caught cod and chips on the seafront.

The in-laws had advised me of a cracking deli, Emmett's of Peasenhall. It's been featured in Rick Stein's Food Heroes
, Delia Smith goes gaga over it, and it's been around for 190 years. It's a beautiful shop, bowling you over straight away with a tasting table where you can sample some of their bestsellers. Then you can peruse their pickled veg, the usual suspects of olives, chillis and artichokes. Then on to the confectioneries, where you can browse the chocolate-covered ginger, huge shards of chocolate studded with hazelnuts and many more.
Then there's the glory: the cold meats counter. They smoke and cure their own meats onsite and take an awful lot of pride in their work. Something I went back for a couple of times was their Suffolk Black ham, all treacley and rich with a powerful cure flavour. Absolutely divine and worth a detour for. To take home with me I grabbed a couple of things: smoked Montgomery cheddar and ham offcuts. Contrary to the picture you get a great chunk of leftover bacon for just £1. So good.
I could just snack on both of these, but I wanted to do something that would celebrate both of these princely ingredients. So I settled on risotto, and boy did it do them justice: a smoky and rich risotto, packing a punch every mouthful. Great stuff.
If you ever find yourself passing through this area, pop in. You'll be at least £50 worse off but you'll take home a clutch of great stuff for the larder.
Smoked cheddar and bacon risotto:
200g smoked bacon lardons
1 onion, diced
200ml white wine
1 sprig of rosemary
4 handfuls of arborio risotto rice
500ml vegetable stock
50g smoked Montgomery cheddar, grated
½ teaspoon sesame oil
Get the stock on to boil in a small pan. Fry the bacon in a little oil until coloured on all sides. Remove to one side for later.
In the same pan as the bacon add the onion and fry over a gentle heat with the rosemary until the onion has softened.
Add the rice and turn the heat right up. Keep tossing the rice around to get a lovely toasted edge to it. After a minute, add the wine and bubble away until the liquid has disappeared.
Turn the heat down to medium and add a ladleful of stock. Push the rice around until the liquid is absorbed. Keeping adding a ladleful of stock at a time, allowing it to reduce until the rice has a lovely al dente texture. Discard the rosemary.
Add the bacon back to the pan and stir the cheese through. Check for seasoning – probably won't need any! – and serve with a swirl of sesame oil (not too much), grating a little extra cheese over.