smokey BBQ beef hash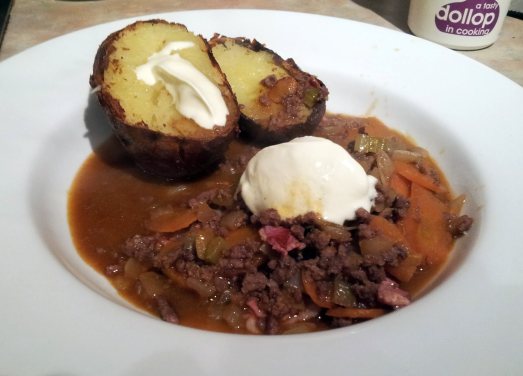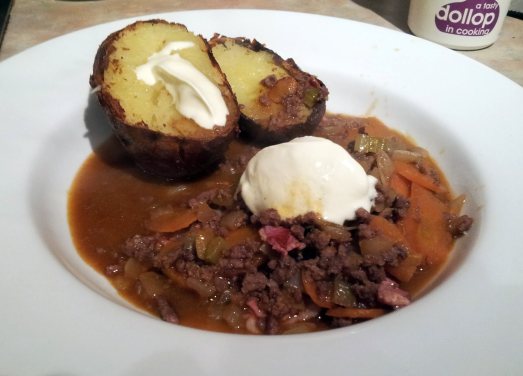 I think I'm due a badge: I'm the last person in the UK to never have eaten at Nando's. If I walk past a branch around dinner or lunch there's always a queue around the block. I'm not sure why. It seemed to creep into the public consciousness out of nowhere. I'm sure it's wonderful, but I've just never felt the compulsion to try it.
Therefore I was nonplussed when a bottle of Nando's Smokey BBQ sauce dropped through my letterbox. But I was intrigued. It was a little tangy, a little sweet, a little spicy… so it ended up in this hash, which owes a small debt to Jools' Pregnant Pasta.
Smokey BBQ beef hash (serves 2):
2 carrots, peeled and thinly sliced
1 celery stick, chopped
1 rasher bacon, diced
400g beef mince
4 tablespoons Nando's Smokey BBQ Portuguese Peri-Peri marinade
200ml beef stock
Get a large pan on very hot. Add a splash of oil and add the carrot, celery and bacon.
After a couple of minutes stir-frying the bacon should be starting to colour. Add the mince and a grind of seasoning. Continue to stir-fry for another 8 – 10 minutes.
Add the BBQ sauce and stock. You want it quite soupy for serving with potato. Stir to combine well and check for seasoning. Serve with a jacket potato and creme fraiche.