steak and mushroom pie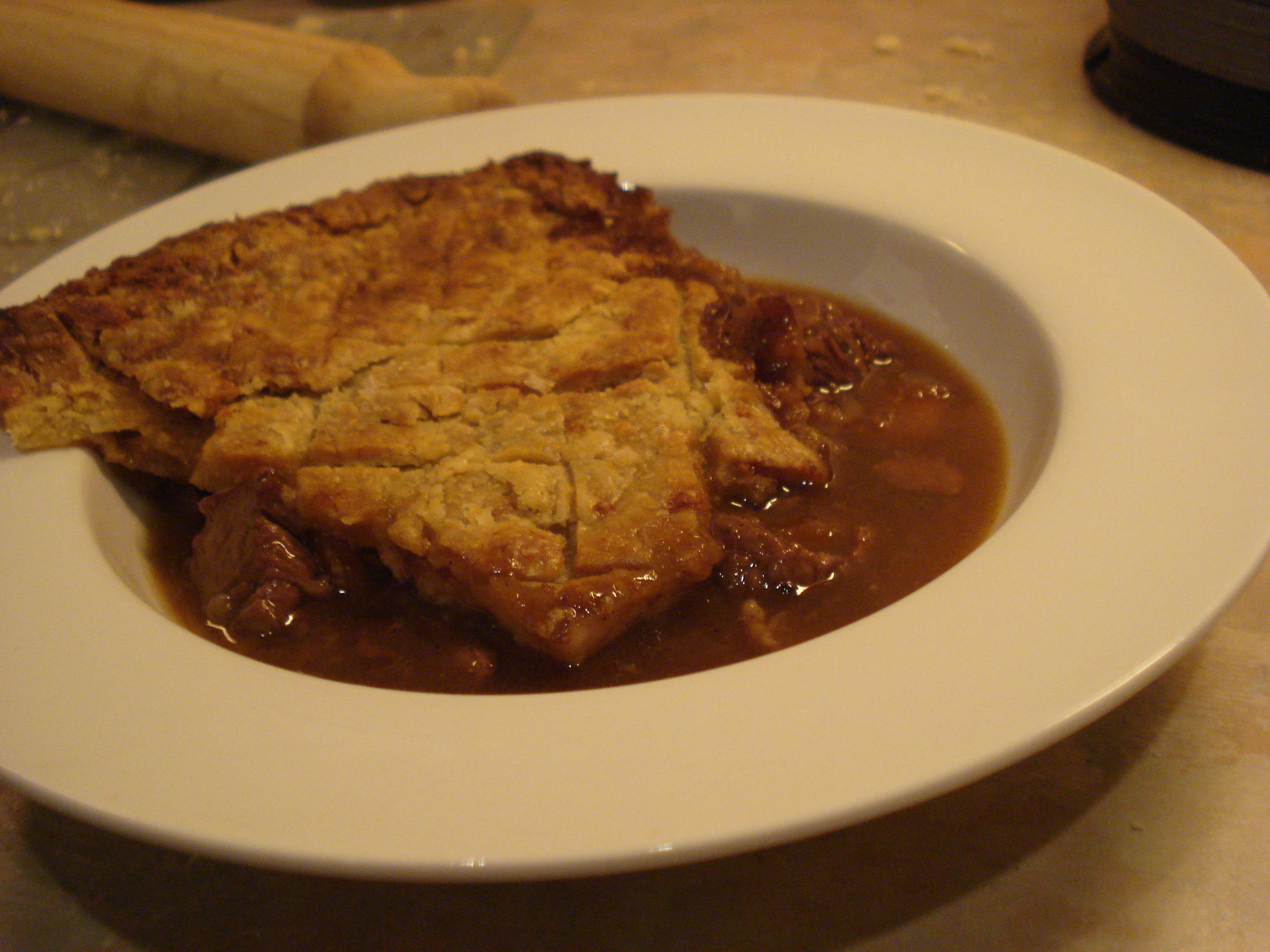 I possess the world's worst hands for handling pastry. Fact. These hot hams won't be churning out mille feuille any time soon.
So I tried my best at one of these recipe ideas from BakingMad using simple old short crust. I made a few changes to make sure the meat was completely tender and gave it a cheese-flavoured savoury pastry that just finished it off nicely. I handled the dough as little as possible and it seemed to turn out OK. It made a rich, savoury stewy pie that left me licking the bowl.
I've freezed a whole bunch of it so I can look forward to more pies over the next few weeks.
Based on a recipe from Baking Mad
Steak and mushroom pie (makes 6 individual pies):
For the pastry
250g plain white flour
100g cold butter, diced
25g cheddar, grated
1 egg, beaten
Splash of milk
For the filling
1kg casserole beef (such as braising, shin, blade), diced
1 onion, thickly sliced
2 carrots, peeled and sliced
2 tablespoons flour
500ml beef stock
2 tablespoons Worcestershire sauce
400g mushrooms, thickly sliced
First make the pastry. Rub the butter into the flour until it resembles breadcrumbs. Stir in the cheese, then add the egg and enough milk to bring it all together. Try not to mess about with it too much, but press enough so that it comes together. When it forms a ball wrap in cling film and store in the fridge until you're ready to use it.
Get a large lidded casserole on a high heat, add a splash of oil and brown the beef all over. Do this in batches as necessary so as not to crowd the pan.
Lower the heat and add the onions and carrots. Cook until the onions are lightly browned, then stir in the flour. After a minute put the heat back up and add a little of the stock, scraping up all the crusty bits from the bottom of the pan. Add the remaining stock and all the other ingredients, pop a lid on and leave to simmer for about 2 hours, or until the beef is tender. If it's a little watery at this point, take the lid off and ramp the heat up to reduce it down.
Spoon the beef filling into dishes you'll eventually cook the pies in. Allow to cool before adding the pastry, otherwise it'll be all soggy underneath (eurgh).
Roll out the pastry as thin as you like and press on to your pie dishes. Press around the edges with a fork and slash the middle to allow the steam to escape. At this point you can freeze the pies (defrost thoroughly before baking).
If you're eating now, get the oven on 180°C and brush the pies with milk. Bake for 30 mins or until the pastry is golden and risen.