strawberry rocket salad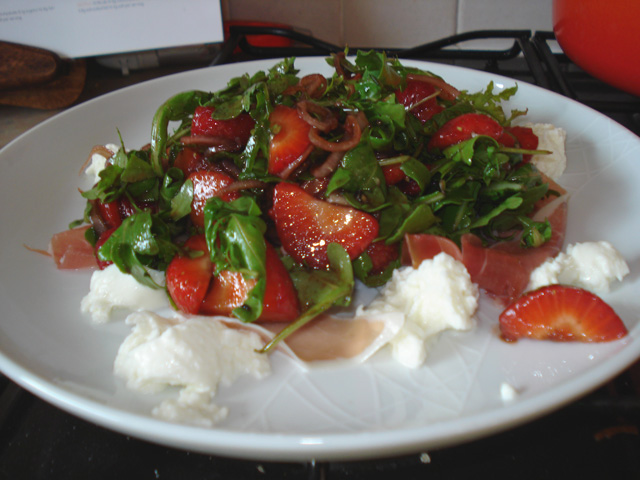 What a Summer stunner. The marvellous Simon had made this for us the previous week and it was fantastic, so I had to have a go myself. It originates from this month's Waitrose magazine.
It kinda shouldn't work, but when you load your fork with a little of everything –  crunchy shallot, bitter rocket, salty prosciutto, sweet strawberry, soft mozzarella and tangy balsamic dressing – it explodes in the mouth for a perfect combination.
Strawberry rocket salad:
450g strawberries, hulled and sliced
10 slices of prosciutto
100g rocket
200g buffalo mozzarella, torn into bite-sized pieces
2 shallots, peeled and sliced
For the balsamic dressing:
1 tablespoon balsamic vinegar
3 tablespoons extra-virgin olive oil
black pepper
Whisk the vinegar, oil and plenty of pepper together in a large bowl.
Toss the strawberries, shallots and rocket leaves with the dressing.
Arrange the ham and cheese on the plates, then spoon some salad over the top.