tuna with greens and coconut rice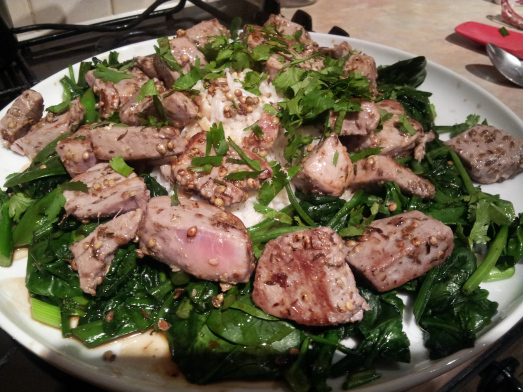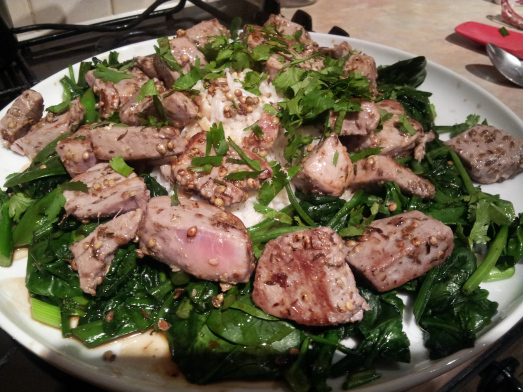 I'm certain people who cook a lot, like me, ponder something along these lines: when you really enjoy a dinner, one that you made, what made it special? Was it the choice ingredients, or the exotic technique you used… or was it the company? Heston talks often about this theory – the atmosphere of a meal – and how you can recapture it. It's often impossible.
I love having friends over for dinner. This occasion was a reunion of very old colleagues who had been through various trials together and come out as good friends on the other side. I took the rare opportunity to cook some fish and heaved a great pile of broadly-Asian-flavoured tuna and rice in front of us, and we all dug in. I know I cooked it, but I really enjoyed the meal. And I'd like to think it was the rare tuna, the fruity rice, or savoury greens, but I suspect that took a sideline to tales of disastrous bike rides, hasty pool tournaments and broken chopsticks. That's what I enjoyed.
Tuna with greens and coconut rice (serves 3):
1 large mugful of rice
1 heaped tablespoon instant coconut milk powder
450g diced tuna (sustainably sourced, please)
2 tablespoons coriander seeds
1 tablespoons cumin seeds
1 tablespoon sesame seeds
A few mixed green crunchy veg, e.g. tenderstem broccoli, sugar snap peas
1 large bag of spinach
2 tablespoons oyster sauce
Soy sauce, to serve
Bunch of coriander, chopped
Chilli flakes, to serve
Lime wedges, to serve
Get a saucepan over a medium heat and add the rice, coconut powder and twice the amount of boiling water to rice. Cover and simmer while you do everything else. When the water has subsided taste and check for seasoning.
Get another frying pan very hot. While it heats up, crush the seeds along with salt and pepper together lightly. Scatter on to a chopping board and roll the tuna pieces all over to cover. When the pan is hot add a dash of oil and then stir fry the tuna for about 90 secs, until all sides are coloured. Remove to one side.
Add the crunchy veg to the pan and toss for a couple of minutes. Turn the heat down to medium and add the oyster sauce, and then the spinach. Toss together briefly until the spinach wilts. Serve everything in a great pile, adding a drizzle of soy sauce and a sprinkle of coriander to everything, and plonk chilli and lime on the side for guests to pimp their own.