turkey burger bowls with sweet potato fries and roasted tomato salad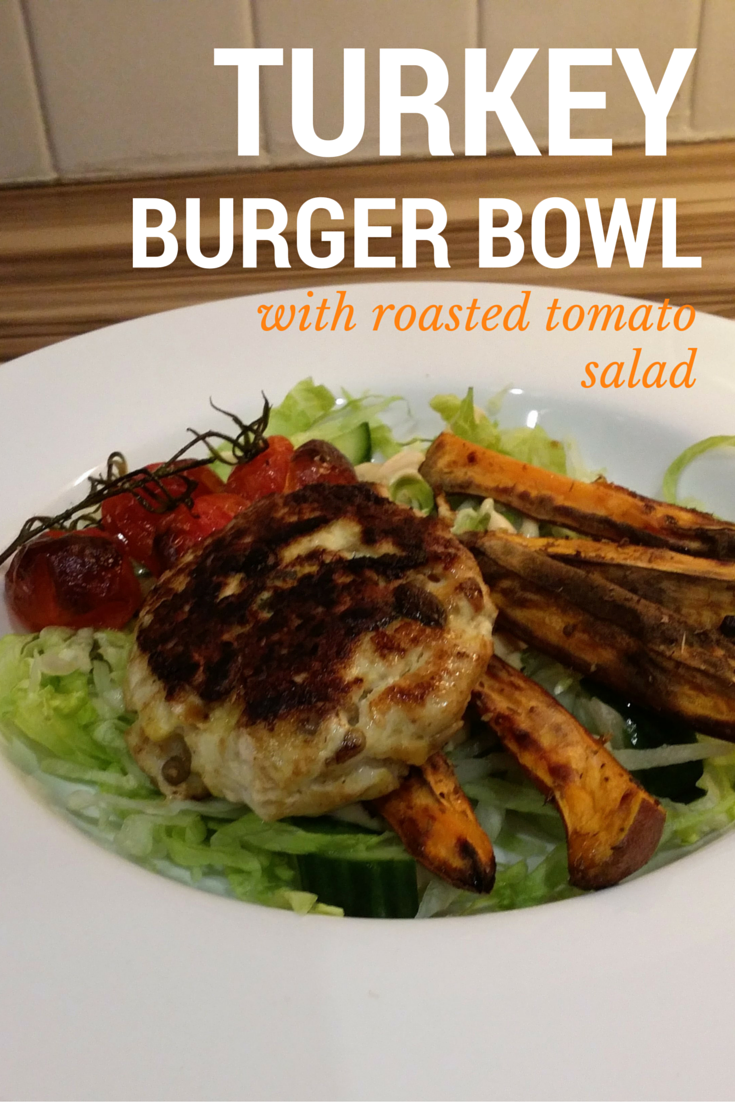 Looking for a healthier alternative to a hamburger and fries? Try turkey burger bowls with sweet potato fries!
It will come as no surprise that over 70% of us resolve to be healthier in the new year, but research from Sainsbury's reveals that in fact two thirds of us will spend almost a full day more (22 hours) watching TV in January and 1/3 of us end up eating more comfort foods in January than any other month. Great for crushing those box-sets, bad for keeping to your resolutions.
In an attempt to try and get a balance between satisfying foods and weight-concious, Sainsbury's asked me to come up with a recipe that strikes a balance. Others have swapped beef for lentils, spaghetti for courgetti, and using avocado in a chocolate mousse. It's called "ComFit foods", classic comfort foods with a healthy twist.
I love a burger, but it's not a healthy treat. So I looked at it and picked it apart so it was still recognisable and importantly good to eat. So here I've used turkey a naturally lean meat. I've added seeds for a good boost of nutrients, and crucially the bun is gone. So you don't miss having fries I've also included quick oven-baked sweet potato fries.
So if you're craving a burger but want to skip some of the guilt, try these turkey burger bowls!
Find some more ComFit recipes here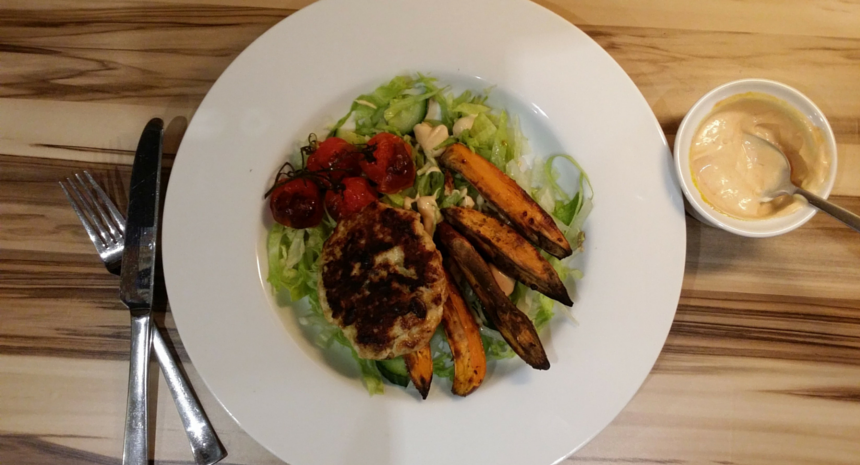 turkey burger bowls with sweet potato fries and roasted tomato salad
Ingredients
For the patties
750

g

turkey mince

2

cream crackers

1

tablespoon

mixed seeds

1

egg

beaten

1

teaspoon

English mustard

1

teaspoon

honey
For the salad
4

sweet potatoes

300

g

cherry tomatoes

1

iceberg lettuce
For the sauce
75

g

natural yoghurt

30

g

tomato ketchup

1

teaspoon

burger mustard
Instructions
Preheat the oven to 210c. Wash the sweet potatoes, cut into wedges and put on to a baking tray. Put the tomatoes on a separate baking tray lined with greaseproof paper. Season tomatoes and sweet potatoes with salt and pepper, give each a drizzle of olive oil and pop in the oven. They will cook in about 30 minutes.

For the sauce, mix all the ingredients and put to one side until needed.

In a bowl crush the crackers and seeds together until no large bits of cracker remain. Add the turkey, mustard and honey with a dash of salt and pepper and mix thoroughly to combine. Form into four burger patty shapes.

In a large frying pan, add a little oil and use a piece of kitchen towel to wipe it around the pan so there is a thin coating. Fry the burgers for around 9 - 12 minutes, flipping every minute until cooked through.

Meanwhile shred the lettuce and use it to line four bowls. Add the tomatoes and potatoes from the oven, top with a burger and serve the dressing on the side.