vegetable tikka masala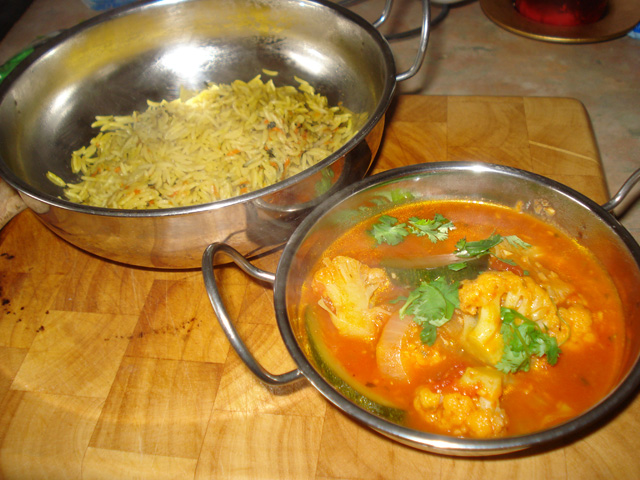 Curry is a mythical, hybrid beast in England. Born of curious Raj influences, the modern Indian food apparently bears little resemblance to food eaten in India today. Most of us experience the odd names of the menu and play roulette with what we get, as they appear different from restaurant to restaurant.
After making garam masala and forming it into a tikka paste, I can now make a curry with it. I started by frying a sliced onion, and when softened I added a dessert spoon of paste and allowed to sizzle a little. Then I chucked in some sliced courgette and cauliflower and stirred it round to allow the paste to soak in. Then a litre of stock and tin tomatoes and allowed to simmer until tender and thickened, about 20 minutes. I served with pilau rice, yoghurt raita and piles of fluffy naan.
The best part about dishes like this is despite all the preparation you're never entirely sure of the exact flavour until it's in a curry. It had a pleasing spice, the paprika stamping it's authority at first amped up by the smoky sea salt, then the coriander and cumin tickle and tingle. Then the gentle fire of the chilli remains. Very nice, though I think it would very good with lamb.
Best of all, I have another serving of tikka paste to use up. Yum.