I was extremely pleased with this. I knew a cold evening was coming up and that we had guests round, so I wanted something big, hearty and packed with warming flavours. I knew I had to look to tomatoey-based stews to heat the cockles. I also really wanted something paprika-y. Here's what I came up with.
I griddled some thickly-sliced chorizo first, to get those attractive black bar-marks, as well as to get an interesting charred flavour on them. Then in a big-ass Creuset pan I fried a red and white onion, and a fair …
Continue Reading ››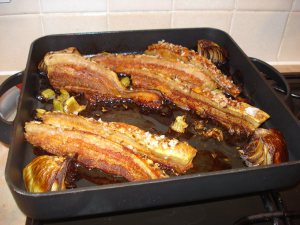 Pork belly, how I love thee so. Economical, tasty, and so absorbent for flavour. In this case it's salt and fennel, roasted with onions and celery until juicy and crisp. Served with roast potatoes and broccoli it's meal for a king.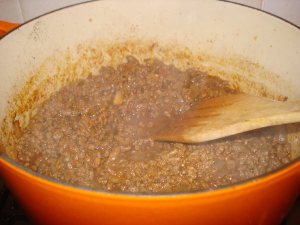 Chilli (chilli con carne) is a sentimental dish for me; it's the first thing I properly made. Now it's Liam's favourite, so it's often on the menu. I also love the ways you can serve it: flour tortillas, corn tortillas, or with plain rice. In this case we served it with tacos and fried onions & peppers.
It's very simple, and a great dish for learning a lot of fundamentals that you can then transplant into other dishes. It's also adaptable, you can turn it into bolognese, …
Continue Reading ››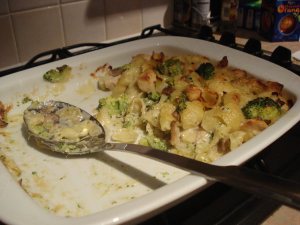 Using the chicken in white sauce from Sunday makes this dead easy. Get some pasta on the boil along with some broc, meanwhile heating up some frozen chicken sauce and adding a little cream to loosen it up. When all is ready tumble into the same dish and bake. DONE.
I've never been quite sure what's kingly about peppers, but it's tasty so that'll do me. Yet again using the ever-bounteous frozen chicken, I warm this up with some ham from the deli. Then I add a drained jar of peppers in oil and end up with a very yummy dish that makes me grin all over.
a blog for roast potatoes and other recipes