jap chae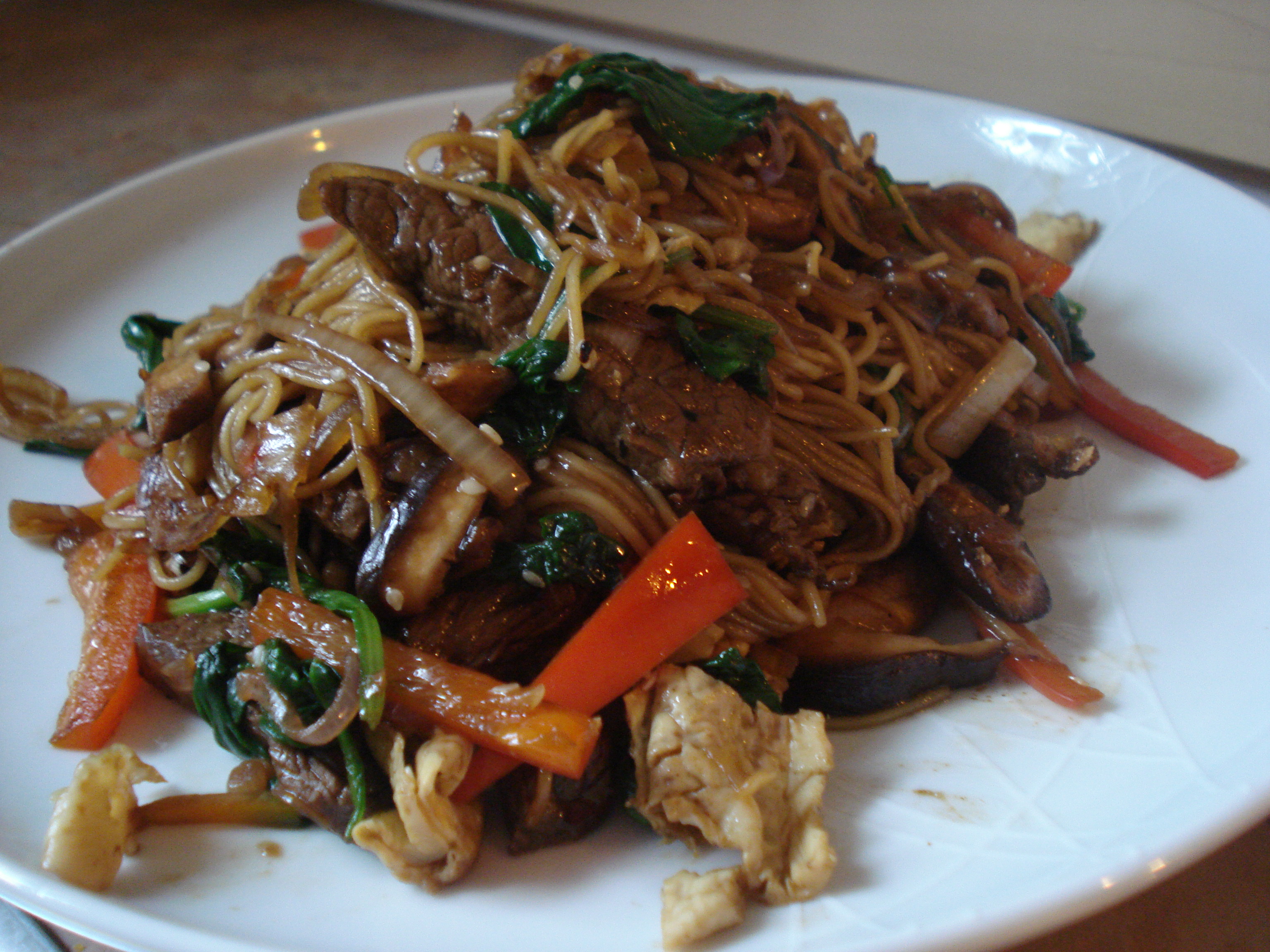 Following my first brush with Korean BBQ, subsequent egging on from gourmet traveller, and inspiration from Judy Joo, I knew my second dish had to be Jap Chae.
I took a good look at Judy Joo's recipe, and dived into the challenge. Being a forthright so-and-so, I made a few adjustments. I understand they are at the heart of the dish but I had no chance of finding dangmyeon, or sweet potato vermicelli, in my corner of Essex. It's hard enough finding an Asian store of any description, so I hope the panel will forgive me substituting fine egg noodles (if I ever see some on my travels, I will grab them and give 'em a try). On a more personal level, I love it when beef has that black-brown seared crust on, and worried that this recipe might lose it. So I chose to sear the beef very quickly over very high heat, then leave it to rest alongside the omelette before adding back at the end. By resting it here, those lovely steak juices would wander off and get leeched by the egg, so double win there.
All told, it was a lovely plate of noodles. Dark and rich, with plenty of fresh vegetable crunch. The omelette and beef were nice little nuggets of treasure hidden away amongst it all. Thanks guys! So what's next?
Jap chae (serves 2):
200g rump steak, thinly sliced
For the marinade:
1 teaspoon sugar
1 tablespoon soy sauce
2 tablespoons mirin
1 teaspoon sesame oil
1 teaspoon sesame seeds
For the noodles:
2 nests fine egg noodles, broken up
2 tbsp soy sauce
Everything else:
2 eggs, beaten
1 large onion, sliced
4 cloves garlic, crushed
1 small red onion, sliced
1 small carrot, julienned
12 oyster mushrooms, sliced
½ red pepper, julienned
Handful baby spinach leaves
1 tablespoon toasted sesame seeds, crushed
3 tablespoons sesame oil
2 tablespoons soy sauce
Mix the marinade ingredients together, pour over the steak and leave for at least half an hour.
Boil the noodles as per packet instructions, drain and rinse through with plenty of cold water. When cool to the touch pour over the soy and let it soak in.
Get a pan on medium low and spread the egg thinly over the base of the pan. When it sets flip it over, cook briefly, roll it up and put to one side.
Get the pan up to ferocious heat and add a splash of oil. Sear the beef quickly for about 45 seconds on either side and remove to the same plate as the omelette to rest while you get on with everything else. (I couldn't bear to lose that leftover marinade so poured it over the resting noodles).
Keep the heat high and add the onion and garlic and cook for 3 minutes. Keep it moving the whole time and it shouldn't catch. Add the red onion, carrot, mushrooms and pepper and continue stir-frying at pace. Fry for 3 – 4 minutes more until they vegetables start to go tender, then add the spinach and beef. Slice the omelette into strips and add those too along with the noodles and the rest of the ingredients.
Cook for another minute or two until everything has been warmed through and the noodles take on a glossy appearance.