pork, chorizo and fennel stir fry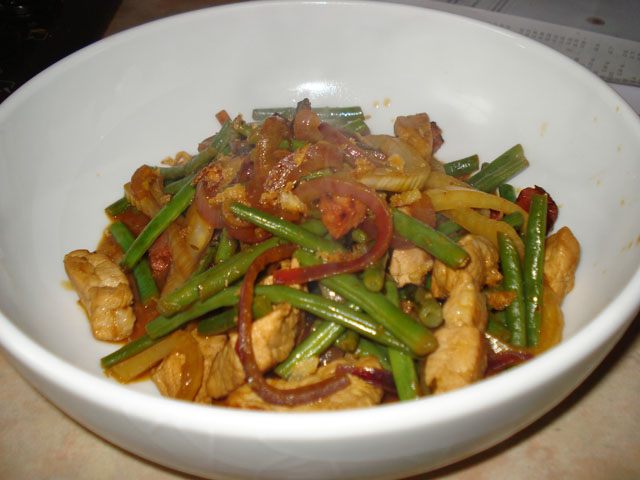 Another superfast delight from the pages of Olive magazine. This was the first time I'd worked with a fennel bulb, having enjoyed the potent seeds for a long time. But the satisfying almost lemony crunch of the fennel means I'll be coming back for more.
Pork, chorizo and fennel stir-fry:
2 pork escalopes, cut into bitey pieces
100g chorizo, diced
1 fennel bulb, finely sliced
1 red onion, finely sliced
Handful of green beans, halved
Zest and juice of 1 lemon
200ml vegetable stock
100ml white wine
Dried onion to serve
Fry chorizo in a hot pan until darkening at the edges and releasing its oil. Remove from the pan.
Fry the pork with the zest in the same pan until white all over, seasoning as you go. Add a splash of wine, lemon juice, the fennel and onion and fry until the latter are tender.
Add green beans, stock and chorizo and cook for a few minutes until the beans are done to your liking.
Serve with crispy onion on top.