steak
Few things in food get me more excited than a lovely piece of steak. And this sirloin steak from Farmer's Choice is an excellent specimen. Based in Fareham Farmer's Choice have been providing free range meat for over 20 years. They kindly sent me a selection of products to try all individually frozen so it's really convenient to get as much or as little out as you need for dinner.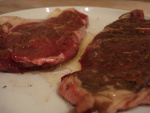 You can see how good it is raw; marbled and ruddy brown, with a loose flaking texture. When cooking I added the bare minimum of flavourings so the natural taste of the beef could come through. And it was a really tasty piece of meat, strong and savoury with crispy yellow fat.  Usually I buy rump for economy so to have sirloin was a bit of a treat.
If you struggle with steak, you can read 1,000 words I wrote about it previously, or distill it to a few simple rules: really high heat, let it rest, and buy really great meat.
Steak (serves 2):
2 x 400g sirloin steaks
¼ beef stock cube
An hour before you want to cook, get the steak out of the fridge. You're not going to cook the steak for very long even if you like it charred, so allow it to come up to room temperature first.
Fifteen minutes before you want to cook, get your frying pan on super-hot, as high as it will go. You may wish to temporarily remove the battery from your smoke alarm (but don't forget to put it back in, I'd feel terribly guilty if you didn't). Also put your oven on 150°C and pop an ovenproof plate in there to warm up.
Crumble up the stock cube and rub liberally all over the meat. Shake over some olive oil and wait for your pan to start shimmering. Lower them in and just leave them be for a few minutes.
Flip them over and cook for a further couple of minutes. Doneness is up to you and the best way to figure it out is to press the meat in the pan with your finger and feel how bouncy it still is. After cooking a few steaks this will become your best guide for how done they are.
When done, turn your oven off and carefully remove the plate and plonk the steaks on that. Leave for about five minutes.
While the steaks rest, add about 100ml of water to your pan and use a wooden spoon to scrape at the crusty bits. After a few minutes' bubbling this will reduce to a syrupy consistency, at which point serve up your steaks and pour this beefy nirvana over your meat.