11 minute chilli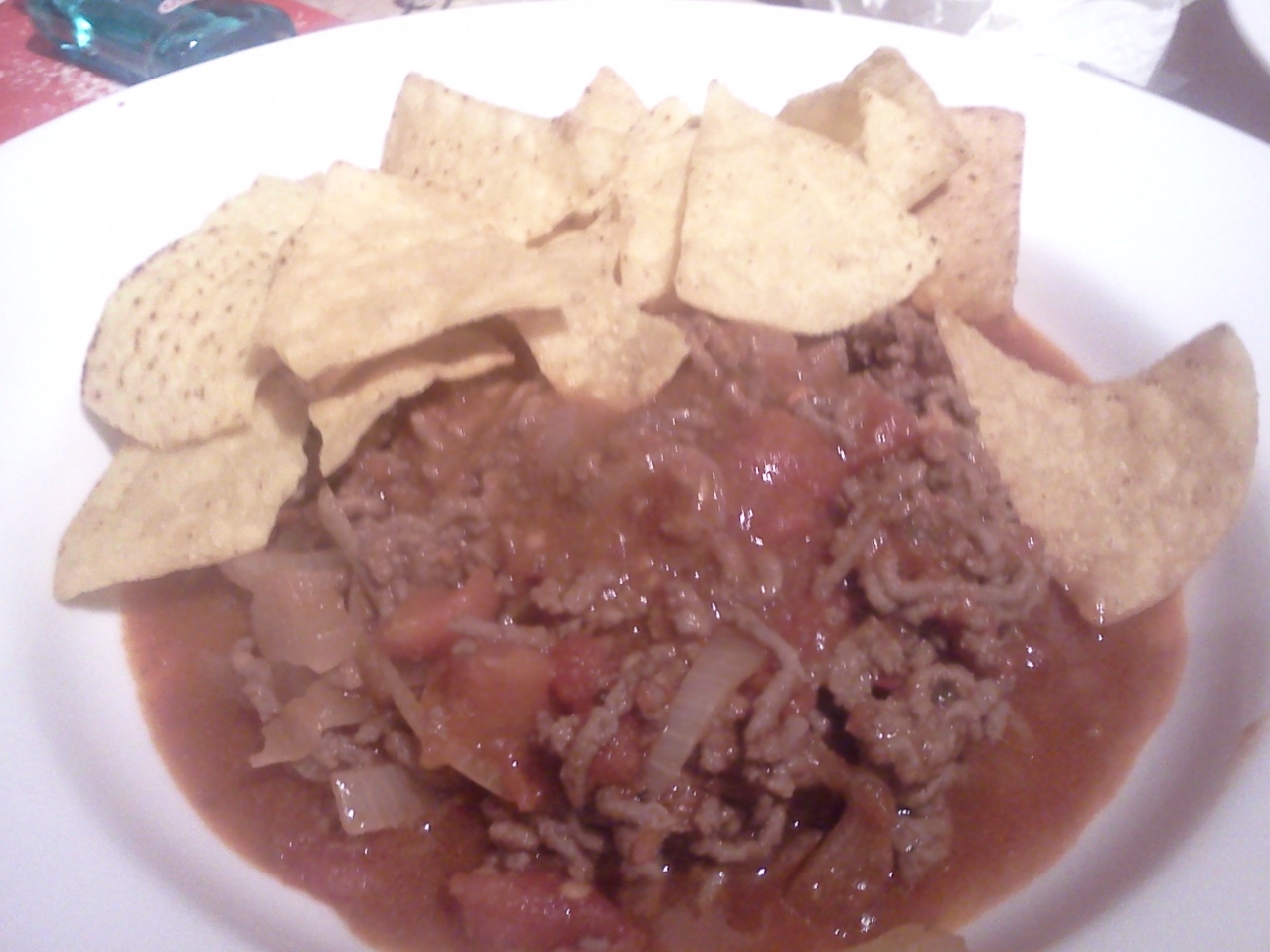 I'm a big fan of chilli, I've probably cooked it more than anything else. I particularly like ones that sit there and blip away under their own steam for hours. I was looking forward to cooking a chilli tonight.
But I'd had a rotten evening. Little Miss Spud was rotten sick and was in no mood for going to bed. There were many changes of clothes (for me and her), things to wash, bottles to fetch… Eventually she dozed off, and it was time to cook. I reached for the takeaway menus… but didn't. I had planned on doing a chilli and gosh darnit, a chilli I was going to make.
I floated the idea on Twitter about cooking a chilli in 10 minutes. "Not enough time", scoffed Gary Dickenson. "It can't be done!" wailed Food Urchin. "Keep us posted" urged Simon Loves Food. Well, that was that – no turning back now. I had to do it.
The problem is to develop those flavours does take time. There needed to be some sneaky shortcuts in there to amp it up and cut down the cooking time, hence the ingredients list is fairly long – but generally full of store cupboard stuff. The hard bit is that it's one of those dishes where you keep adding stuff but by bit and each part needs to come back to the simmer. So I drew together some ideas that I've flirted with before: frying mince to release the oils and then add the onion to that, and creating a thick tomato paste packed with flavourings to form a flavour base. So I cooked these parts separately and combined them at the end.
And I have to say it was really tasty, and really worth it. Of course it's not the same as a slow-simmered chilli ticking away for hours, and it would've been nice to stick some kidney beans in there (I just didn't have any to hand) to nod back to the 'usual' recipe. But it's a good alternative and great for busy weekday evenings. Oh, and it came out at 11 minutes rather than 10, but I can live with that.
11 minute chilli (serves 2):
400g beef mince
Two cloves of garlic, crushed
1 tin of tomatoes
1 tablespoon tomato puree
1 teaspoon smoked paprika
1 onion, peeled and sliced into half-moons
1 teaspoon cumin
1 teaspoon coriander
1/2 teaspoon chilli powder
1/2 teaspoon oregano
A large handful of tortilla chips
150ml boiling hot beef stock
Mushroom ketchup
Frank's Red Hot Sauce (or other chilli sauce you like)
Preheat your oven to top whack, and get two frying pans over a high heat.
Add a splash of oil to both pans. Pop the mince in one of them and let sizzle and stir occasionally to colour all over. Meanwhile in the other pan crush in the garlic and 10 seconds later throw in the tomatoes, puree, and paprika. Keep stirring this too when you have a minute. Both pans should be bubbling fairly furiously.
When the mince is coloured all over it will probably have released some fat. Throw the onions into this along with the cumin, coriander, chilli powder and oregano. Add a pinch of salt and keep stirring.
Scatter the tortilla chips in one layer and pop in the oven for a couple of minutes to warm through and become really brittle.
Now add the beef stock to the mince and again keep stirring and shaking. By now the tomato paste should be quite thick and pulpy, so add this to the mince mixture.
Keep the heat high as you bring it all together and allow it to reduce naturally. Add a shake or two of both mushroom ketchup and hot sauce and check for seasoning. When you're happy with it serve with the tortillas, grated cheese, soured cream, guacamole, etc. etc. whatever things you like to serve with chilli.