aromatic melting pork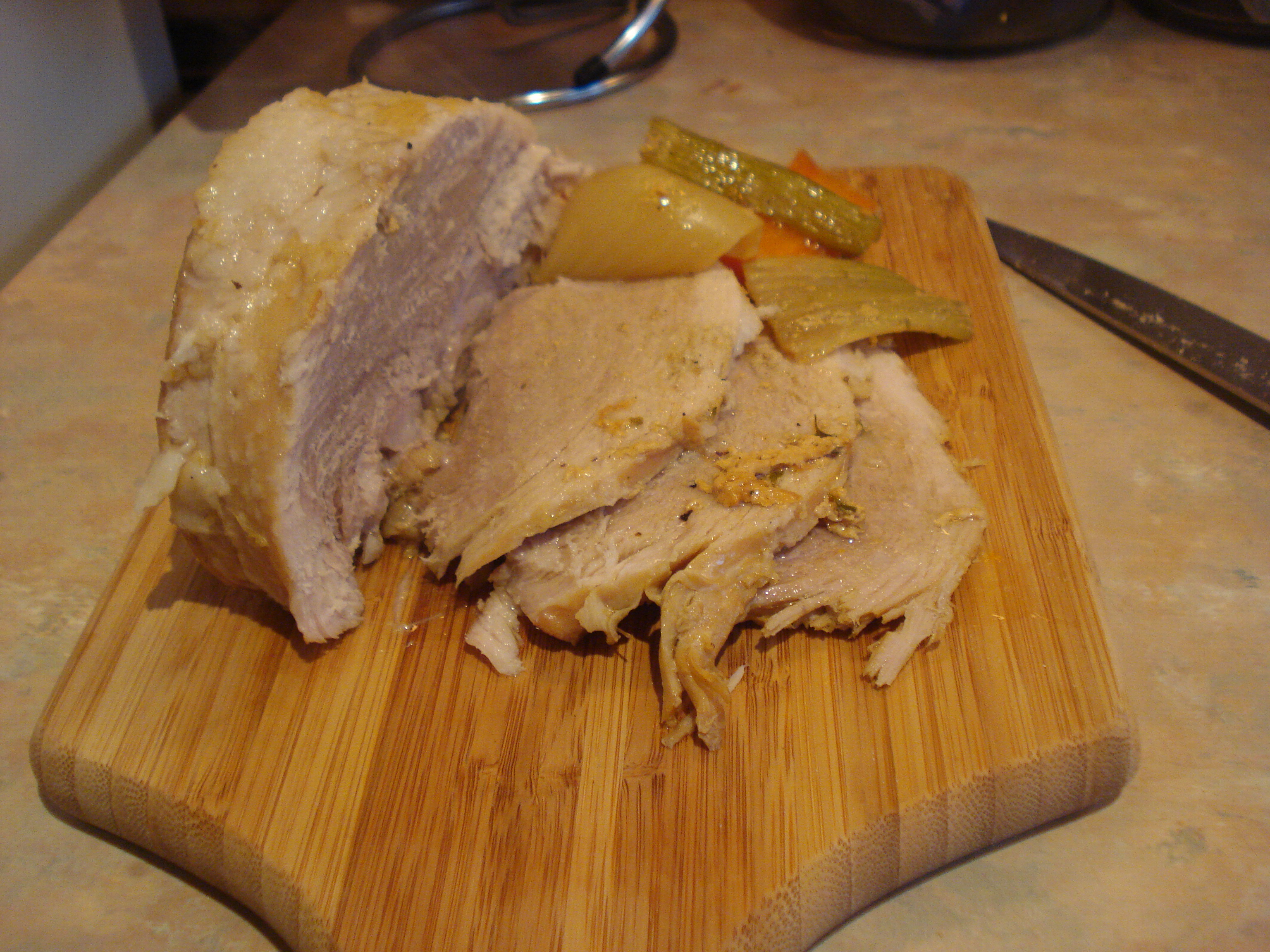 I love pork joints a lot, but I'm in danger of doing the same thing over and over again: bung it in the oven and roast. Nothing wrong with that, but surely there's more out there?
Lucky for me The Ginger Pig Meat Book
plopped through my letterbox, packed with great ideas grounded in everyday cookery. The Ginger Pig Butcher's isn't somewhere I was familiar with before this book, but after reading their story I was smitten. Almost the first third is taken over to their philosophy, their approach to rearing and the disasters and triumphs along the way.
It's also got some my favourite things – those side-on diagrams of livestock, with all the cuts and joints labelled for butchery. I love these illustrations, giving me a wry smile at the fascinating variety from each animal. Have you heard of pig's slipper, or jew's fillet on a cow? I know I hadn't.
I had a pork shoulder joint in the freezer needing a bit of love, so the recipe here for aromatic melting pork jumped out at me. It's simplicity bowled me over, as did the use of milk rather than stock for the braising liquor. After hours of cooking it falls to pieces, with chunks of moist, succulent veg round and about. It's an old-fashioned belter, I heartily recommend the dish – and the book!
Thanks to Octopus Books for the book.
Aromatic melting pork (serves 4):
1 pint milk
1kg boned and rolled pork shoulder
4 onions, peeled and quartered
4 carrots, peeled and halved
4 garlic cloves, peeled and squashed
3 celery sticks, halved
2 sprigs marjoram
2 sprigs thyme
2 strips lemon peel
Preheat the oven to 170°C. In a large casserole heat the milk until it's just about to boil, then chuck everything in the pan. Make a cartouche out of greaseproof paper, then fit the casserole with a tight-fitting lid an pop in the oven.
After an hour turn the heat down to 150°C. Cook for another 1½ – 2 hours until the pork can be carved with a spoon. Allow to rest for 20 minutes before slicing up and serving with the veg, spooning over the juices.