barbecue ribs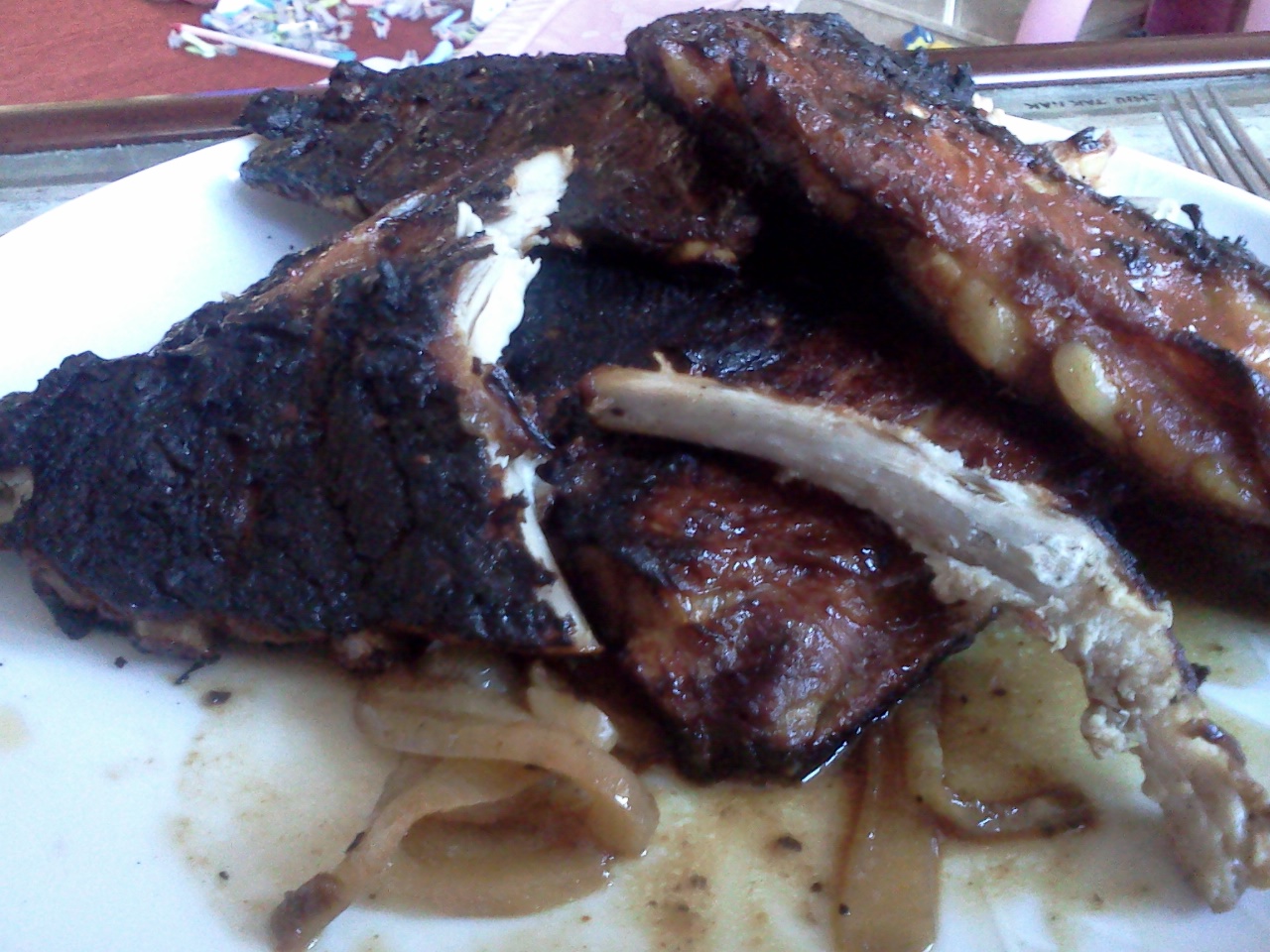 "How to cook perfect barbecue ribs" proclaimed the headline. It would be rude not to give them a try. I knew I had most of the stuff lurking around the office, so after buying some ribs and some sandwich bags from the local supermarket I could marinade everything at lunchtime. By the time I'd got home it had plenty of time to impart flavour.
3 hours of roasting and barbecuing later, I had a pile of ribs to enjoy. What a crushing disappointment. For something labelled "perfect barbecue ribs" there was almost no BBQ flavour at all. Mildly sweet, but all the umami had gone. I note that as per Felicity Cloake's "perfect" series she runs the gamut of celeb and other chefs to hone in on perfection. She tried Jamie Oliver's recipe from Jamie's America
, but not the one which to my mind is superior – the one from Jamie At Home
. I cooked a whole chicken with it last year, and it's great. That's your perfect BBQ rib sauce right there.
Barbecue ribs (serves 4):
2 racks of pork ribs
1 tablespoon Marmite
1 tablespoon English mustard
1½ teaspoon smoked paprika
2 tablespoons tomato ketchup
2½ tablespoons dark muscovado sugar
Mix together the marinade ingredients and rub half all over the ribs. Cover and refrigerate for at least 4 hours.
Preheat the oven to 150°C. Pop the ribs in a baking tray and cover with foil. Cook for 2½ hours and baste from time to time.
After 2 hours oven cooking light the barbecue. Once the coals have turned ashen grey, transfer the ribs to the BBQ and cook for around 15 minutes, basting as you go. Make sure they catch a little and go all crispy and gnarly. Eat with baby wipes.