bread and dripping rolls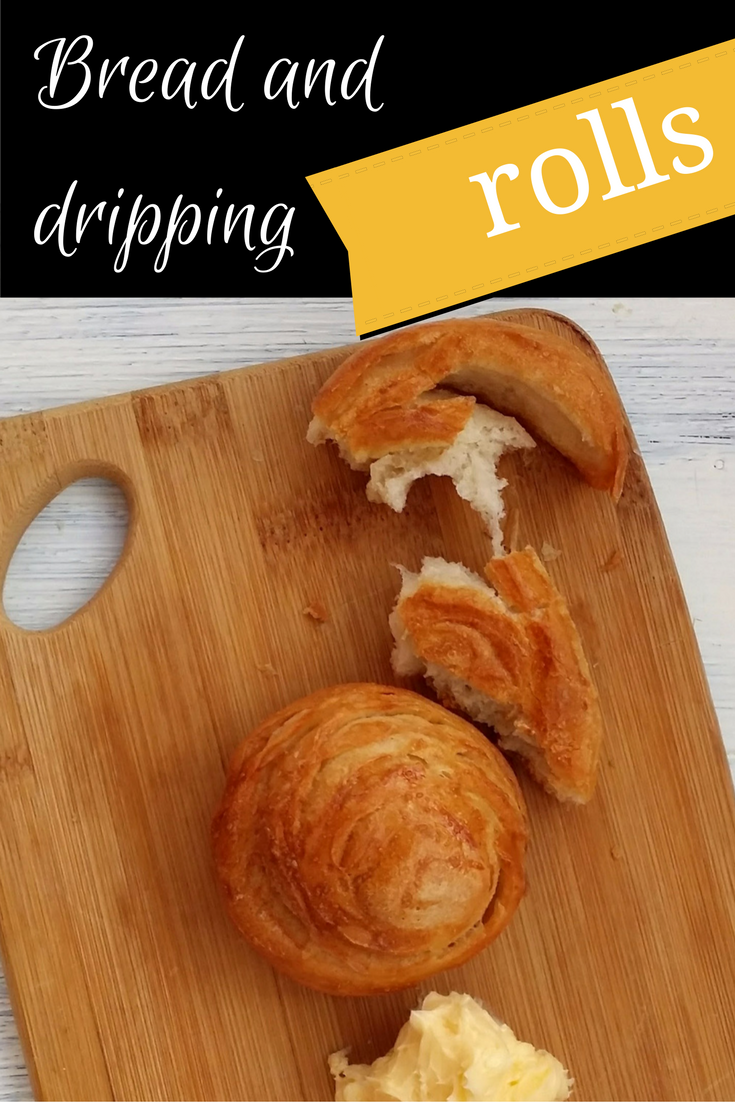 There's food that makes the generation above me turn misty-eyed: liver and onions, jam roly-poly, pickled eggs… Bread and dripping is another. That is, a slice of bread smeared with a slick of grease rendered from the Sunday roast and rescued cold from the pan. Creamy white fat speckled with pepper on soft bread… I don't share that same nostalgia, but I can see what they're getting at.
That's what was at the heart of this recipe, itself inspired by a dinner hosted by M&S in celebration of British beef. M&S have worked with some of the same suppliers for over 50 years and felt it worth celebrating. That relationship is good for the meat: every joint can be traced back to a farm and an animal, something rare on the high street. One family of suppliers, the Bells of East Fife, have a herd of 300 cattle grazing for nine months of the year on their 2,000 acre farm. From November onwards the cows head indoors for the Winter. For M&S working with the same organisations that involve the same farmers keeps quality high.
Here's a video describing the event and more of the thinking behind it:
In an exposed brick hall in South London (I'm told it was where they film Dragon's Den) M&S hosted an excellent dinner. With real turf on every table and backdrops of wandering Angus cattle the outside came in.
Over eight courses beef was explored in astonishing ways. Chefs Jon Jones (top BigSpud fact: my method of cooking potato dauphinoise is based on the version I was taught by Jon Jones when he was at the Waitrose Cookery School!) and Merlin Labron-Johnson had composed a stunning menu examining just how versatile such an ubiquitous ingredient can be. From a crisp ball of oxtail, to a tartare dotted with grilled baby onions, from charred cabbage scattered with grated ox heart, to a dessert of shortbread made with beef, the produce was centre-stage. Each course was exceptional, paired in turn with some superb wine choices. The quality of the beef shone through.
This slideshow requires JavaScript.
Of all these amazing dishes, it was the innocent-sounding bread course that stuck with me. "Dripping bread, horseradish butter" was the description. Bread and dripping, in the form of a roll. Chef Jones described it as "like a pain au raisin." As you tore open the spiral roll, the glittering fat sparkled at you. Each bite of the pillowy bread left an aftertaste of intense beefiness like you'd just drunk a shot of gravy. Paired with a mustardy horseradish butter, I would've forsaken all the other excellent courses for eight servings of this. It was that good.
Hence me having a go myself. They used a sourdough as a starting point but I don't have any to hand so I took a standard white bread roll recipe. Then I thought of a laminated bread like a croissant, with the chunks of fat and folding to build up the layers. Instead of butter I used dripping. I scoffed some pretty much straight out of the oven and thought I got pretty close to what we had on the night. With every bite it tastes like you've just eaten roast beef. I'm pretty sure it'll become a regular side dish in my kitchen. Now I want to try it with other fats, such as lard or duck fat…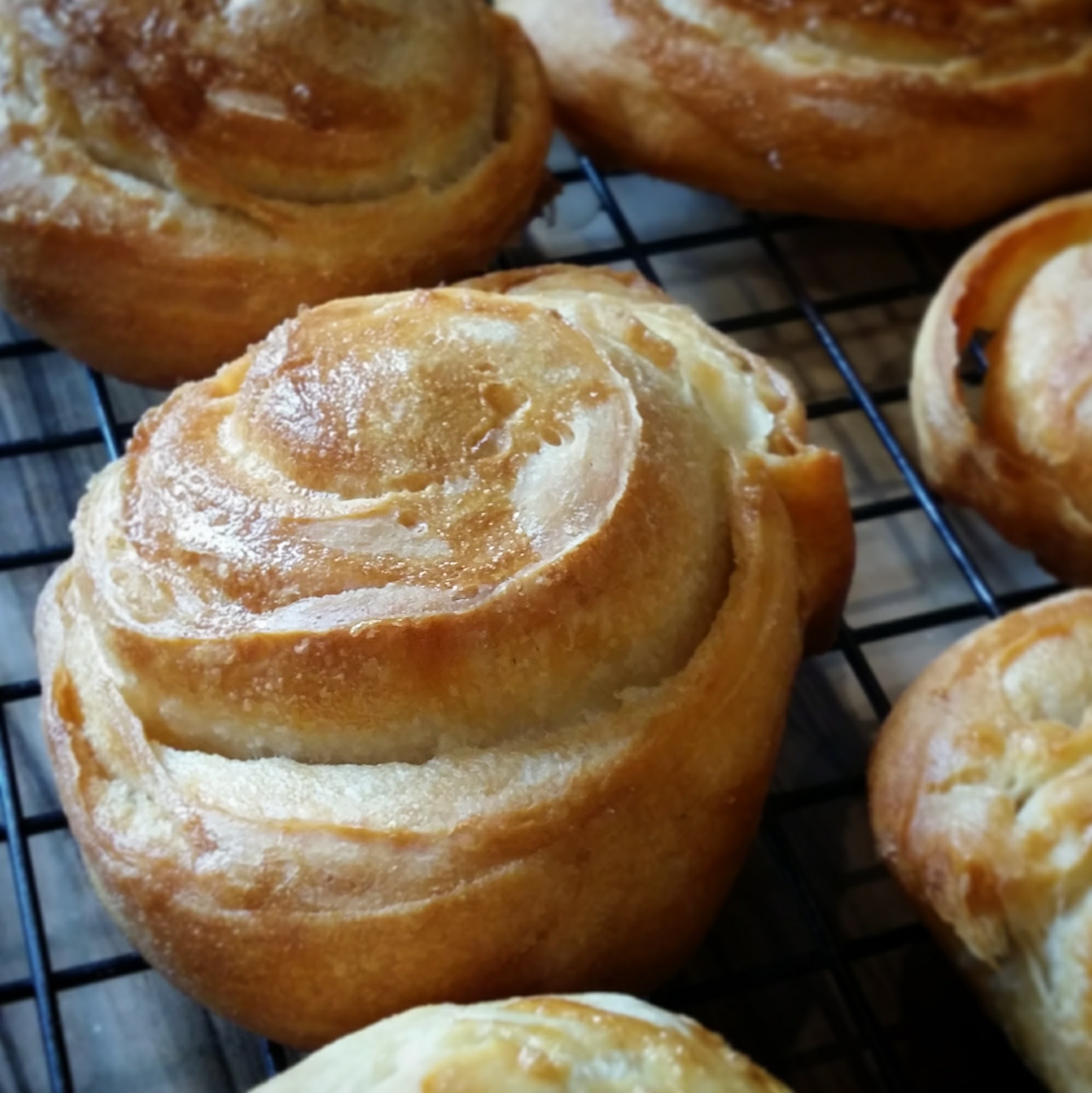 Here's a look at that fluffy interior.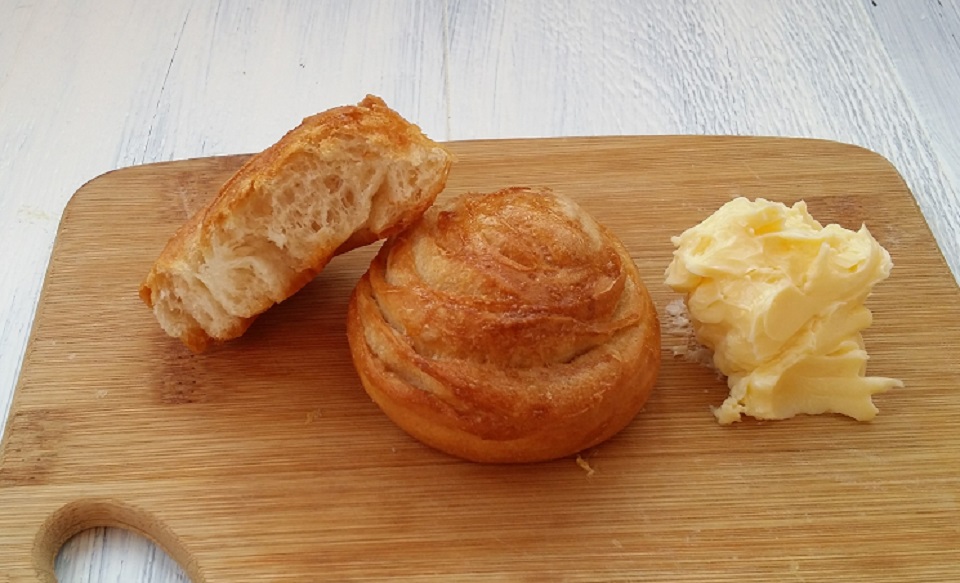 So good!
The recipe for the grilled cabbage is available here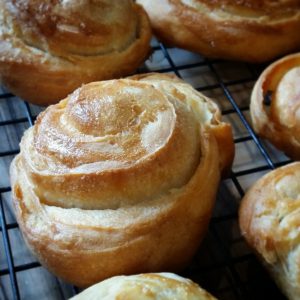 bread rolls with dripping
An indulgent snack. Great for lunch or as a side to a meaty stew.
Ingredients
300

g

strong bread flour

5

g

instant yeast

1

teaspoon

sugar

1

teaspoon

salt

100

g

cold beef dripping

grated or thinly sliced

1

egg

beaten
Instructions
Combine the flour, salt, sugar and yeast in a bowl. Add enough tepid water to form into a dough. You'll need around 200ml. When fully incorporated knead on a surface for ten minutes until the dough is pliable and smooth. Cover with clingfilm to rise for an hour.

Once proved, knock back the dough and roll out into a wide rectangle. Scatter over half the dripping and fold over twice, then roll out into a rectangle again. Add the remaining dripping and roll lengthways. Slice into 2cm widths and move to a baking tray with a lip (to catch any leaking fat). Allow to prove for 30 minutes.

Preheat the oven to 180C. Brush the rolls with egg wash. Bake the rolls for 20 minutes or until golden, cool on a wire rack and eat with butter. The rolls will keep for a day or so in a container, but you just have to eat them warm.
Notes
A fun alternative to plain rolls that are just as simple to make. Go great with soup.