butternut squash puree
It's that time of year when squashes are abundant. When the glory days of pumpkins on 31st October are over there's still the butternut squashes, acorn, onion, gem, spaghetti… I've probably had squash three times in the past week, different every time. Whether it's blitzed for a pasta sauce, roasted with sausages or thinly sliced and fried, I am a fan.
But I'd never made a puree. Ever popular with the Mastercheferati, I thought it was worth a go. I was very pleased with the result, a super-smooth and sweet puree that worked well with the spicy potato wedges and barbecue ribs. If only there had been more of it on the plate…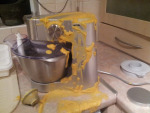 What I wasn't so pleased about was the process. I've recently had some kitchen disasters, and here's another one for the collection. I poured the freshly-cooked squash into my Kenwood Prospero blender and whizzed it up until smooth. As I tried to take the jug off the mixer the bottom fell off, pouring hot liquid squash everywhere. Over the mixer, over the counter, over my feet… a real disaster. I like my mixer very much and I get a whole lot of use out of it, but the attachments have proven less than stable over the years. I'm not convinced I'll replace like-for-like when the time comes.
Butternut squash puree (serves 4):
½ a butternut squash, deseeded, diced and peeled
A pinch of ground cumin
50ml chicken stock
25ml double cream
Add the squash to a lidded pan with a knob of butter over a medium heat. Add the cumin with salt and pepper and cook for 10 mins stirring often.
Add the stock and cook for a further 10 mins. Add the cream for the last minute and pour into a blender. Whizz up to a fine puree, adding a dash of boiling water from the kettle if necessary. Check for seasoning and keep warm in the pan until needed.