caesar salad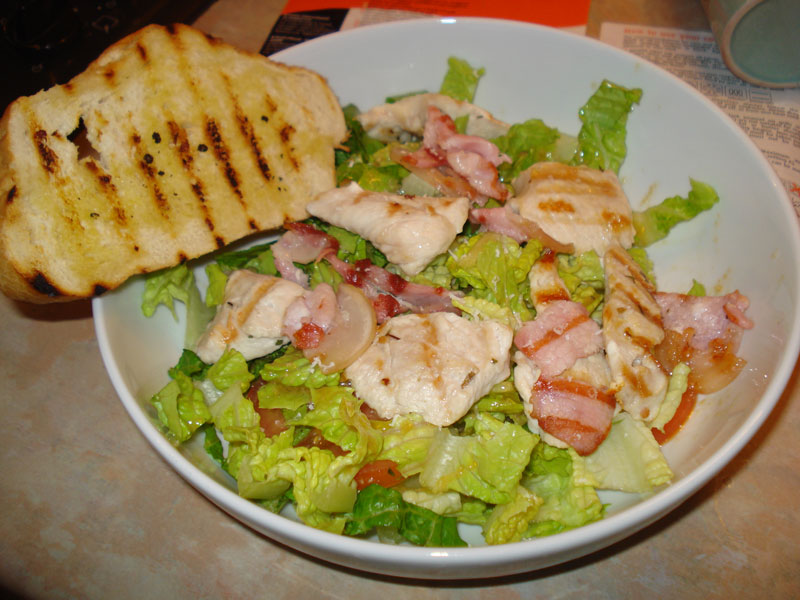 One of my absolute favourites. Regular readers may have twigged that I adore dishes that totally celebrate their ingredients, and allow each one to stand up and be tasted whilst adding to each other simultaneously. This is my take on a classic Caesar salad.
I hope Mr. Cardini will excuse me altering his recipe, but his core flavours are still there. As our house is veering away from raw egg at the moment, I can't get the oil / egg emulsion so instead the sauce is a blend of garlic, good olive oil, white wine vinegar, worcestershire sauce, soy sauce and white wine vinegar. I add a few flakes of parmesan to help give the sauce some thickness, where the egg usually would help. I whizz all this up in a blender.
I've used turkey here, simply because it was on offer, which is griddled alongside some bacon until those pretty brown stripes appear. When done I whip those off to one side and then lay some thinly sliced bread drizzled with oil on the pan, soaking up meat juices and charring slightly. I then chop some cos lettuce, cucumber and tomatoes and toss this with the Caesar sauce. The rest of the ingredients go in, then top with parmesan. Crunchy, satisfying and tasty.