chicken risotto with bacon breadcrumbs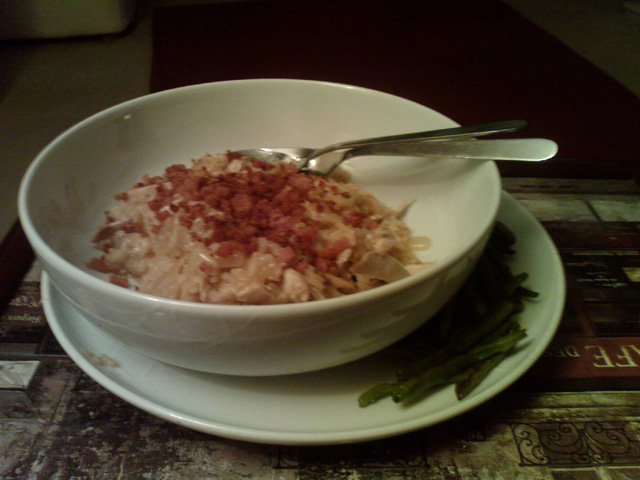 Yet another risotto, I can't get enough of them. Following a lovely roast chicken, I'm left with a gorgeous carcass with which to make glorious stock; and chunky chicken bursting with potential. I made a typical risotto bianco and towards the end added shredded chicken. Whilst I love a creamy, unctuous risotto it can be a touch bland so thinking about the garnishes of a Japanese Yaki Soba I set to a punchy, salty kick to round out the mouthful. I blitzed up streaky bacon and breadcrumbs to make a ruby powder that provides crunch and interest to every spoon.
Chicken risotto with bacon breadcrumbs:
1 onion, diced
A handful of risotto rice per person
Chicken stock, as required
100ml white wine
Shredded cooked chicken
25g butter
For the bacon breadcrumbs:
50g breadcrumbs
2 streaky bacon rashers
For the breadcrumbs, blitz the bread and bacon together until powdery, then fry on a high heat until browned. Drain on kitchen paper until needed.
Fry an onion in olive oil until softened.
Add the rice and toast for a minute. Pour in the white wine and cook over a high heat until reduced to a slight trickle.
Add the boiling stock a ladleful at a time. At each ladle wait until the liquid has almost disappeared before adding the next.
After 20 mins or so taste the rice and check that it is tender. If not, keep adding more stock.
When tender, add the butter and stir vigourously. Add the chicken and warm through.
Serve scattered with breadcrumbs.