actifry roast potatoes

Before we start, here's a video version of this Actifry roast potatoes recipe:
It seems obvious, but despite (a) owning a Tefal Actifry and (b) loving a roast potato it's never occurred to me to make an Actifry roast potato. I tried it and what do you know – they're really worth it!
Just rinse your potatoes to get rid of the excess starch, season and pop in the Actifry for 30 – 40 minutes and you'll get excellent weekday roast potatoes.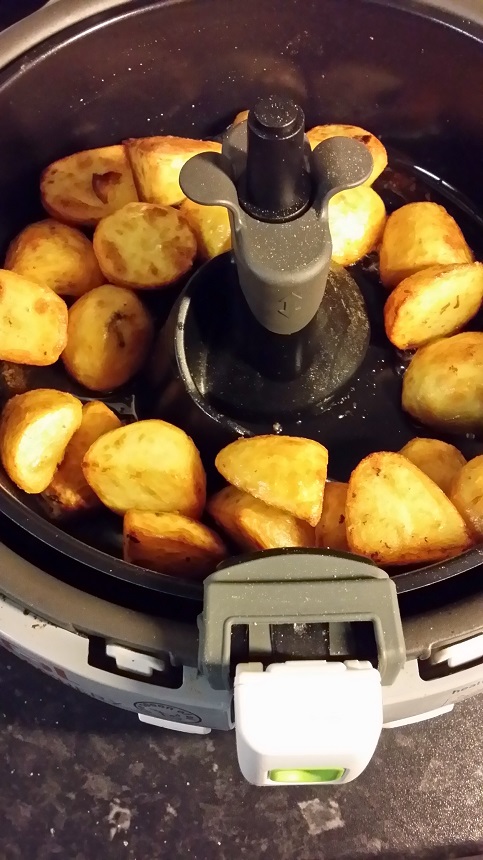 Do you see what I wrote there? Excellent weekday roast potatoes. They're not a patch on your Sunday best roast potatoes. Without the boiling and the intense temperatures, you won't get the same glass-like crunch or pillowy middle. But an Actifry roast potato will tick the boxes if you're looking for something to accompany your dinner. You'll get a bit of a crunch on the outside and soft enough inside. Just like Actifry chips, they're an excellent substitute and while I haven't run the numbers they are certainly a lot healthier than regular roast potatoes.
You should choose a floury potato, just as you would for regular roasting. So here we're talking Maris Piper, Maris Peer, King Edward etc. Why rinse them? The excess starch in the potatoes will prevent them browning before they're ready. After this stage the choice of flavourings are up to you, though I really like garlic powder and coarse Maldon salt. Any woody dried herbs would work well here too: perhaps rosemary, oregano or thyme. It's your call!
The only downside to this recipe is the capacity of your model Actifry will affect how many you can cook at once. Depending on how much you need you'll only get 4 portions maximum in a regular size version.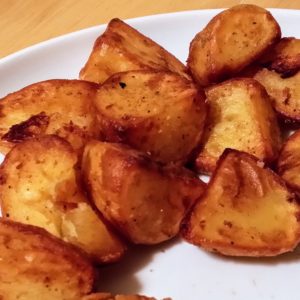 actifry roast potatoes
Ingredients
750

g

floury potatoes

1

tablespoon

olive oil

1

teaspoon

Seasonings of your choice

I used garlic powder and a large pinch of Maldon sea salt
Instructions
Peel the potatoes and chop into golf-ball sized chunks. Keep them in cold water for at least 5 minutes.

Meanwhile, turn the Actifry on to get hot. After a minute or so, add the oil and let that get hot for a further minute. Drain the potatoes really well. Add the drained potatoes to the Actifry with the seasonings and allow to cook for at least 30 minutes. Test with a fork for doneness and cook for a further 5-10 minutes if necessary. This will change depending on how well you preheated your Actifry and how full your oven is.
Want more Actifry roast potato goodness? Here's Jo's version
Or you could try Michelle's curried cauliflower
Or for something completely different, here's Jan's sweet chilli chicken wings