an evening with antonio carluccio and cirio tomatoes

Have you ever watched the series Antonio Carluccio's Italian Feast? No? Well, go and find it on a video site. I'll wait.
…
Good isn't it?
This series utterly captivated me when I first saw it in the nineties. This avuncular, wiry haired gent with the most stereotypical Italian accent plodded around Italy cooking from the grandest to the humblest kitchens. Often he would be cooking with a handful of ingredients in very quick fashion and making the most delicious-sounding dishes. I think it's there that my fascination with the Italian philosophy to cooking was born. As Antonio Carluccio himself would say, "mof-mof": minimum of fuss, maximum of flavour. I distinctly remember his bolognese recipe, a revelation to someone brought up on the weird (but lovely!) English dish. His version has mince, onion, wine, tomato and that's it. No basil, no carrot, just simple flavours left to get on with it.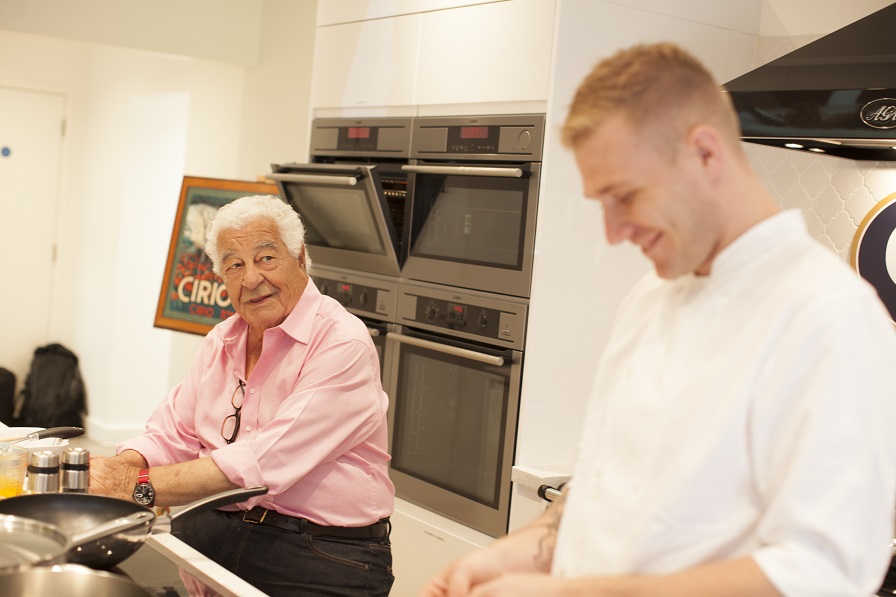 On behalf of CIRIO tomatoes, Antonio Carluccio hosted an evening at the Good Housekeeping Institute. He claims to never do promotional work for brands but he couldn't resist this one; he says he's always used CIRIO tomatoes. They're celebrating 160 years and they're a brand I often have in the cupboard.
In quick succession he tossed out two mof-mof dishes. The first, steamed mussels served with heated-through CIRIO passata, cozze alla tarantina.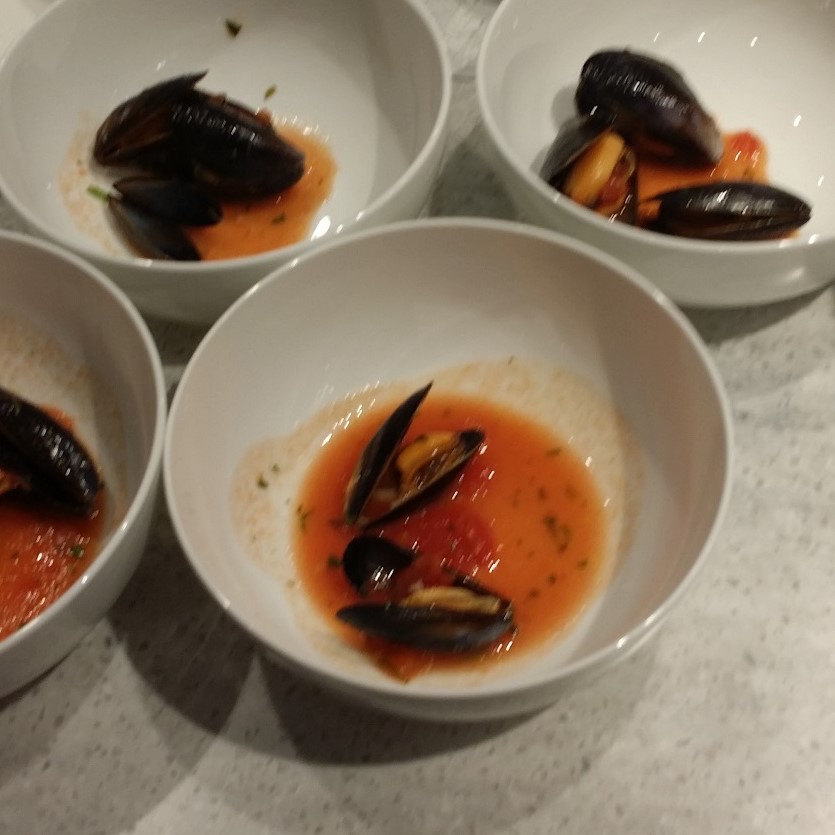 The second, a Tuscan-style bread stew of bread cooked down with CIRIO chopped tomatoes. They're the easiest of recipes; so simple in execution.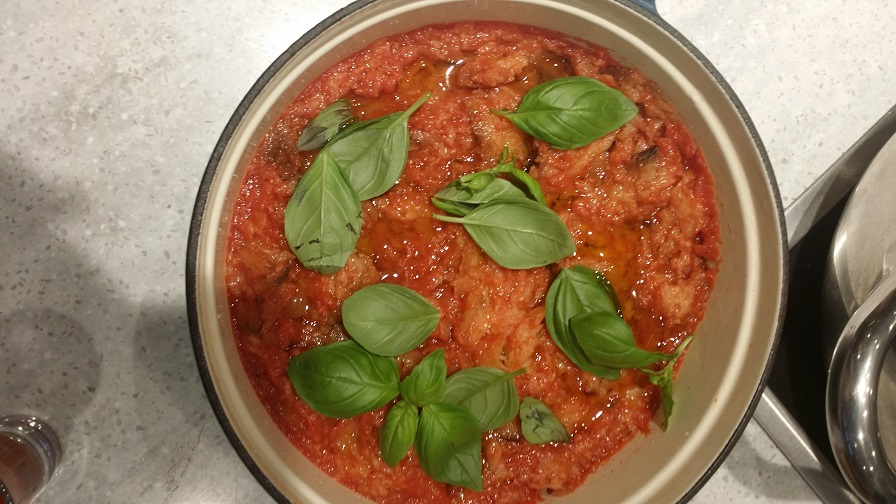 After these, he took a seat and begged for questions, And boy, did he have answers! Someone in the small audience would ask a question, then Antonio would spend at least ten minutes on a full and frank answer where he poured forth on this love of food and cooking.
When he arrived in the UK in 1975 he found menus of grilled steak and chicken kiev, with little variety to be found. The trouble he found was the lack of fresh ingredients used. He feels Jane Grigson and Gary Rhodes did huge favours with their programmes and writing by looking to inspiration from abroad… and from the past.
Antonio also talked of his passions, of experimenting with cooking and his favourite foods. He loves many things, loving nothing more than a risotto with his beloved porcini, or a simple tomato and basil spaghetti. He also confessed a perhaps surprising addiction to good Chinese food! Closer to home, of English food he enjoys a juicy bacon roll, or a hearty steak and kidney pie (both great choices!). Antonio also confessed to a love of British game.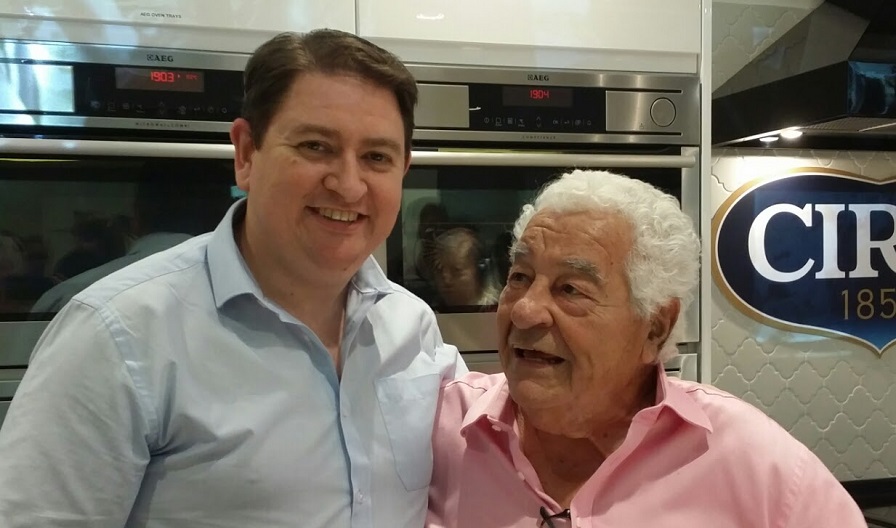 If you want to know more about Antonio and his experiences, I strongly recommend his autobiography. He has had a long and interesting life.
I've been using CIRIO tomatoes for years, and they're one of my favourite brands of tinned tomato. There's almost always cheaper makes available. But when the tomatoes are the base of a dish – whether cooked quickly or long and slow – it's worth paying a little more for a superior product which you can really taste. And when you have an ambassador like Antonio, how can you argue with that?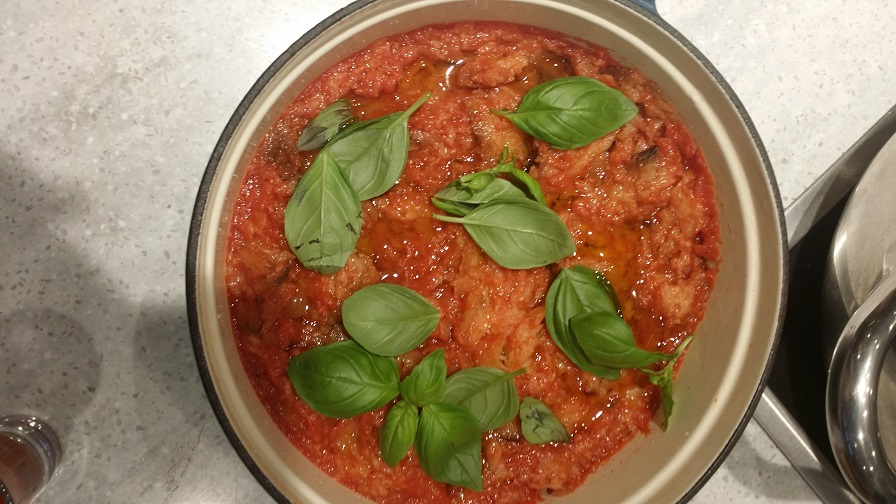 pappa al pomodoro
A simple and delicious bread and tomato soup which can be eaten hot or cold.
Ingredients
1

clove

garlic

6-8

slices

stale bread

500

ml

passata

250

ml

chicken stock

Extra Virgin Olive Oil

basil leaves
Instructions
Toast the stale bread. Lightly crush the garlic clove and rub the lovely oils over the toast.

Layer the toast in a deep saucepan or casserole dish and cover with the stock and passata. Put on the hob over a gentle heat and cook for 45 minutes until thick and the bread has absorbed most of the liquid. Season with salt, pepper and extra virgin olive oil, and scatter over basil leaves.