green pesto penne

If you don't follow Gennaro Contaldo on Instagram, you're missing out. He posts great food all the time. When he posted a picture of a lunch time special, I had to make it. He didn't really describe a recipe so here's my recipe for a green pesto penne inspired by Gennaro Contaldo.
Since employing Jamie Oliver in the Neal Street restaurant in the 1990s, the two have always had a close relationship. Gennaro looks on him like a son, and Jamie gives him credit for properly teaching him Italian cuisine. Hence, Gennaro has a mentor / ambassadorial role at Jamie's Italian, roaming their branches spreading his love and knowledge of Italian food. What joy he must bring to their kitchens, with his infectious attitude and heavily accented English. I love him when he's on TV, and he was just as genial when I met him in 2016.
Pesto is a great catch-all recipe and this spring pesto penne recipe is a good store cupboard standby. This recipe brings together great produce and turns it into a veg-packed sauce that glows with goodness. You could easily substitute the mint for another leafy one, or swap whatever greens you have on hand. Just blanch as needed to tenderise or quieten harsh flavours. Don't skip the ricotta, the nutty creaminesss is a perfect foil to the herby flavours.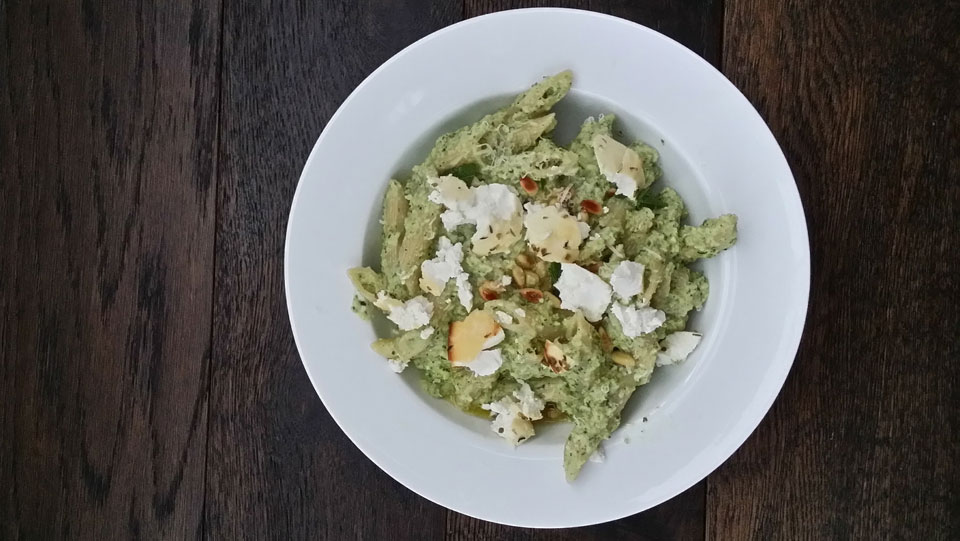 Apart from baking the ricotta, the whole thing can be done in under 15 minutes so is a great weekday dinner.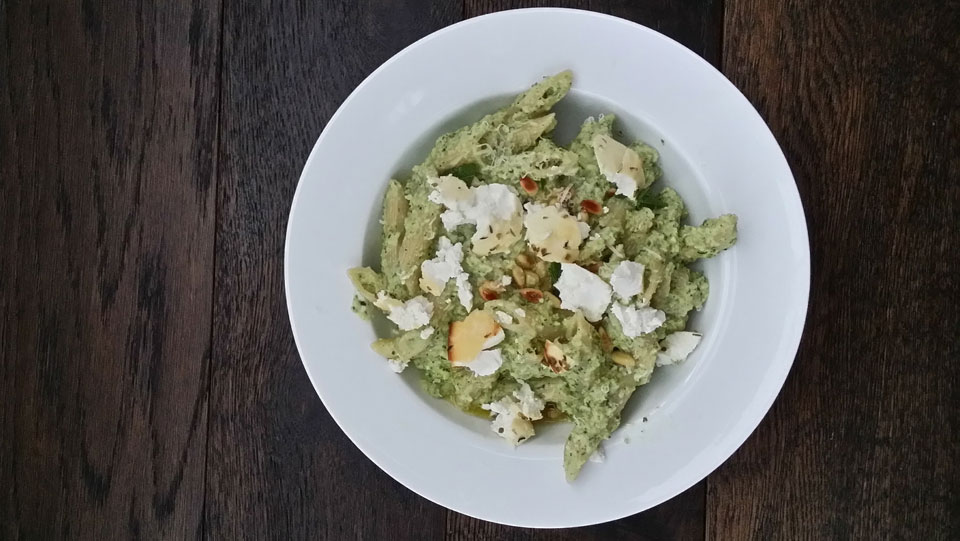 green pesto penne
Ingredients
250

g

ricotta

dried oregano

1

lemon

3

spring onions

1

courgette

topped and tailed

1

small leek

250g

penne

1

mint

large bunch

25

g

pine nuts

20

g

parmesan

freshly grated
Instructions
Preheat the oven to 200C. Line a baking tray with baking paper. Put the ricotta on this, drizzle with olive oil, grate over the zest of half a lemon, sprinkle with salt and a pinch of oregano. Bake for 30 mins or until tinged brown at the edges.

Get a large pan of salted water on to boil. When boiling furiously, add the spring onions, courgette and leek and blanch for two minutes to take the harsh notes out of the onion and start tendering the veg. Don't discard the water, now use it to cook your pasta.

While the pasta cooks, add the veg, mint, pine nuts, a swig of extra virgin olive oil and a large pinch of salt to a food processor and blitz to pieces. When everything is broken down, trickle in some more oil to make a paste. Stop the motor and grate in plenty of parmesan, lemon juice and a big splash of the pasta cooking water. Taste and add more salt, lemon or oil as required until you have a loose sauce.

When the pasta is cooked, drain and return to the pan. Toss the sauce with the pasta until well-coated. Serve in bowls, garnishing with rough chunks of baked ricotta, pine nuts and parmesan.