mushroom parfait with orange jelly and walnut bread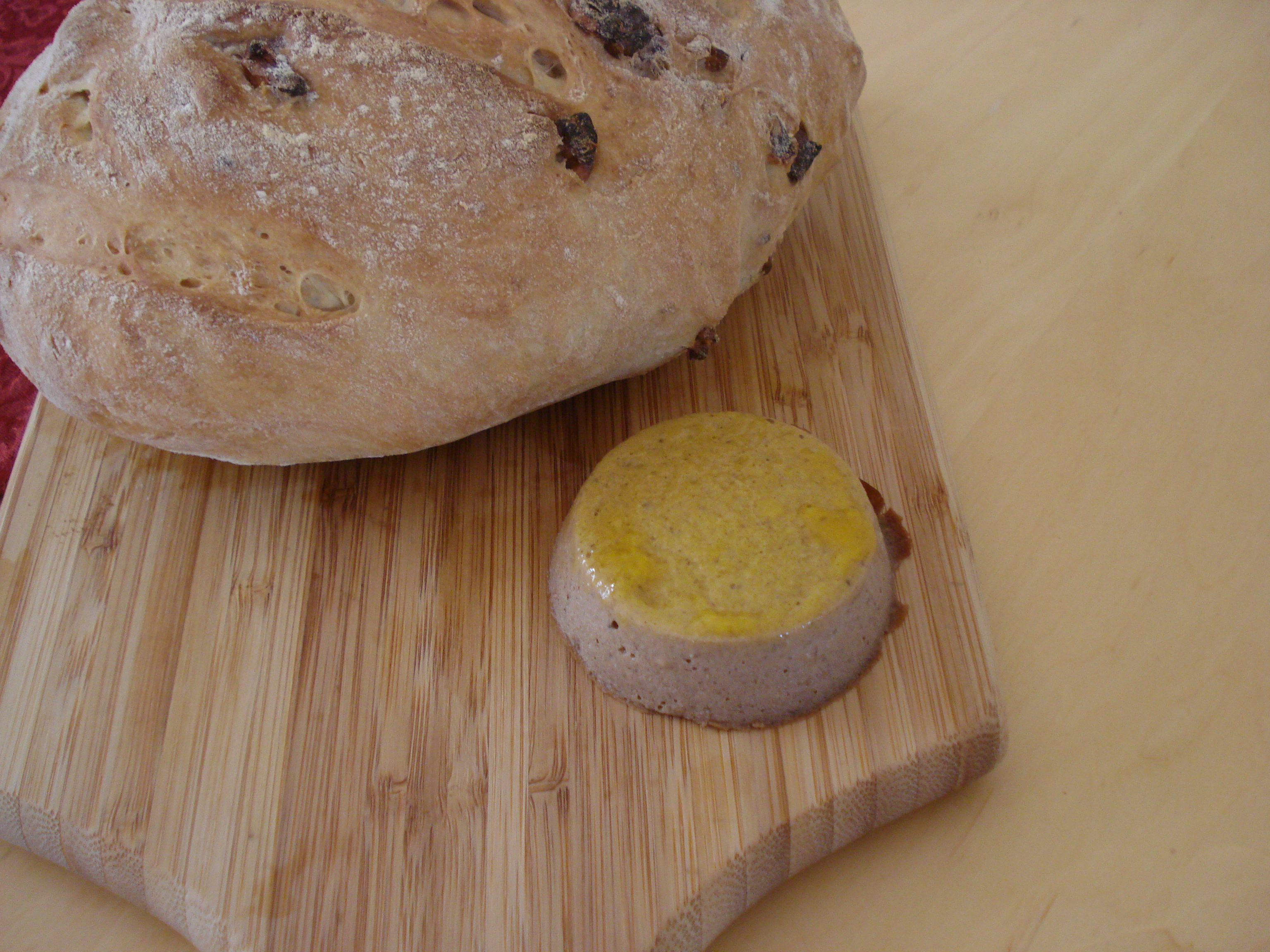 Sometimes, things don't turn out the way you expect. You feel cross with your self inside and yet you've presented something perfectly acceptable, it's just you know it should be better.
I was commiserating just this point with a friend at a Jubilee party this weekend. She'd made cupcakes, of the supremely fine-crumbed and meltingly-soft icing kind, but was grumpy at the fact that her cake toppers and decorations hadn't arrived, and had to make do with other finishings. Of course I and everybody said they were fantastic (the squirt of jam on the inside was genius!) but she couldn't look past it. Equally with what I'd brought – it was supposed to be Heston's infamous Meat Fruit, inspired by Cumbria Foodie's brilliant recreation. I'd already planned to change it up with making a mushroom version as opposed chicken liver, but I couldn't quite get the spherical moulds in time. It was never going to be orange-shaped but I wanted to persevere with the rest of the recipe anyway.
It was difficult at first, as I'd moved it from chicken livers which must be prepared in a certain way for safety reasons; yet mushrooms don't have the same concerns. So how do you transfer the mushroom flavour into a parfait effectively? I surfed around for parfait ideas but I couldn't move for sweet recipes which start with an egg and sugar sabayon – far too sweet for this. After a little more research I found a baked eggs and cream technique which when added to a reduced mixture would capture the texture and flavour I was after. I could allow it to be rich as the orange jelly would have a welcome tang against the smooth pate. I was very pleased with how it turned out; creamy and woody with the citrus cutting through it.
And to accompany I made some walnut bread. In hindsight this would've been perfect wholemeal but it did the job.
Mushroom parfait with orange jelly and walnut bread (makes 6 individual parfaits and 1 400g loaf):
For the parfait:
40g dried mushrooms
4 garlic cloves, minced
½ onion, diced
150ml port
150ml Marsala wine
A few sprigs of thyme
300ml double cream
2 eggs
For the orange jelly:
5 satsumas
40g liquid glucose
4 sheets leaf gelatine
½ teaspoon orange food colouring
For the walnut loaf:
500g strong bread flour
7g yeast
25g butter, diced
Salt and sugar
300ml warm water
30g walnut pieces
Combine the mushrooms, garlic, onion, port, wine and thyme in a jug and leave to infuse overnight.
Place the satsumas into a saucepan, cover with water and simmer for 2 hours. Strain off the liquid into a bowl containing the gelatine. Mash the oranges with a fork and push through a sieve. Add the glucose and then stir in the gelatine until dissolved. Pour a layer of this mix into your moulds (I recommend silicone ones to remove them easily afterwards). Pop this into the fridge until needed.
Preheat the oven to 160°C. Pour the mixture into a saucepan and bring to the boil. Simmer until you have about 100ml of liquid left at the bottom of the pan. Pour this into a blender and whizz to a paste. Crack in the eggs and pour in the cream and keep whizzing until smooth. Sieve this mix into silicone moulds and place this into a tray half-filled with boiling water. Place this into the oven for 20 – 25 minutes until the tops just start to brown. When cooked remove from the water and place into the fridge until needed.
For the bread mix together all the dry ingredients, rub in the butter and add the water until you have a smooth, elastic dough. Knead for 10 minutes. Cover with clingfilm and leave to rise for an hour in a warm place. Work the dough again and form into a loaf shape. Slash the top of the loaf a few times and cover with a teatowel. Leave for 20 minutes to settle and preheat the oven to 220°C. Pop the bread in the oven for 30 minutes or until hollow sounding when knocked. Remove to a wire rack to cool before serving.
To serve, slice the bread and turn out the parfaits.