heston blumenthal's ultimate cheeseburger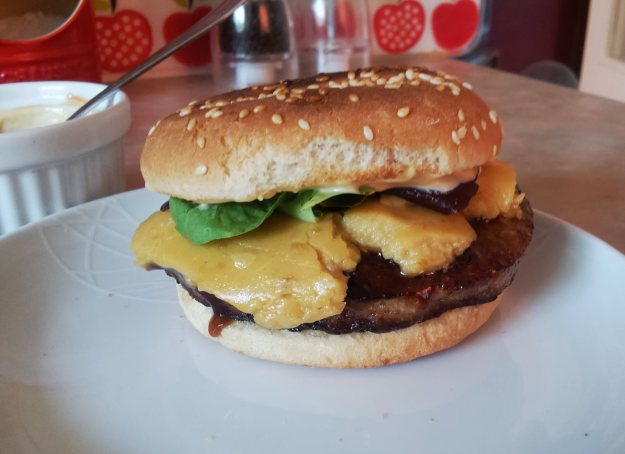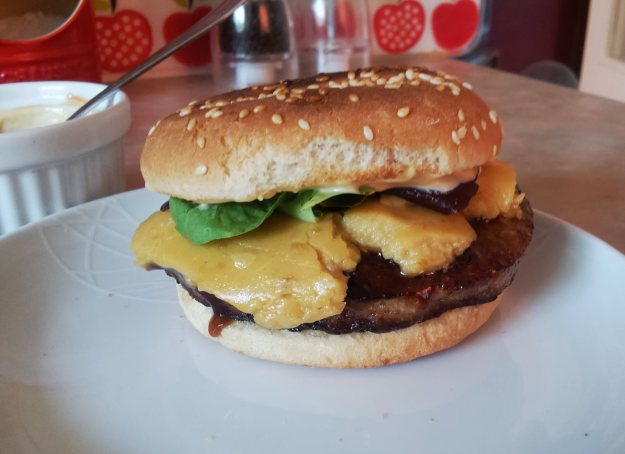 What is it with burgers? After spending the 2000s in the doldrums, they're now elevated to greasy lunch treat du jour.
I was a little surprised to see this recipe from Heston pop up online; his In Search of Total Perfection
Burger involves grinding different meat cuts together, the most laborious method for making a bun you've ever seen, and a quite detailed method of making cheese slices involving sodium citrate and other odd things (a recipe that's in marked contrast to my ingredient infographic!).
But this version appears to mostly be a shill for his Heston burgers, with a much simplified cheese slice recipe. So I gave it a go. And being the arrogant sod I am, endeavoured to improve it.
I used Comté cheese and cheddar for a more interesting blend, and whisked it with Chardonnay over ale as I don't like the taste of beer. I included my own touch that I usually use of a drip of oyster sauce to act as a glaze. It provides a tantalising umami layer in your burger that you can't quite place but makes it irresistible. The cheese slice was very tasty and really not a lot of work so well worth doing again. You could probably come up with a bunch of interesting ingredients to add into it too.
Looking for a tasty burger recipe this bank holiday weekend? You could do a lot worse than this recipe.
The original Heston recipe without me mucking about with it can be found here. And read In Search of Heston having a go too.
Heston's ultimate cheeseburger (serves 2):
For the cheese slices:
50g mature cheddar, grated
50g Comté cheese, grated
1 teaspoon Worcestershire sauce
10g cornflour
¼ teaspoon dried yeast
¼ teaspoon Marmite
¼ teaspoon English mustard
80ml white wine
For the burger sauce:
1 tablespoon mayonnaise
1 teaspoon tomato ketchup
½ teaspoon burger mustard
Everything else:
2 quarter pounder burgers
2 sesame seed buns, split and toasted
½ teaspoon oyster sauce
Handful of crisp lettuce leaves (I like lollo rosso)
Combine the cheeses, mustard, Marmite, cornflour, yeast and Worcestershire sauce in a bowl and refrigerate for 2 hours (I'm not sure what this refrigeration achieves. Do the flour / yeast expand in the fridge? I'd try this again without the fridge step to see what happens).
Line a shallow tray with baking parchment, and get the wine on to a simmer. Add the cheese mix a handful at a time whisking merrily until all dissolved and smooth. Pour into your tray and chill for at least 30 minutes or until needed.
Mix the ketchup, mayo and mustard together to make a smooth sauce and set aside until you're ready to serve.
Heat a drop of oil in a pan and add the burgers. Cook for 30 seconds on each side, turning until they're done to your liking (anywhere from 5 – 10 minutes depending on thickness and how done you like them). 2 minutes before the end, smear the oyster sauce over the patties to make a thin glaze, and after a minute cut out a cheese rectangle and plonk on top to heat through for the final 60 seconds.
Serve in a bun with the sauce and lettuce, plus gherkins and onions if you like.