honey and pistachio cake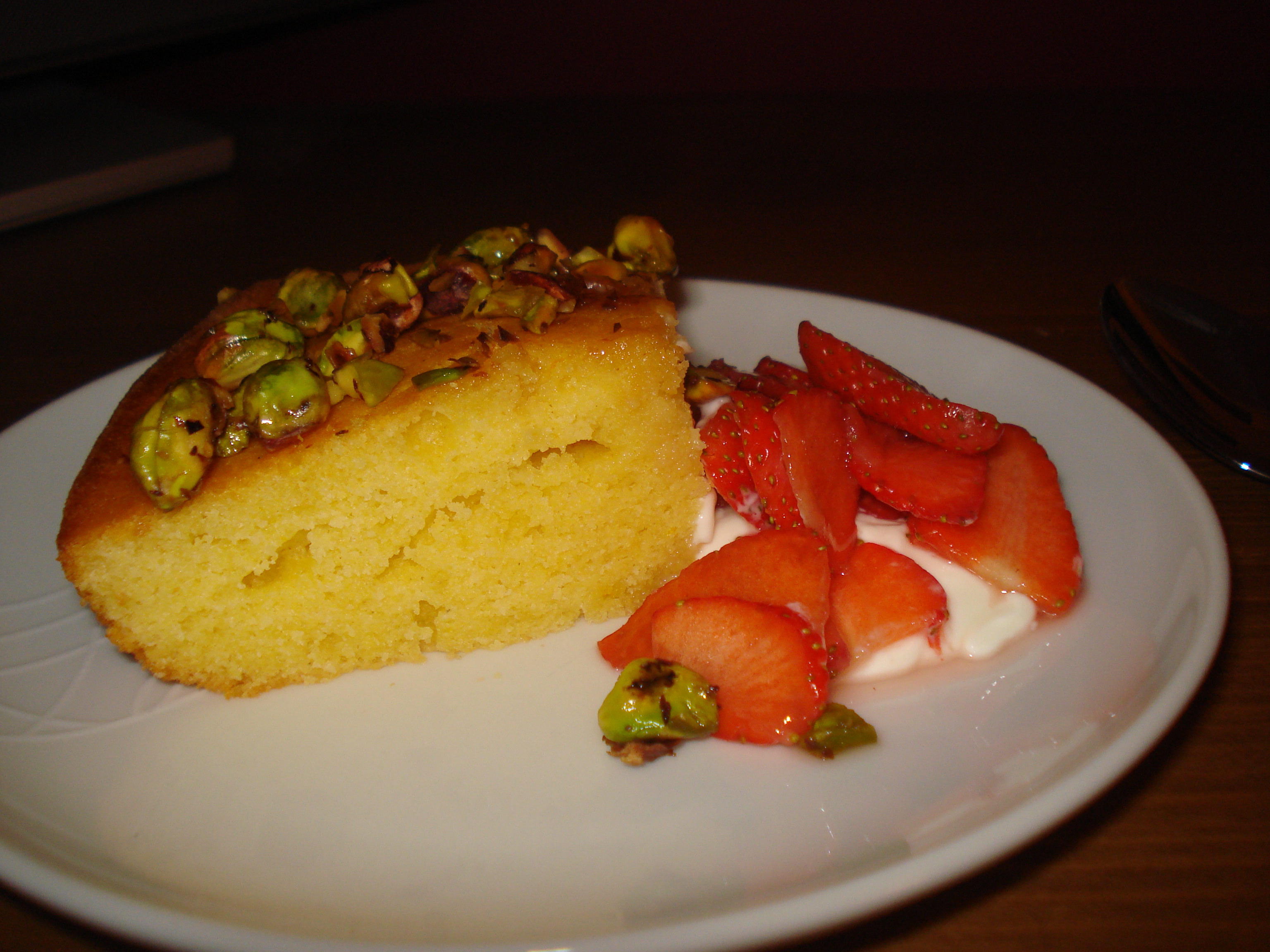 The recent Jamie Does…
series has thrown up some delicious recipes. This cornmeal cake, from his Athens trip, is light, fluffy and stuffed with gooey honey. If I had one criticism, there's not quite enough honey. I'd up it to 150ml next time. The flavours are still there though, it's great for sharing. It also lasts for days with no noticeable drying out. Result!
Honey and pistachio cake:
225g caster sugar
75g ground almonds
150g plain flour
200g semolina / cornmeal / fine polenta
1 teaspoon baking powder
Pinch of salt
Zest of 1 lemon
Zest of 1 orange
225g Greek yoghurt
5 eggs
200ml olive oil
150g pistachios
100ml honey
Juice of 1 lemon
Juice of 1 orange
Preheat the oven to 180°C.
Combine the sugar, almonds, flour, cornmeal, baking powder in a bowl. Add the eggs, zest, yoghurt and oil and stir well until you have a thick, gloopy batter.
Pour this into a lined baking dish or cake tin (it will be quite large), or drizzle with oil and dust with cornmeal as an alternative lining. Bake for 30 minutes, until a skewer comes out clean. Leave to cool for 1 hour.
In a dry frying pan toast the pistachios, lightly crushing them with a wooden spoon. Pour in the honey and juices and get everything fluid. Pierce the top of the cake many times with a knife and pour the honey nut mixture all over. Serve in wedges with more Greek yoghurt and some sliced strawberries.