jackie kashian's cheese penne bake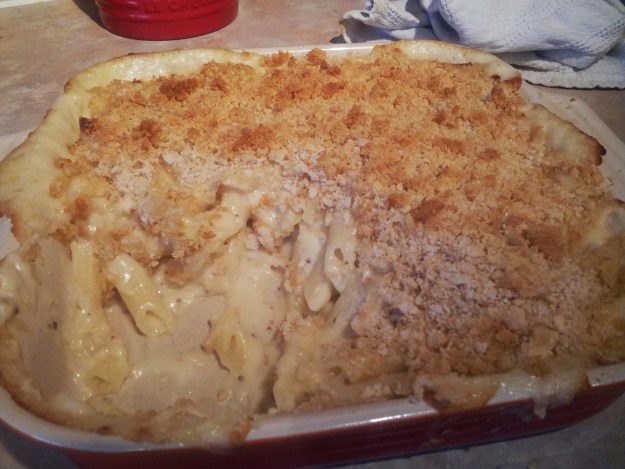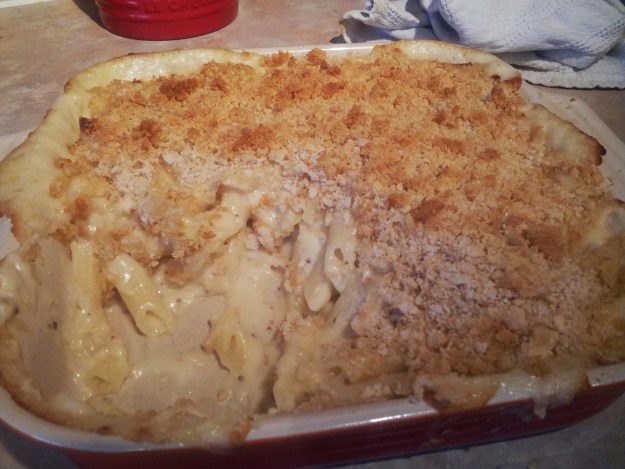 I devour podcasts by the audio gallon. Since 2007 (late to the podcast party, I know) I've had a regular diet of banter, thought, review and revue. Many have come and gone from my queue, and I'm always happy to try new ones.
A few weeks ago I discovered The Dork Forest. Hosted by comedian Jackie Kashian she indulges her weekly guest in one of their obsessions, or 'dorkdoms'. It's a lot of fun, and if you like your podcasts rambly and occasionally educational, this is one for the playlist. On a recent episode her guest Tracey Ashley couldn't praise her macaroni cheese enough. I don't need asking twice; I raced off to try it.
Jackie's original recipe is here, but be warned it's written in American (Sticks of butter! Sharp cheese!). My rough Anglican version is below. I've not used Gruyere as it wouldn't survive against the strong cheddar I used, an Asda mature cheddar with wholegrain mustard, part of their Asda Summer range. Any cheddar will do but the mustard flavour through it is really good. I've also subbed penne over macaroni. But it's a great pasta bake, with a silky sauce and big flavour. I think it's the breadcrumbs that make it.
Thanks to Asda for sending me the cheese to try.
Jackie Kashian's cheese pasta bake (serves 4):
1 garlic clove, halved
4 tablespoons butter, melted
3 slices bread
3 tablespoons flour
500ml whole milk
2 teaspoons salt
¼ nutmeg, grated
¼ teaspoon cayenne pepper
400g cheddar cheese, grated
400g penne or other pasta
Preheat the oven to 180°C. Take your garlic clove and rub it around the inside of a baking dish. Whizz up your bread in a food processor, stir in 1 tablespoon of the butter and set aside.

Get your pasta on to boil in plenty of salted water, and drain when done. Meanwhile make your sauce.

Over a low heat stir together the remaining butter and flour until you have a roux and continue to cook for another minute until pale in colour. Add all of the milk and whisk constantly for about eight minutes until thick and smooth. Add the salt, nutmeg, cayenne and cheese. Take off the heat and stir through, then fold in the pasta.

Pour into your baking dish, top with breadcrumbs and bake for 30 minutes until golden brown. Wait 2 minutes before serving to let the sauce settle, and serve with a green salad to try and offset some of the guilt.