lamb rogan josh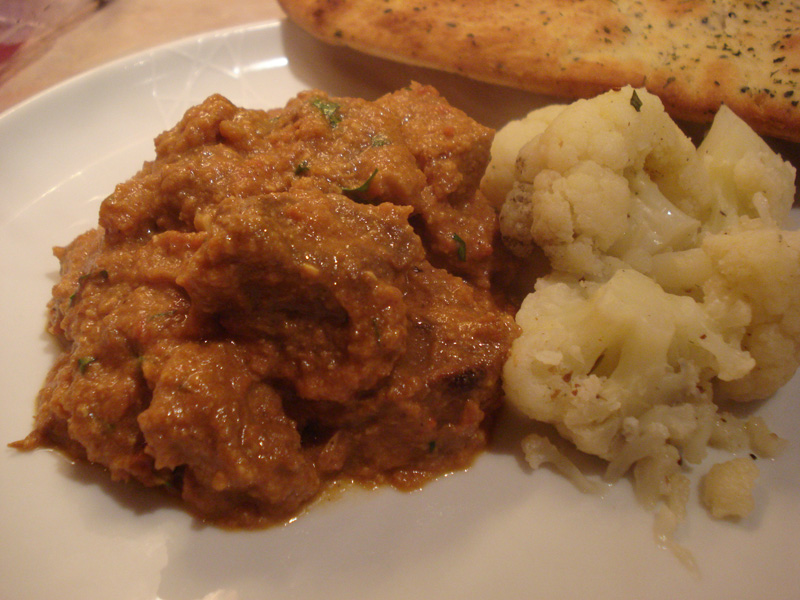 I've got a bit of a thing for curries at the moment, helped by recent repeats of Floyd's India on Five. There's tons of Keith Floyd's typical ease, wit and of course plenty of great recipes. He tours the country and attempts to distill the tastes of the region into a handful of recipes. It never fails to impress me how different the techniques are around India yet still maintaining similar techniques: crackling, tempering, masala, gravy etc. I recently enjoyed a chicken tikka masala made at home and just had to do something from this series. The one that stuck out to me was a lamb rogan josh. That was the recipe sorted, what about the meat?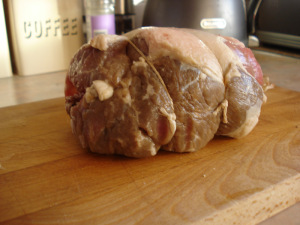 I was fortunate enough to be sent a boneless lamb leg by Abel & Cole. Their specialty is weekly veg boxes, serving up a random assortment of organic, locally-grown produce delivered to your door. Unfortunately this service doesn't quite suit me; I'm a weekly planner who organises food for the week and getting a bunch of stuff I have to plan around just doesn't fit. In addition to this however they also act as a butcher and grocer; including this lovely joint. I opened it out so I could cube it, trimming away the excess surface fat (if I was roasting this would have been extremely welcome, but not suited to the pot-roasting I was about to do). Cutting first into strips it was clear this was great-quality meat; an even marbling of fat within, a healthy ruby colouring and a loose texture.
On with the recipe then, the few unusual quirks to it were: onions (plus a couple of garlic cloves) were fried first to get a little colour, before being blitzed and added to the pan. After an hour or so in the curry this left a lovely sweetness that I really enjoyed. Also it's in two parts; the lamb is cooked down with the spices first until it goes fairly dry – much like a rendang (or is it penang?) from Thai cooking – before adding the remainder of the ingredients. This caked the flavour right on to the meat in a very pleasing fashion. Towards the end I added ground almonds and possibly overcooked them a touch – they came out gritty and slightly bitter. That said the overall flavour of the dish was tremendous, giving and giving as a good curry should, with fragrant cloves to begin with, sweet onions and tomatoes, leaving with a slightly peppery finish. I love to eat a curry with a decent naan bread, pushing the meat 'n' sauce around and scooping up. This was perfect for that, as it had a quite thick gravy with which to mop. Next time however I'll add a little more cardamom, and perhaps not let the almonds cook out so long – in face I might be tempted to leave them out altogether.
And the meat? Superb. It yielded beautifully in chunky flakes, and despite being up against the strongest of flavours you could still taste that it was lamb underneath all the spices. About half an hour into cooking I had a sneaky sample of the sauce and you tell that the lamb had started to release fats into the mix, as the slightly greasy – yet delicious – unmistakeable lamb flavour started to seep through. It was a beautiful piece of meat from Abel & Cole, and while I might not personally consider them for weekly veg (I have a friend who swears by their boxes) I will definitely go back to them for special joints of meat. In fact, I think I'll be ordering my Christmas gammon from there any minute now…
Lamb rogan josh:
2 onions, sliced
4 garlic cloves, peeled
4 cardamom pods
2 cloves
1 tablespoon ginger paste
1 teaspoon chilli powder
1 teaspoon turmeric
1/2 teaspoon paprika
300g plain yoghurt
1.5kg lamb leg, diced
1 tin tomatoes
2 tablespoons ground almonds
2 tablespoons coriander, chopped
Fry the onions and garlic in a little oil until softened and starting to colour. Transfer to a food processor and blitz until smooth.
Add some oil to a pan and fry the cardamom and cloves over a high heat until a fierce crackling noise is heard (about 2-3 mins).
Turn the heat down and add the ginger and onion pastes. You should stir continuously to avoid sticking and burning. Add the chilli, turmeric and paprika and stir well to avoid the powder clumping together.
Add the yoghurt and stir until combined, then add the lamb and a good pinch of salt. When everything is well mixed transfer to your lowest hob heat and leave to bubble gently, uncovered, for about an hour and a half. Stir every half an hour or so.
When the the mixture has gone quite dry add the tomatoes and ground almonds and simmer for another 30 minutes. Check the seasoning and stir through coriander. Serve with rice, naan, a vegetable side or all three.