mushroom and herb polenta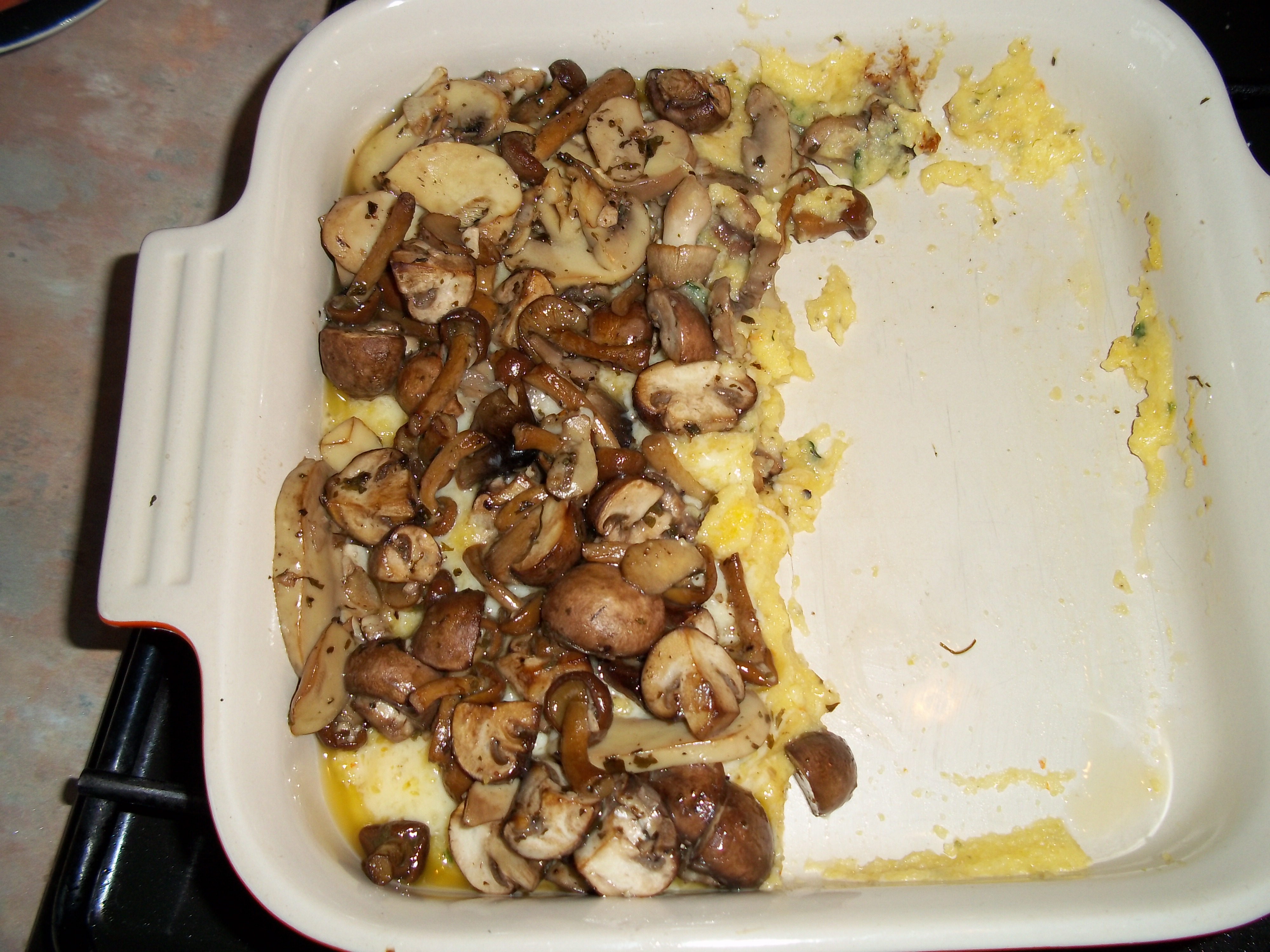 My poor snap is a billion times worse than the one in Ottolenghi's new book, Plenty
. I didn't trust my polenta to keep still on a wooden board though. This is mighty good, powerful in flavour and the mushrooms give it a real meaty presence. The original calls for a whole bunch o' mixed mushrooms, but to save foraging and potential fungal-induced death I used good old chestnut mushrooms supplemented with a jar of Sacla antipasto mushrooms. This takes a lot of graft out of it (not that it was difficult in the first place) however the pickled flavours can unbalance the seasoning, so taste well. Otherwise feel free to use any mushrooms you can find for an interesting mouthful.
Adapted from a recipe by Yotam Ottolenghi
Mushroom and herb polenta (serves 2):
500ml vegetable stock
80g polenta
2 tablespoons rosemary, chopped
2 tablespoons thyme, chopped
50g butter, melted
50g parmesan, grated
200g chestnut mushrooms
200g jar antipasto mushrooms
1 clove garlic, grated
1 tablespoon truffle oil
100g comté, grated
Get some oil heated in a pan and begin frying the chestnut mushrooms. Don't move them too much, let them colour. Let them cook down for about ten minutes, until they have some give when prodded.
Get the grill on hot while you make the polenta. Bring the stock to the boil and whisk in the polenta in a steady stream. Keep whisking until the polenta starts to come away from the edge of the pan. If you're using old-school polenta this will take a ruddy lifetime. Use the quick-cook stuff and it will take about 3 minutes.
Take the polenta off the heat and beat in the parmesan, butter and half the herbs. Spread into a baking dish into an even layer and pop under the grill for a minute. Let's return to the mushrooms.
Add the garlic, fry for a minute and then add the remaining herbs and mushrooms. Give it a good stir to warm everything through and taste for seasoning. Add the truffle oil. Get the polenta out, pour the mushrooms on top and grate a thin layer of comté over. Return to the grill and cook for another minute or two until the cheese bubbles.