tournedos rossini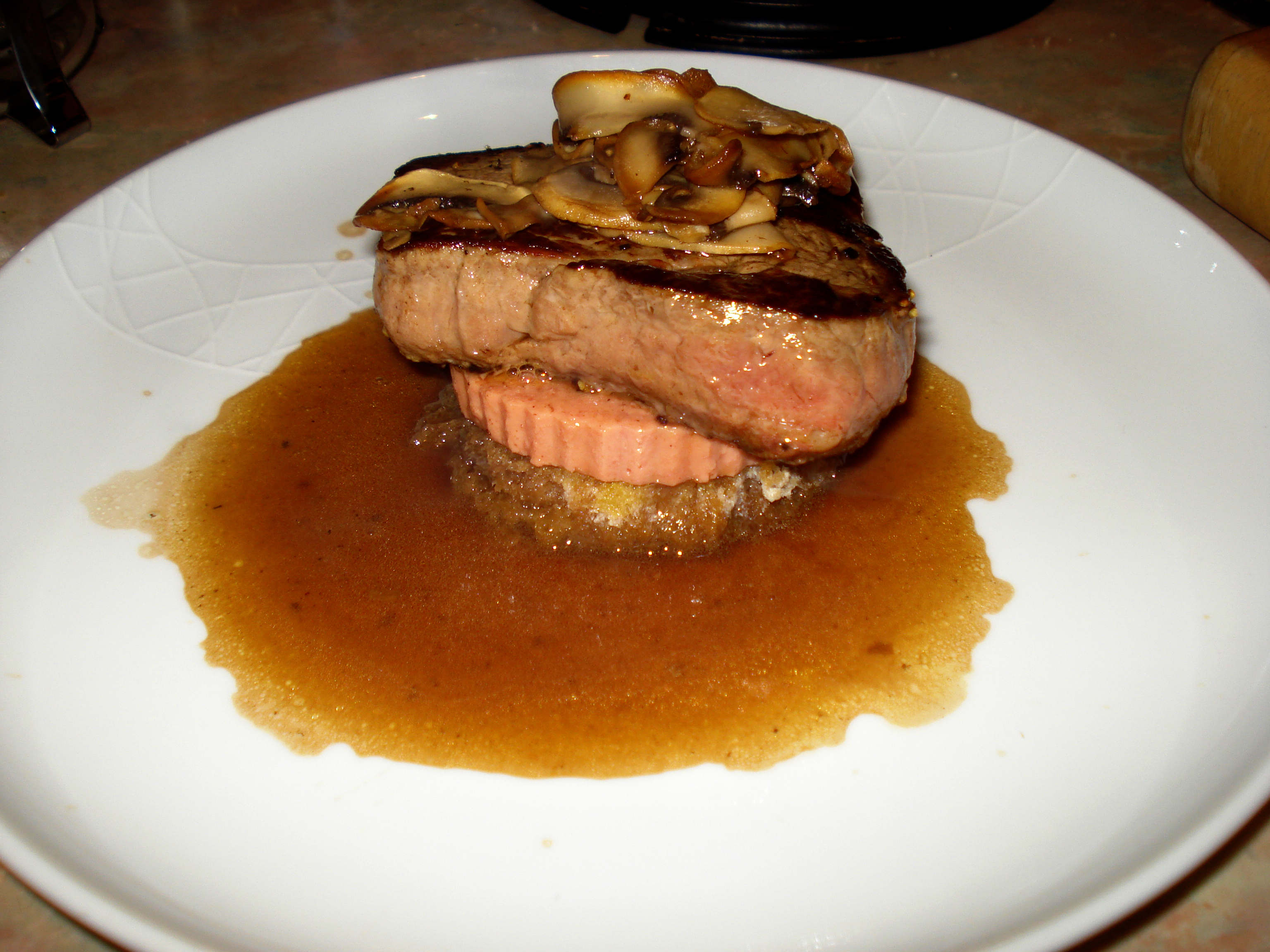 Some days of the year call for pure luxury, and I think New Year's Day should be one of them. This renegade of the 70s is a favourite of mine in a decent old-fashioned restaurant, and is complete indulgence. In essence it's fillet steak, sitting on pate and a crouton, in a red wine sauce. Traditionally it calls for foie gras but I've scaled it back to good old chicken liver pate. It's absolutely delicious and great for a real treat. The tender meat, al dente mushrooms, smooth pate and crisp crouton, all going down with a savoury sauce… yum.
Tournedos rossini:
500g fillet steak, at room temperature
5 – 6 closed cup mushrooms, sliced
Slightly stale bread, cut to rounds (preferably the same size as the steak) and toasted
Pate, cut like the bread
For the sauce:
1 garlic clove, unpeeled
Small glass of red wine
Splash of balsamic vinegar
500ml beef stock
Fry the mushrooms in a little oil and butter. Get on with the steaks while they cook. You want them to be fairly soft. Don't season them until right at the end to make sure they don't release water early.
In another pan season the beef with pepper and fry in a very hot pan for 3 minutes either side. You're looking for a nice bounce to the meat when pressed with a thumb – please keep it medium – rare. Leave the meat to rest on a hot plate while you make the sauce.
Add the garlic clove to the steak pan and deglaze with wine. When this has reduced to a nice syrup add the stock and vinegar and bubble fast to reduce this liquid down.
Check for seasoning, remove the garlic and throw in the mushrooms.
Season the meat with salt and add the meat juices to the sauce.
Assemble the dish with bread, then pate, then the meat, finally top with sauce.