ottolenghi's sagnarelli with broad beans and lemon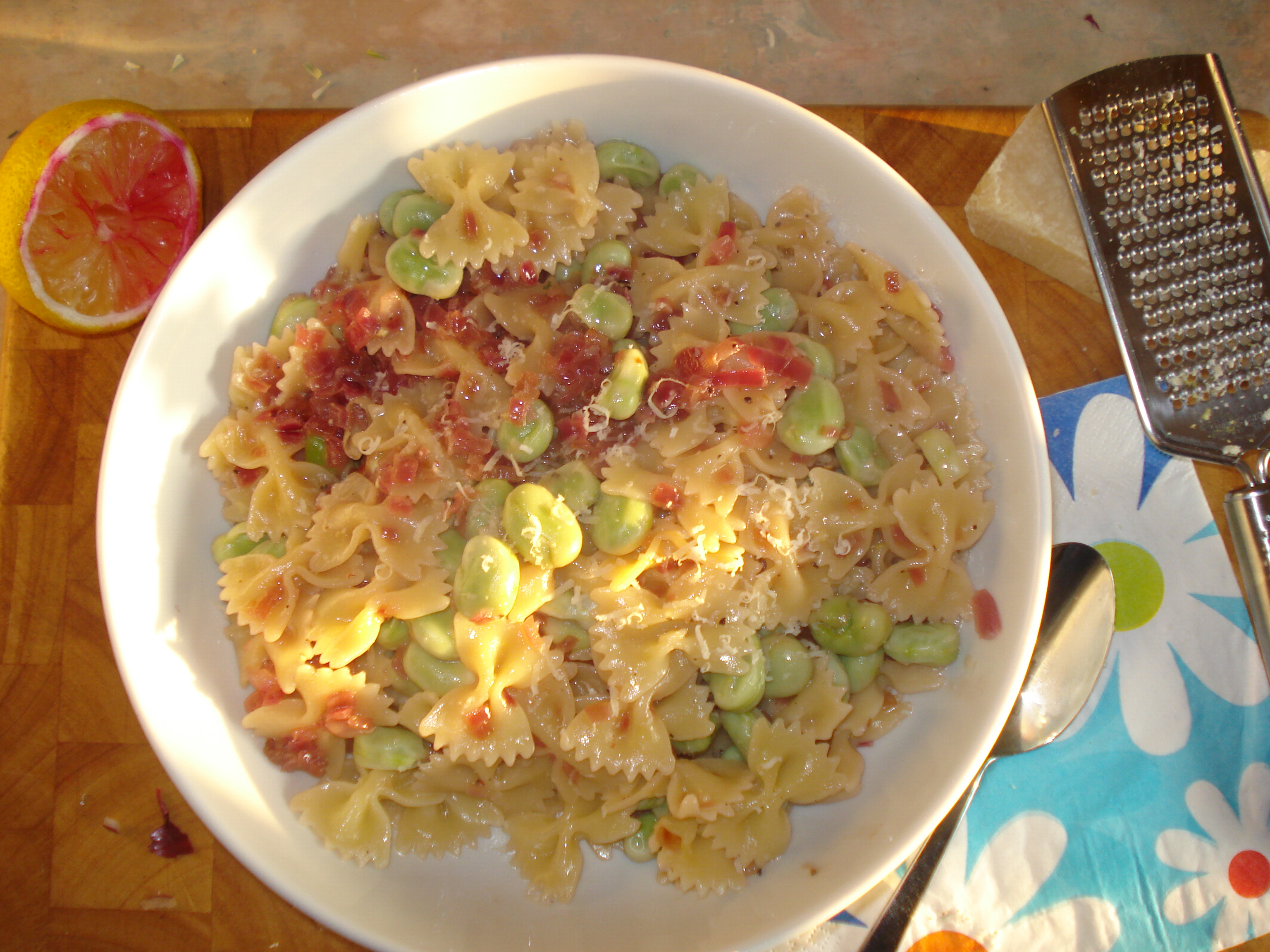 I've read an awful lot about Ottolenghi from various food bloggers (EssexEating seems to mention them a lot, especially their cookbook) with nothing but gushing praise. I follow them on Twitter, and they posted rather intriguingly "Exclusive to twitter: a scrumptuous recipe that didn't make it to Plenty. http://tweetphoto.com/18283142" with a follow-up challenge of first to post a photo of the completed dish gets a prize. How could I turn that down?
I couldn't quite manage to get the sagnarelli (a flatter, less fluted pasta) but as suggested I hoped farfalle would do the job. Therefore purists may wish to edit the name of this post!
It's a fairly simple affair – pasta and broad beans in a shallot-infused lemon, wine and pink peppercorn sauce – but there's a bright summery burst of flavour in every mouthful. Earthy beans, pasta with bite, being zinged with lemon, tempered with salty cheese and as everything fades away you're left with a gentle tickle of heat from the peppercorns. It was very tasty.
It's a great starter recipe, though the carnivore in me wanted a little bite of meat every now and then. I'd try it again, definitely, perhaps with a little less parmesan and pop in some diced pancetta instead. I might substitute the broad bean for another bitey veg as well, such as courgette or possibly purple sprouting broccoli. And simply because I love the taste – maybe a blast of garlic too. I enjoyed it a great deal and will give it a whirl another time.
Farfalle with lemon and broad bean (serves 2):
4 shallots, finely diced
25g butter
200ml white wine
250g farfalle pasta
250g broad beans
2 teaspoons pink peppercorns, coarsely crushed
2 tablespoons olive oil
Zest and juice of a lemon
Grated pecorino
Fry the shallots in butter for a few minutes, until browned. Add the wine with a pinch each of sugar, salt and pepper and reduce vigorously until there is about a tablespoon of liquid left in the pan. Take it off the heat and check for seasoning.
Meanwhile cook the pasta as per packet instructions, and cook the broad beans until al dente. Transfer both to the winey liquor along with the olive oil and lemon zest, tossing well. Taste for seasoning and add as much lemon juice and cheese as you think it needs.