potato salad with sausage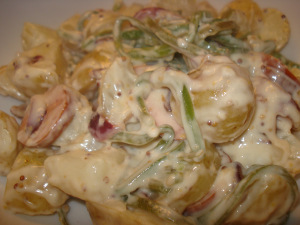 Those Matheson's sausages in a vacuum bag – great aren't they? Of dubious provenance but undoubted flavour. Great in a sandwich with mustard, yum.
Or here, where they are pressed into service into a potato salad to convert it into a main meal. There's boiled new potatoes in there (really!), cooked green beans, fried onions and sausage, tumbled with a mix of creme fraiche and wholegrain mustard, slacked down with a little milk. Dead easy and so enjoyable.