restaurant review: pizza express, southend-on-sea

Pizza Express Southend has had a makeover. See what's new in my review.
When I was a lad going to Southend was a treat. A short hop on the train from Benfleet as a teenager meant the cinema, cool shops and places to hang out. It was the first place I saw a McDonald's, the first place I saw a Starbucks and a Waterstone's. I know these sound like the least exotic things on Earth, but as pre-teens these were the heights of civilization.
(Apparently there are eight Southends in the UK. The one I'm talking about is 'Southend-on-Sea' in Essex, but I've always referred to it as Southend, and that's what I'm going to call it.)
One year, the town changed dramatically when an Odeon cinema arrived. A huge great cinema! Screens in the double-digits! Amazeballs! With the cinema came a new parade of bars and restaurants including a Pizza Express in 1996 – a first for the area.
Twenty years later in 2016, the Pizza Express has been renovated. True to the Pizza Express ethos, it has been redecorated to reflect the local area. Famed as a seaside town, they've put seaside pictures from the '60s on the walls, a huge historic map of the area, plus artwork from local artists on reclaimed driftwood. It's a fun and vibrant space.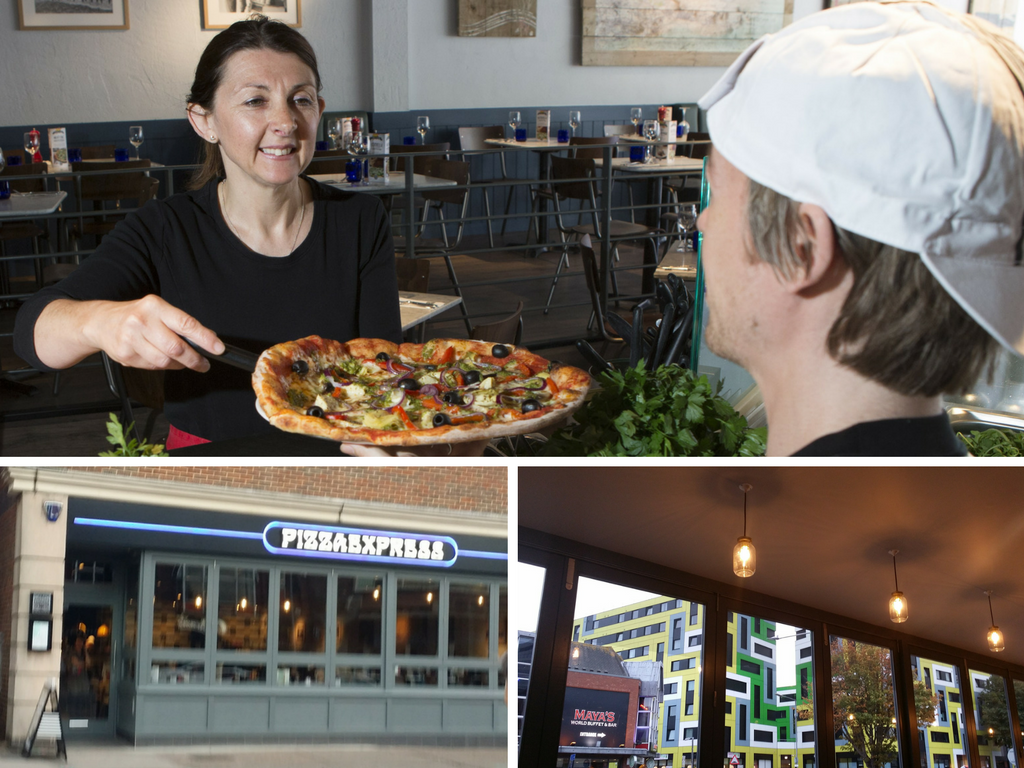 Thankfully the wave of blue glass that used to dominate the entrance has gone. That weird nineties relic is in the bin. The renovation has had one drawback: the exposed brickwork and vaulted ceilings has created a slight noise problem which can make it difficult to hear. I did go on a crazy-busy Saturday afternoon however, full of birthday parties, couples and families alike.
And that's the thing: Pizza Express has an appeal that is unpretentious and welcoming. Probably not going to shock your world view but you are guaranteed a good time with good food. And often that's what you want, not to venture into exhilarating new gastronomic heights but to pop out somewhere that feels like a treat.
Speaking of which, I tried some of the new Autumn range.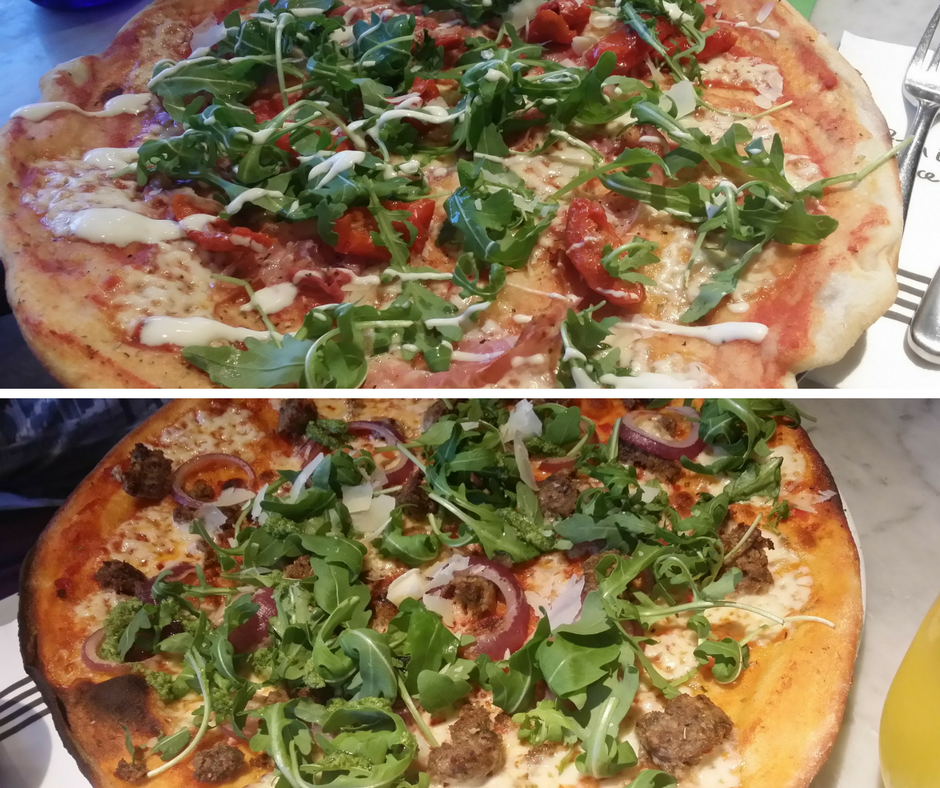 The Rustichella (top) is an old favourite back for the season: pancetta and mozzarella drizzled with Caesar sauce. Mrs. Spud's favourite pizza by a long stretch.
Spud Jr lucked out with the Basilicata however (bottom): a lamb and chilli meatball pizza, reminiscent of lahmacun. A great combination of flavours if you fancy something a little different. The children's menu continues to be a favourite too.
With sides of calamari, polenta chips and olives, followed by the honey cream slice, ice creams and sorbets we left with very full tummies, and boxes of leftovers ready for a midnight snack. Service throughout was warm and friendly, with good suggestions.
Pizza Express continues to innovate while still holding wide appeal. And the Southend branch is no exception. Whether it's a catch-up with friends or a quick meal before a film it's a great place to hang out. Especially after a short hop on the train from Benfleet.
Pizza Express Southend-on-Sea
11 London Road, Southend on Sea, Essex, SS1 1PE

Here's another review from Love Southend.
I was a guest of Pizza Express.